Staples 2Q Profit Disappoints, CEO Says 'Significant Changes' Needed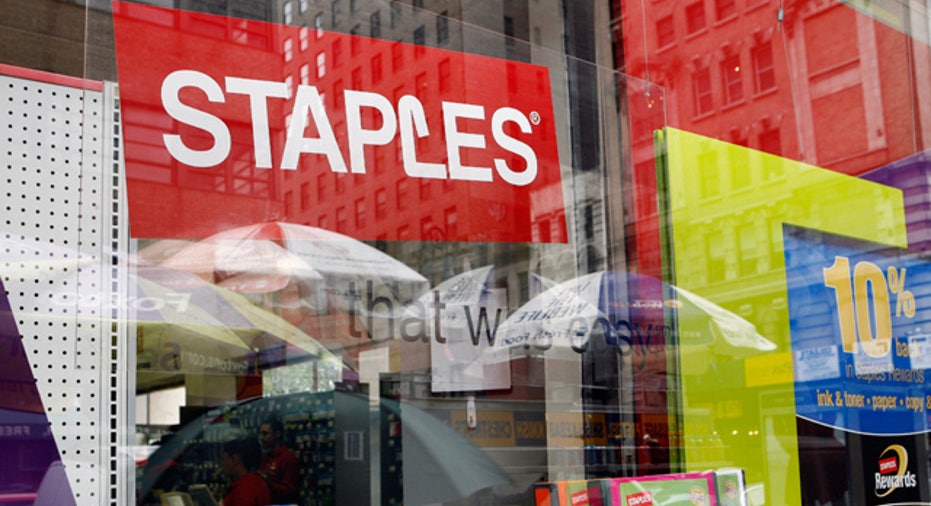 Shares of Staples (NASDAQ:SPLS) fell more than 15% to multi-year lows after the office products retailer axed its fiscal 2012 outlook on weak global demand and CEO Ron Sargent said the company is prepared to make "significant changes to improve results."
Staples expects sales to remain flat and earnings to rise only at a low single-digit percentage rate from last year's $1.37 a share. It had earlier forecasted growth in the low single digits for sales and in the high single digits for earnings.
Staples said it is adopting a more conservative sales and earnings outlook due to the quarter's weaker-than-expected performance but is prepared to make changes.
"We're taking a hard look at each of our businesses, and we plan to make significant changes to improve results," Sargent said. "We're building a plan to reallocate resources, take advantage of our best growth opportunities, and drive increased cost savings."
The bleak outlook comes amid weak second-quarter earnings as well as anticipated slower grow in the U.S. and Europe.
Framingham, Mass.-based Staples reported net income of $120.4 million, or 18 cents a share, below average analyst estimates of 22 cents in a Thomson Reuters poll.
Revenue for the three months ended July 28 was $5.5 billion, down 6% from $5.8 billion a year ago, missing the Street's view of $5.72 billion.
"Our second quarter results fell short of our expectations due to softer than expected sales trends in North America and ongoing weakness in Europe and Australia," Sargent said in a statement.
The company continues to build out its portfolio to navigate away from just office supplies, but Sargent said those efforts were more than offset by weaknesses in computers and core office products during the second quarter.
North American Delivery sales were down 1% to $2.4 billion in Staples' latest period due to the loss of two large contract customers in the third quarter of 2011 that was only partially offset by growth in facilities, break room supplies and promotions. The softness combined with investments Staples is making to drive growth at its website squeezed product margins.
In its retail segment, sales fell by 3% to $2 billion, while comparable-store sales – a key growth metric for retailers that measures sales at stores open longer than a year – declined by 2%. The unit was impacted by lower average order size and weak demand for computers, software and computer accessories that were only somewhat offset by an improvement in copy, print and mobile phones.
The company's international group fell hardest during the quarter, with sales declining by 18% to $1.1 billion on a strong U.S. dollar and weak sales in Europe and Australia. Comparable-store  sales in Europe fell 9%.
Shares of Staples fell more than 15% to as low as $11.19 Wednesday morning.
The announcement comes a week after No. 2 U.S. office supply chain Office Depot (NYSE:ODP) reported a wider-than-expected quarterly loss on weakness in the U.S. and Europe.