Square Stock Upgraded: Here's What You Need to Know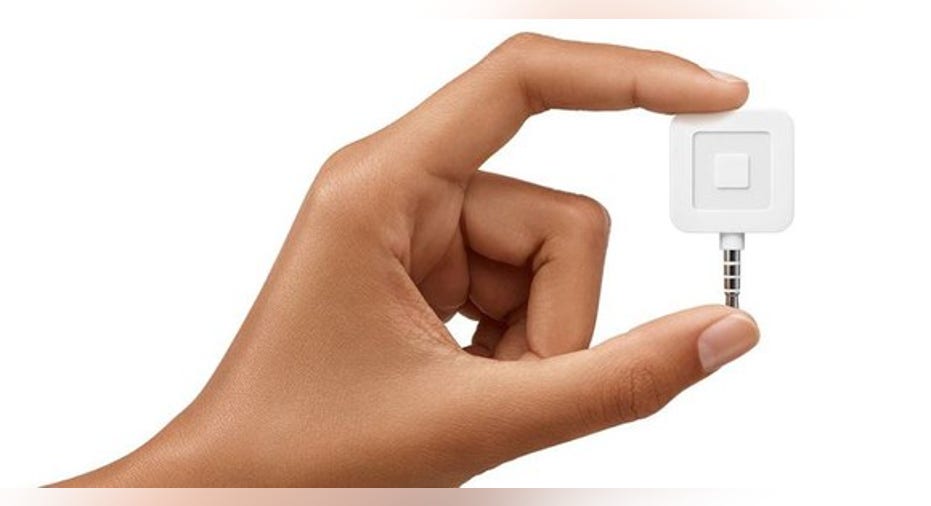 Square (NYSE: SQ) stock is rolling uphill today, gaining nearly 3% in response to an upgrade from German megabanker Deutsche Bank.
This morning, StreetInsider.com reports that Deutsche has raised its rating on Square stock from hold to buy, and increased its price target to $17 per share. If Deutsche is right about that, then Square stock -- currently at $13 and change -- could rise as much as 30% in value over the course of the next year.
But is Deutsche Bank right about Square? Here are three things you need to know.
Square is a tiny gadget with big possibilities for profit. Image source: Square.
1. Tiny and "underappreciated"
With its shares up barely 6% over the past year, Deutsche Bank calls Square stock "underappreciated by the street" and likely to outperform expectations. Unprofitable today, analyst estimates call for Square to cut its losses by more than half this year, shrink those losses again in 2017 and 2018, and then finally emerge into GAAP profitability in 2019.
That all already sounds good, but according to Deutsche, "street FY17 and FY18 estimates could prove conservative." Already, Square stock is producing positive free cash flow from its business (more than $60 million over the past 12 months, according to data from S&P Global Market Intelligence). Granted, this still leaves the stock richly valued at about 112 times trailing free cash flow -- but it does tend to support the hypothesis that Square is on the track to GAAP-profitability.
2. Tiny, underappreciated...but strong
People in the know acknowledge that Square has become the benchmark for small businesses needing a device to read credit cards via smartphone and easily accept payments. But the company is not without competition. From giants like PayPal (NASDAQ: PYPL) and Intuit (NASDAQ: INTU), to still-privately owned Stripe, Square faces a whole host of rivals now offering their own devices.
Some of these rivals are trying to take down Square by undercutting it on price. For example, Intuitcharges a 2.4% swipe fee for credit card transactions, and PayPal comes in at 2.7%, while Square has a 2.75% fee. Deutsche, however, believes that Square's self-built platform constitutes a moat around its business, which permits it to "efficiently gain and retain clients better than industry peers," resulting in "low churn" among Square customers.
3. Tiny, underappreciated...but fast-growing
But opinions differ on this. Last week, for example, The Wall Street Journalreported on a new funding round at Stripe that valued the private company at $9.2 billion (twice Square's market capitalization). The Journal explained that investors see Stripe growing its business faster than Square, and so perhaps think it a more promising investment.
In this regard, most analysts who follow the companies put their prospects roughly in the following order: Square is expected to grow its earnings at about 20% annually over the next five years, with Stripe growing somewhat faster, and PayPal and Intuit somewhat slower (S&P Global puts their overall growth rates at 15%). For its part, Deutsche continues to believe that Square is the leader, posting "industry leading growth rates."
The most important thing: Valuation
Of course, from an investor's perspective, it needs to be pointed out that even if Square is growing fastest, both PayPal and Intuit are already profitable. As such, their projected 15% growth rates seem more reliable than the 20% growth rate that analysts have assigned to Square. (How analysts think they can accurately estimate "profit growth" at a company that isn't actually earning profits has always baffled me.)
Deutsche avoids asking this question by urging investors to value Square on its sales rather than the earnings it lacks. Deutsche argues that the stock sells for an enterprise value 3.5 times what it's expected to record in revenue in 2018, but should sell for five times 2018 revenue instead.
Personally, I find that argument troubling on two points: First, because it's based on a sales number that Square hasn't yet hit; and second, because the emphasis on sales doesn't place enough importance on Square's most important goal, which is to earn a profit on those sales. In this regard, I'd be more inclined to at least try to value the stock on its cash profits -- its free cash flow. And in this regard, with the stock currently selling for 112 times trailing free cash flow, I'd have to conclude that a 20% growth rate -- even if achieved -- makes Square no great bargain.
10 stocks we like better than Square When investing geniuses David and Tom Gardner have a stock tip, it can pay to listen. After all, the newsletter they have run for over a decade, Motley Fool Stock Advisor, has tripled the market.*
David and Tom just revealed what they believe are the 10 best stocks for investors to buy right now... and Square wasn't one of them! That's right -- they think these 10 stocks are even better buys.
Click here to learn about these picks!
*Stock Advisor returns as of November 7, 2016
Fool contributorRich Smithdoes not own shares of, nor is he short, any company named above. You can find him onMotley Fool CAPS, publicly pontificating under the handleTMFDitty, where he currently ranks No. 336 out of more than 75,000 rated members.
The Motley Fool owns shares of and recommends Intuit and PayPal Holdings. Try any of our Foolish newsletter services free for 30 days. We Fools may not all hold the same opinions, but we all believe that considering a diverse range of insights makes us better investors. The Motley Fool has a disclosure policy.