Sports teams, vendor want right to run 50-50 raffles in California; some nonprofits call foul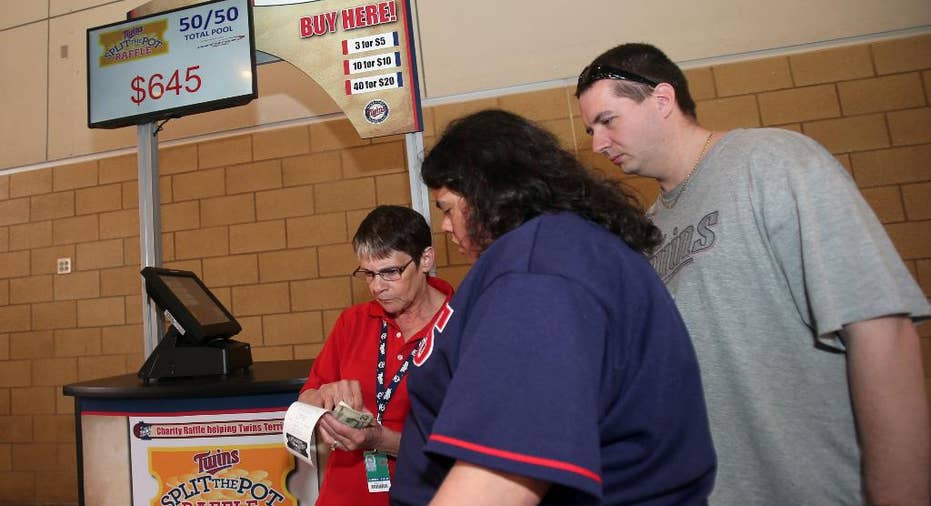 The pitch is for charity, but the call could favor California's professional sports teams.
California's major league sports clubs and a leading raffle vendor are lobbying state lawmakers for the exclusive right to conduct charitable gambling at professional sports venues to sell raffle tickets that pay out half the proceeds as prize money and send the other half to charities of their choice. It would apply to 18 professional sports teams, 23 minor league teams and at several golf and racing events in the state.
These 50-50 raffles are gaining popularity across the nation but haven't come to the most populous state because California law caps charity raffle prizes. Up to 10 percent of proceeds can go to winners while 90 percent must go to charity.
A group of nonprofits is calling foul. They say it would establish an unfair exemption favoring franchise owners over smaller charities like food banks, PTAs and churches. Critics, including Indian tribes that operate casinos, worry the bill blurs the line between a charitable raffle and a gambling operation.
"Any bill that says there's an exemption from the law for 11 corporations as named below, that immediately doesn't smell right," said Jan Masaoka, chief executive of the California Association of Nonprofits, an organization with nearly 10,000 nonprofit members.
Sen. Isadore Hall, D-Compton, the bill's author, said 50-50 raffles are a tremendous success in 29 states and across Canada. Texas voters will decide in November on changing their state constitution to let teams such as the Dallas Cowboys hold raffles at games.
Hall's bill is backed by sports teams like the Los Angeles Dodgers, San Francisco Giants and Sacramento Kings, as well as service groups like the American Legion and Los Angeles Boys and Girls Club. Some charities say the exposure to a team's fans is invaluable.
"Thank God for corporations and businesses and our sports teams that desire to help nonprofit organizations, which — by the way — are struggling across the nation to provide services to the community," Hall said.
Proceeds from a single game can add up fast, especially if the raffle tickets are sold electronically at kiosks or by vendors with portable, digital printers. In 2013, the Arizona Diamondbacks sold a record $100,016 worth of 50-50 raffle tickets in one game to support charities responding to the Yarnell fire, which killed 19 firefighters.
Hall said critics should be ashamed of opposing a bill that will bring much-needed resources to poor communities he represents such as Watts and Compton.
But there is also big money behind the legislative push.
Lobbying records show Pointstreak Sports Technologies Inc., which runs a proprietary electronic raffle system used by more than 70 professional football, basketball, hockey and baseball teams, has spent more than $100,000 in the past two years lobbying to break into California's lucrative market. The Toronto-based company and professional sports teams have hired two well-connected lobbyists, Jason Kinney and Andrew Govenar.
This year, the nonprofit association has spent more than $22,000 to oppose the bill. It is represented by another veteran lobbyist, Jennifer Fearing.
Dan Schnur, executive director of the Unruh Institute of Politics at the University of Southern California, said the Legislature's consideration of professional sports raffles is the same as past legislative carve-outs allowing teams like the Golden State Warriors and Sacramento Kings to speed up permitting and environmental review of new arenas.
"If you start with those types of community bonds and add on considerable lobbying investments, you're probably going to end up getting what you want," he said.
The bill also includes no restrictions on what kinds of charities sports teams can choose to reap the raffle proceeds.
The San Francisco Giants' flagship community outreach program is its Junior Giants baseball program for at-risk youth, and the Los Angeles Dodgers' cornerstone charity is its Dodgers Dreamfields, which refurbishes baseball and softball diamonds in low-income urban neighborhoods.
Jack Blair, vice president and general counsel for the Giants, said the team wouldn't compete with other nonprofits and the raffles could generate $1 million a year for Northern California charities.
Sara Griffen, who runs the Imperial Valley Food Bank in rural El Centro near the Mexico border, doubts her charity will benefit from 50-50 raffles. The food bank was interested in raffling off a $10,000 car until she realized she would need to sell $90,000 worth of tickets by law. That requirement wouldn't change for her charity if the bill passes.
"They don't play by the same rules as the rest of us," Griffen said of pro sports teams.
Although a similar proposal failed last year, the current bill, SB549, has received unanimous support so far. It passed the Senate and is now in the Assembly. Gov. Jerry Brown, a Democrat, has not weighed in on the proposal.