Splunk Keeps Rolling With Another Strong Quarter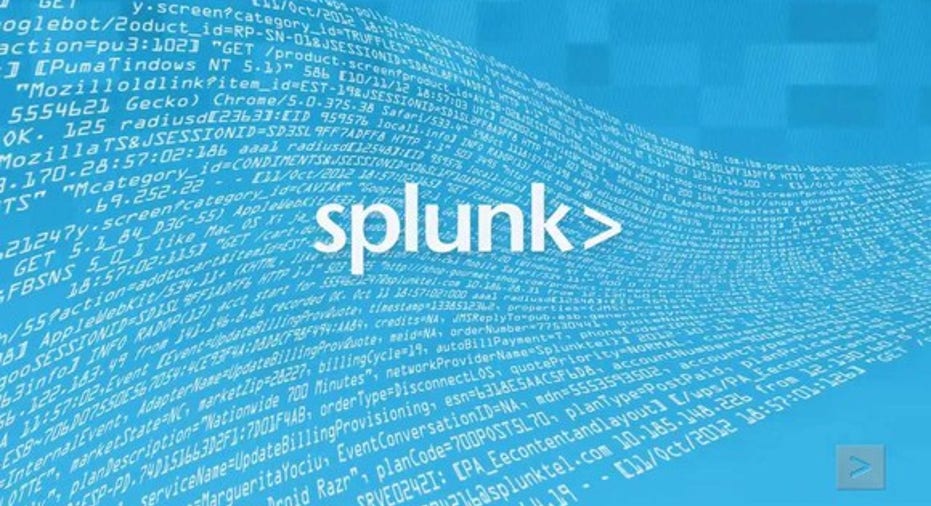 IMAGE SOURCE: SPLUNK, INC.
Splunk Inc. (NASDAQ: SPLK) released fiscal third-quarter 2017 results Tuesday after the market closed, exceeding expectations for the eighth consecutive time. As a result, shares of the operational intelligence platform specialist are up 7% in after-hours trading as of this writing. Let's take a closer look at what drove Splunk's business over the past three months.
Splunk results: The raw numbers
| Metric | Fiscal Q3 2017 | Fiscal Q3 2016 | Year-Over-Year Growth |
| --- | --- | --- | --- |
| Revenue | $244.8 million | $174.4 million | (40.4%) |
| GAAP net income (loss) | ($93.5 million) | ($73.0 million) | N/A |
| GAAP earnings (loss) per share | ($0.69) | ($0.57) | N/A |
Data source: Splunk.
What happened with Splunk this quarter?
On an adjusted (non-GAAP) basis, which offers perspective by excluding items like stock-based compensation, Splunk generated net income of $16.3 million, or $0.12 per share.
Adjusted operating margin was 6.8%.
By comparison, Splunk's guidance provided in August called for significantly lower quarterly revenue of between $228 million and $230 million, and lower adjusted operating margin of between 5% and 6%.
Revenue growth was driven by a 34.1% increasein license revenue, to $139.7 million, and a 49.5% increase in maintenance and services revenue, to $105.1 million.
Sales and marketing expenses increased 28.6% year over year, to $167.3 million, while research and development costs climbed 52.5% year over year, to $85.7 million.
Splunk added almost 500 new enterprise customers during the quarter, with notable new and expanded customer relationships including BMW, Dow Jones, Florida State University, Progressive, Rackspace, University of Illinois, University of Miami, U.S. Department of State, U.S. Department of Homeland Security, and Zendesk.
Introduced machine learning capabilities in the newest versions of Splunk solutions, including Splunk Cloud, Splunk Enterprise, and Splunk IT Service Intelligence 2.5.
Introduced Talk to Splunk with Amazon Alexa App, offering a natural language interface for Splunk through a custom Alexa skill.
Announced Splunk Pledge, through which the company committed to donating at least $100 millionover the next 10 years in licenses, training, support, education and volunteer work to nonprofit and educational organizations.
Made investments in advanced threat defense specialist Acalvio and natural language data search and analysis company Insight Engines to further expand the scope, capabilities, and reach of Splunk's platform.
Expanded the Splunk-led Adaptive Response Initiative for enterprise security with new members includingAcalvio, Anomali, Cisco Systems, CrowdStrike, DomainTools, ForeScout, Okta, Proofpoint, Qualys, Recorded Future and Symantec.
What management had to say
According to Splunk CEO Doug Merritt:
Looking forward
For the current quarter, Splunk anticipates revenue between $286 million and $288 million -- well above Wall Street's expectations for roughly $285.1 million -- and further expansion of adjusted operating margin to between 8% and 9%. As such, Splunk once again raised its guidance for the full fiscal year to call for revenue between $930 million and $932 million (up from the previous range of between $910 million and $914 million) and adjusted operating margin of between 5% and 6% (up from 5% previously).
In the end, this is as straightforward a beat-and-raise scenario as Splunk investors could have hoped. As long as the company continues to invest in innovation, extend the reach of its platform, grow its customer base, and take market share in these early stages of its long-term story, it should come as no surprise to see Splunk stock continue to climb.
10 stocks we like better than Splunk When investing geniuses David and Tom Gardner have a stock tip, it can pay to listen. After all, the newsletter they have run for over a decade, Motley Fool Stock Advisor, has tripled the market.*
David and Tom just revealed what they believe are the 10 best stocks for investors to buy right now... and Splunk wasn't one of them! That's right -- they think these 10 stocks are even better buys.
Click here to learn about these picks!
*Stock Advisor returns as of November 7, 2016
Steve Symington has no position in any stocks mentioned. The Motley Fool owns shares of and recommends Splunk. The Motley Fool recommends Cisco Systems, Progressive, and Zendesk. Try any of our Foolish newsletter services free for 30 days. We Fools may not all hold the same opinions, but we all believe that considering a diverse range of insights makes us better investors. The Motley Fool has a disclosure policy.