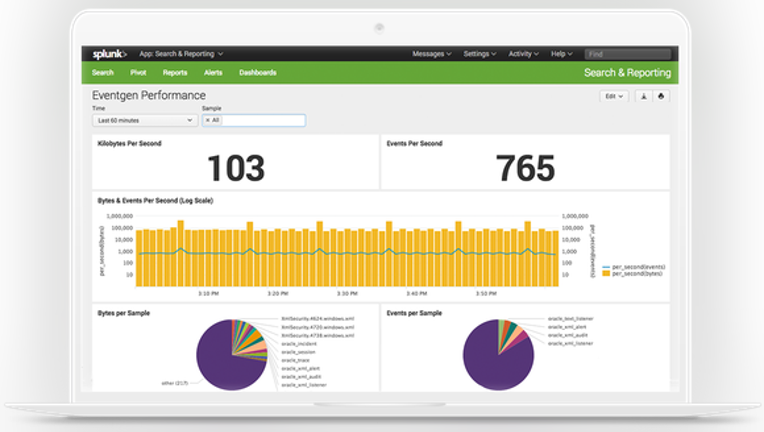 Splunk Inc.(NASDAQ: SPLK)released fiscal fourth-quarter 2017 results Thursday after the market closed, handily beating expectations for the ninth consecutive quarter. Nonetheless, share of the operational intelligence platform company are down around 6% in after-hours trading as of this writing.
Let's take a closer look at what drove Splunk's results as it capped its latest fiscal year, as well as what investors can expect from the company going forward.
Splunk's enterprise software solutions. Image source: Splunk, Inc.
Splunk results: The raw numbers
*For the quarter ended Jan. 31, 2017. Data source: Splunk.
What happened with Splunk this quarter?
On an adjusted (non-GAAP) basis, which offers perspective by excluding items like stock-based compensation, Splunk's net income was $34.8 million, or $0.25 per share.
Adjusted operating margin was 11.7%.
For perspective, Splunk's guidance provided last quarter called for lower revenue of between $286 million and $288 million and lower adjusted operating margin of between 8% and 9%.
Growth was driven by a 34.7% increasein license revenue, to $190.5 million, and 47.5% growth in maintenance and services revenue, to $115.9 million.
Sales and marketing expenses rose 18.2% year over year, to $190.8 million, research and development expenses rose 14.3% year over year, to $75.6 million, and general and administrative expense grew 46.6%, to $52.9 million.
Generated cash flow from operations in Q4 of $102.5 million, and free cash flow of $84.4 million.
Added nearly 700 new enterprise customers, bringing Splunk's customer base worldwide to over 13,000. Notable new and expanded customer relationships includedAflac, eHarmony, FedEx, Infoblox, Papa John's, Stamps.com, and the U.S. Department of State.
Announced version 5.0 of the Splunk App for AWS, with enhanced dashboards, improved billing insights into reserved versus on-demand AWS instances, and machine learning to identify cost optimization improvements and security anomalies.
Announced the Splunk App for Jenkins, enablind the use of Splunk solutions to collect and analyze Jenkins data.
Announced AWS Lambda blueprints, enabling users to stream logs, events, and alerts from more than 15 AWS services into Splunk for security and operational insights.
What management had to say
Splunk CEO Doug Merritt added:
Looking forward
For the first quarter of fiscal 2018 (ended April 30, 2017), Splunk expects revenue between $231 million and $233 million -- curiously below the $241.4 million investors were expecting -- with adjusted operating margin between negative 2% and negative 4%.
Even so, Splunk simultaneously updated its previous guidance for the full fiscal year of 2018 (ended Jan. 21, 2018). As it stands, Splunk now expects fiscal 2018 revenue of $1.185 billion, above Wall Street's estimates for $1.18 billion and marking a slight increase from prior guidance (provided at the company's annual investor day last month) of $1.175 billion. Within that figure, cloud revenue is expected to be around $85 million (up from $47.8 million last fiscal year), while adjusted operating margin for fiscal 2018 should be roughly 8%.
This was another strong quarter from Splunk as it continued to purposefully forsake bottom-line profitability in favor of investing to take market share and scale its business. Apart from from its slight top-line guidance shortfall (at least relative to Wall Street's expectations) for the current quarter, there were no negative surprises that should have raised the market's ire.
That said, shares of Splunk had climbed nearly 90% in the year leading up to this report. And given the company's nine-quarter streak of beating expectations, perhaps the market has grown accustomed to its propensity for underpromising and overdelivering. But even so, I think Splunk investors should be both happy with where their company stands today and excited for the road ahead.
10 stocks we like better than SplunkWhen investing geniuses David and Tom Gardner have a stock tip, it can pay to listen. After all, the newsletter they have run for over a decade, Motley Fool Stock Advisor, has tripled the market.*
David and Tom just revealed what they believe are the 10 best stocks for investors to buy right now... and Splunk wasn't one of them! That's right -- they think these 10 stocks are even better buys.
Click here to learn about these picks!
*Stock Advisor returns as of February 6, 2017
Steve Symington has no position in any stocks mentioned. The Motley Fool owns shares of and recommends Splunk. The Motley Fool owns shares of Papa John's International. The Motley Fool recommends Aflac, FedEx, and Stamps.com. The Motley Fool has a disclosure policy.