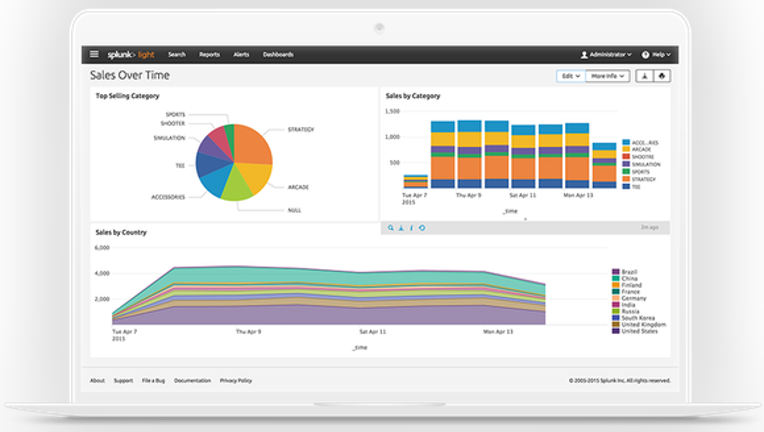 Splunk Inc. (NASDAQ: SPLK) announced stronger-than-expected fiscal first-quarter 2018 results on Thursday after the market closed, with its 10th consecutivequarterly earnings beat highlighted by the continued rapid adoption of its operational intelligence platform.
But with shares down around 5% in after-hours trading as of this writing -- albeit after climbing more than 30% year to date and approaching a 52-week high earlier Thursday -- let's take a closer look at what drove Splunk's business this quarter, as well as what we can expect from the company going forward.
IMAGE SOURCE: SPLUNK.
Splunk results: The raw numbers
*FOR THE QUARTER ENDED APRIL 30, 2017. DATA SOURCE: SPLUNK.
What happened with Splunk this quarter?
On an adjusted (non-GAAP) basis, which excludes items like stock-based compensation, Splunk's net loss was $1.3 million, or $0.01 per share. Adjusted operating margin was negative 1.2%.
By comparison, three months ago Splunk told investors to expect lower fiscal first-quarter revenue between $231 million and $233 million and adjusted operating margin between negative 2% and negative 4%.
Billings increased 30% year over year to $242.8 million.
Top-line growth included a 15.6% increase in license revenue to $116.7 million, and 48% growth in maintenance and services revenue to $125.7 million.
Operating cash flow was $41.4 million, and free cash flow was $35.8 million.
Added almost 500 new enterprise customers during the quarter, with new and expanded relationships including the likes of Cerner, Lockheed Martin, Take-Two Interactive, and the U.S. Navy.
Announced SaaS contract support in the AWS Marketplace.
Announced Splunk DB Connect 3.0, enabling "powerful connections between Splunk and the structured data world of SQL and JDBC."
What management had to say
Splunk CEO Doug Merritt maintained his focus on customers, saying:
Looking forward
For the current fiscal second quarter of 2018, Splunk expects revenue between $267 million and $269 million, while adjusted operating margin should improve to roughly 4%.
As such, Splunk increased its guidance for the full fiscal year of 2018 to call for billings of $1.425 billion (up from $1.4 billion previously), and revenue of $1.195 billion (up from $1.185 billion previously). Splunk continues to expect full fiscal-year adjusted operating margin of 8%.
In the end, investors can't ask much more from Splunk as it continues to invest heavily to take market share and drive revenue higher in these early stages of growth -- except, perhaps, anevenmore pronounced beat and raise than it delivered to start its latest fiscal year. But it's also worth noting that the market offered a similar modestly negative reaction to Splunk's equally solid fourth-quarter report in February, only for the stock to resume climbing as the market absorbed the news. So patient, long-term investors can take solace in knowing that regardless of whether the reaction to this report indicates as much, Splunk's growth story appears to remain firmly intact.
10 stocks we like better than SplunkWhen investing geniuses David and Tom Gardner have a stock tip, it can pay to listen. After all, the newsletter they have run for over a decade, Motley Fool Stock Advisor, has tripled the market.*
David and Tom just revealed what they believe are the 10 best stocks for investors to buy right now... and Splunk wasn't one of them! That's right -- they think these 10 stocks are even better buys.
Click here to learn about these picks!
*Stock Advisor returns as of May 1, 2017
Steve Symington has no position in any stocks mentioned. The Motley Fool owns shares of and recommends Splunk and Take-Two Interactive. The Motley Fool recommends Cerner. The Motley Fool has a disclosure policy.