Spirit Airlines Stock Soared 45% in 2016, but It's Still Cheap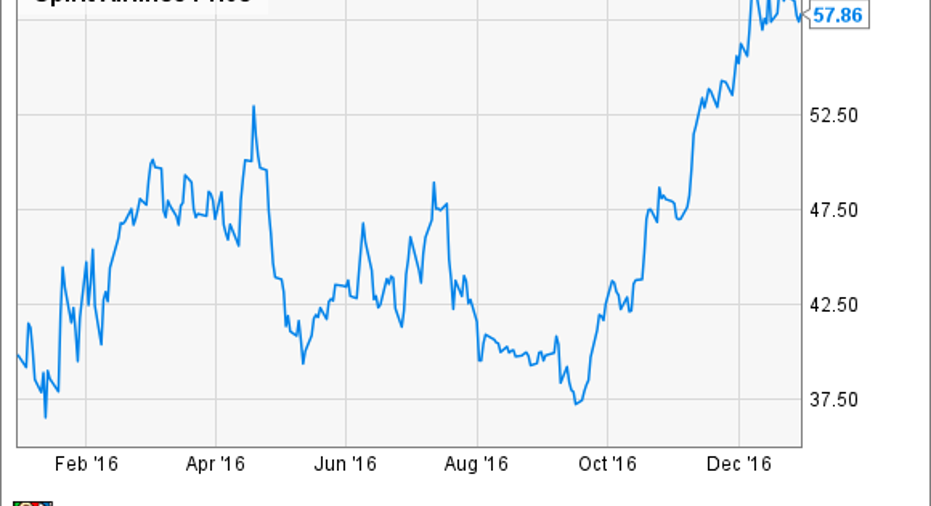 After several years of big share price gains following its 2011 IPO, budget airline Spirit Airlines (NASDAQ: SAVE) has taken investors on a roller-coaster ride since the beginning of 2015.
Indeed, Spirit Airlines stock lost nearly half of its value in 2015. However, it bounced back in 2016, posting a strong 45% gain, according to data from S&P Global Market Intelligence.
Spirit Airlines Stock 2016 Performance, data by YCharts.
Despite this strong performance last year, Spirit Airlines shares still have plenty of upside for patient investors. With the stock having pulled back by about 7% in the first six weeks of 2017, this could be a good time to make an investment in America's fastest-growing airline.
Highlights of 2016
Spirit Airlines got a new CEO, Bob Fornaro, to start 2016. He replaced Ben Baldanza, who had led Spirit for nearly a decade as it grew rapidly and transformed itself into an ultra-low cost carrier. At the time of the leadership transition, Spirit Airlines was earning record profits but facing steep unit revenue declines that threatened to quickly erode its profit margin.
Over the past year, Fornaro has started to put his stamp on the company. Under his direction, Spirit Airlines has reduced aircraft utilization modestly and made other changes to improve on-time performance and customer satisfaction.
The early results from these initiatives are encouraging. On-time performance improved by more than 5 percentage points in 2016. Furthermore, the rate of official complaints to the Department of Transportation fell by more than 60% during the course of the year.
Fornaro and his executive team have also started to reshape Spirit Airlines' route network by emphasizing routes with less intense competition. This has led to the addition of numerous new routes to Florida from various cities in the Northeast and Midwest. Spirit Airlines has also added more midsize cities like Hartford, Connecticut and Akron, Ohio to its route map.
Spirit Airlines recently began a slew of new routes to Florida. Image source: Spirit Airlines.
These efforts have started to stem the tide of unit revenue declines at Spirit Airlines. Revenue per available seat mile (RASM) fell 3.6% year over year last quarter, compared to declines of more than 14% in the first half of 2016. Still, Spirit's adjusted earnings per share fell 25% in Q4 due to the combination of lower unit revenue and higher costs.
Can Spirit Airlines maintain its turnaround momentum?
Analysts expect Spirit Airlines' EPS to continue declining in the first half of 2017 before returning to growth later this year. For Q1 in particular, Spirit will face a steep increase in fuel costs, as it expects to pay $1.81/gallon for jet fuel, up from just $1.22/gallon a year earlier.
Meanwhile, RASM is expected to fall about 2.5% year over year this quarter. That said, there are some unique factors hurting Spirit's Q1 unit revenue performance. Most importantly, a change in the timing of Easter is shifting a large chunk of revenue from the first quarter to the second quarter this year. Winter storms and last month's Fort Lauderdale airport shooting also negatively impacted unit revenue at Spirit Airlines.
Looking ahead to the second quarter, Spirit's management expects RASM to start growing again. Furthermore, RASM should continue to rise for the rest of the year, even though Spirit Airlines plans to grow capacity 18.5% year over year in 2017.
This will drive an acceleration in revenue growth starting next quarter. And as long as fuel prices stay steady, it will be followed by a return to earnings growth in the second half of the year.
Spirit Airlines stock is still cheap
Following a recent pullback in its share price, Spirit Airlines stock trades for less than 14 times the company's projected 2017 EPS. That's a higher earnings multiple than most airlines enjoy, but it makes Spirit shares incredibly cheap relative to the company's growth potential.
While Spirit Airlines could post a second consecutive annual earnings decline this year, it still has tremendous long-term earnings growth prospects. With unit revenue finally stabilizing, EPS could start to grow in line with (or even faster than) Spirit's 15%-20% planned capacity growth. If EPS starts to grow again later this year as expected, Spirit Airlines stock could climb even higher.
10 stocks we like better than Spirit AirlinesWhen investing geniuses David and Tom Gardner have a stock tip, it can pay to listen. After all, the newsletter they have run for over a decade, Motley Fool Stock Advisor, has tripled the market.*
David and Tom just revealed what they believe are the 10 best stocks for investors to buy right now... and Spirit Airlines wasn't one of them! That's right -- they think these 10 stocks are even better buys.
Click here to learn about these picks!
*Stock Advisor returns as of February 6, 2017
Adam Levine-Weinberg owns shares of Spirit Airlines. The Motley Fool recommends Spirit Airlines. The Motley Fool has a disclosure policy.