Spirit Airlines Incorporated Earnings: Profit Plunges on Higher Costs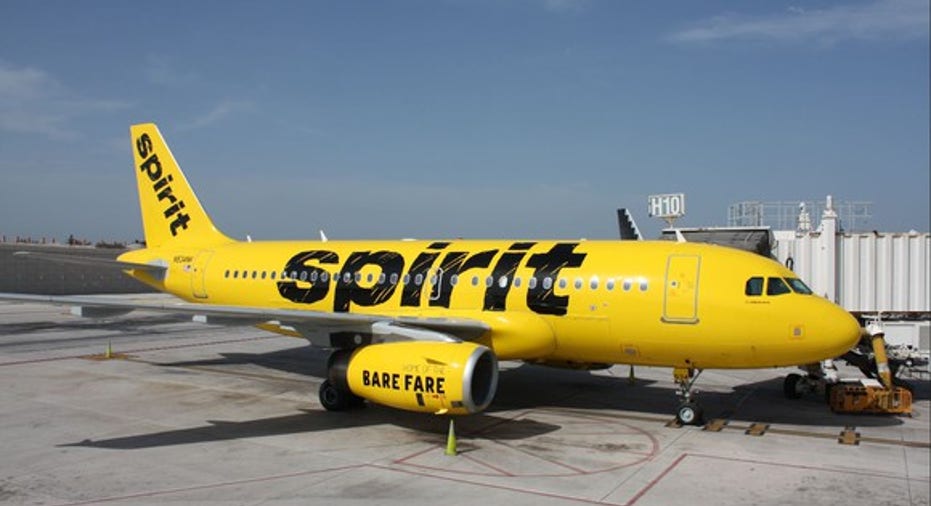 On Tuesday morning, ultra-low-cost carrier Spirit Airlines (NASDAQ: SAVE) reported a sharp decline in profit for the fourth quarter of 2016. Unit revenue continued to fall -- albeit at a slowing rate -- so Spirit Airlines wasn't able to offset year-over-year increases in fuel prices, labor costs, and maintenance costs.
That said, Spirit Airlines remains one of the most profitable airlines in the U.S. Furthermore, as the industry pricing environment improves and the company's route network changes take hold, unit revenue should finally start rising again, allowing Spirit to return to earnings growth.
Spirit Airlines results: The raw numbers
| Metric | Q4 2016 | Q4 2015 | Year-Over-Year Change |
| --- | --- | --- | --- |
| Revenue | $578.4 million | $519.8 million | 11.3% |
| Total unit revenue | 8.78 cents | 9.11 cents | (3.6%) |
| Adjusted cost per available seat mile excluding fuel | 5.44 cents | 5.15 cents | 5.6% |
| Adjusted net income | $53.9 million | $73.3 million | (26.5%) |
| Adjusted pre-tax margin | 14.9% | 22.4% | N/A |
| Adjusted EPS | $0.77 | $1.02 | (25%) |
Data source: Spirit Airlines Q4 earnings release.
What happened with Spirit Airlines this quarter?
In October, Spirit Airlines began to implement a new route selection strategy. Rather than simply trying to connect the biggest cities to one another, Spirit has recently added numerous routes connecting cities in the Northeast and Midwest to leisure destinations, primarily in Florida.
Launching these new routes didn't get Spirit Airlines' unit revenue growing again right away. Revenue per available seat mile fell 3.6% year over year in Q4. However, Spirit Airlines has said in the past that new routes typically take three months to reach normal profitability levels. This implies that the recent route network changes are more likely to pay off in Q1.
Thus, investors should view the fourth quarter as a transitional period for Spirit Airlines. The company did suffer precipitous declines in its profit margin, net income, and earnings per share, but it was facing unusually tough comparisons due to the steep drop in fuel prices that occurred between late 2014 and the beginning of 2016.
Spirit Airlines faced a tough year-over-year earnings comparison in Q4. Image source: Spirit Airlines.
By contrast, Spirit Airlines' 14.9% adjusted pre-tax margin was roughly in line with its performance in the fourth quarter of 2013, before it began to benefit from cheap oil.
What management had to say
Since taking over the top job at Spirit Airlines a little more than a year ago, CEO Bob Fornaro has emphasized the need to make the airline more reliable and customer-friendly. He was pleased by Spirit's improvements over the course of the year, stating:
Management was also pleased with its cost performance. CFO Ted Christie noted that while its non-fuel cost per available seat mile (CASM) increased during Q4, it fell on a full-year basis. "For the full year 2016, our adjusted CASM ex-fuel decreased 0.9 percentyear over year. I applaud our team members for their continued efforts to improve our cost structure," he said.
Looking forward
During the first half of 2016, RASM plunged 14.1% year over year at Spirit Airlines. Since then, unit revenue has been stabilizing, culminating in last quarter's relatively modest 3.6% decrease.
Easy comparisons and growing momentum from its recent route network changes give Spirit Airlines a good chance to return to RASM growth in the first half of 2017.
Meanwhile, on the cost side, Spirit Airlines will benefit from its ongoing shift from leasing aircraft to owning them. This reduces its costs by about $1 million per airplane on an annual basis. Lower fleet-related costs will offset some of the expected labor cost increases from Spirit's next pilot contract, which is likely to take effect later in 2017 or in 2018. By holding down unit costs, Spirit is ensuring its long-term profitability by building up a competitive advantage over higher-cost rivals.
10 stocks we like better than Spirit AirlinesWhen investing geniuses David and Tom Gardner have a stock tip, it can pay to listen. After all, the newsletter they have run for over a decade, Motley Fool Stock Advisor, has tripled the market.*
David and Tom just revealed what they believe are the 10 best stocks for investors to buy right now... and Spirit Airlines wasn't one of them! That's right -- they think these 10 stocks are even better buys.
Click here to learn about these picks!
*Stock Advisor returns as of February 6, 2017
Adam Levine-Weinberg owns shares of Spirit Airlines. The Motley Fool recommends Spirit Airlines. The Motley Fool has a disclosure policy.