Spirit Airlines Earnings: The Comeback Continues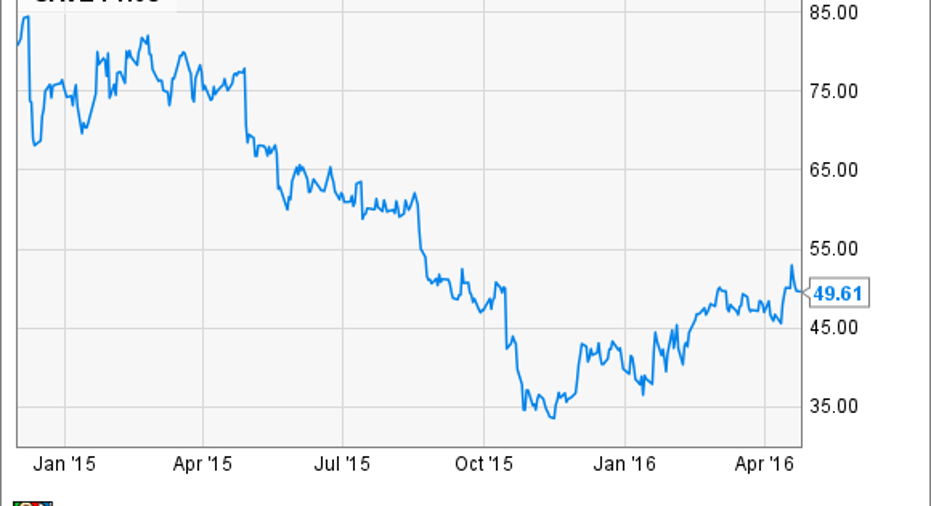 Spirit Airlines investors had a rough 2015, as Spirit shares plunged more than 60% from an all-time high of around $85 in December 2014 to a multi-year low of about $33 in late 2015.
Spirit Airlines Stock Performance, data by YCharts
This weak stock performance came as increased competition in the airline industry led to vicious pricing battles, driving down Spirit Airlines' unit revenue. These pressures continued in Q1, but showed clear signs of easing, allowing Spirit to continue growing earnings per share, albeit at a slower rate than in previous years.
Spirit Airlines results: The raw numbers
| | Q1 2016 Actual | Q1 2015 Actual | Growth (YOY) |
| --- | --- | --- | --- |
| Revenue | $538.1 million | $493.4 million | 9.1% |
| Total Unit Revenue | $0.0899 | $0.1043 | (13.8%) |
| Adjusted Cost Per Available Seat Mile | $0.0703 | $0.0806 | (12.8%) |
| Adjusted Net Income | $72.3 million | $70.7 million | 2.2% |
| Adjusted Pre-Tax Margin | 21.3% | 22.7% | N/A |
| Adjusted EPS | $1.01 | $0.96 | 5.2% |
Source: Spirit Airlines Q1 earnings release
What happened with Spirit Airlines this quarter?In the first week of the new year, Spirit Airlines CEO Ben Baldanza resigned unexpectedly after nearly a decade at the helm. He was replaced by Bob Fornaro, an industry veteran and Spirit Airlines board member who was previously the CEO of AirTran until it was purchased by Southwest Airlines.
Fornaro has promised to improve Spirit's operational reliability and improve customer satisfaction. As an executive who once ran a significantly bigger airline, Fornaro has the know-how to pull this off.
However, it will take time. In January, Spirit's on-time percentage was a dismal 68.1%. In February, it was even worse, at 63.2%. Both times, it was dead last among major airlines. Spirit rolled out a new flight dispatch system during the quarter, which caused some disruptions that have since been fixed. As a result, operational performance should start to improve in Q2.
On the revenue front, Spirit had more success last quarter. The company initially predicted that total unit revenue would decline about 16%. In the end, Spirit was able to limit its unit revenue decline to 13.8%. This allowed it to beat the midpoint of its margin guidance by more than 2 percentage points.
Spirit Airlines posted better-than-expected revenue results in Q1. Image source: Spirit Airlines.
One other highlight of the quarter was that Spirit Airlines reached a tentative agreement with its flight attendants' union on a new five-year contract. Keeping flight attendants happy and engaged will be critical as the company tries to improve its customer service.
What management had to saySpirit Airlines CEO Bob Fornaro was pleased with the company's performance during Q1. In particular, Spirit is starting to have more success mitigating the pressure on its unit revenue.
Fornaro stated, "The pricing environment remains very competitive, but we aren't just sitting passively by. We have upgraded our pricing systems, made modest revisions to our schedules, and adjusted our approach to inventory management, all of which have produced improvements to our revenue results."
Meanwhile, Spirit continues to focus on keeping costs down. Adjusted non-fuel unit costs decreased 2.3% year over year in Q1, while per-gallon fuel costs plunged by 37.4%.
"Our greatest competitive strength is our relative cost advantage," said Spirit Airlines CFO Ted Christie. "We are focused on getting better all the time and doing so while maintaining, or improving upon, our relative cost advantage."
Looking forwardSpirit Airlines expects its Q2 unit revenue performance to be more or less in line with the 13.8% decline recorded in Q1. That's a fairly good result given that the early timing of Easter benefited Q1 unit revenue and will hurt Q2 unit revenue.
Spirit also expects unit costs to continue falling, allowing it to deliver a 20.5%-22% operating margin in Q2. That would be roughly in line with its 21.6% adjusted operating margin from Q2 2015. Furthermore, Spirit has outperformed its initial guidance in each of the past two quarters.
This bodes well for Spirit posting another increase in EPS this quarter. Meanwhile, some of Spirit's new profit growth initiatives like adding new ancillary revenue products and moving into more mid-sized markets will start to ramp up later in 2016.
The article Spirit Airlines Earnings: The Comeback Continues originally appeared on Fool.com.
Adam Levine-Weinberg owns shares of Spirit Airlines and is long June 2016 $30 calls on Spirit Airlines. The Motley Fool recommends Spirit Airlines. Try any of our Foolish newsletter services free for 30 days. We Fools may not all hold the same opinions, but we all believe that considering a diverse range of insights makes us better investors. The Motley Fool has a disclosure policy.
Copyright 1995 - 2016 The Motley Fool, LLC. All rights reserved. The Motley Fool has a disclosure policy.