Speedy, expensive SUVs from the likes of Bentley, Jaguar are a thing at Frankfurt auto show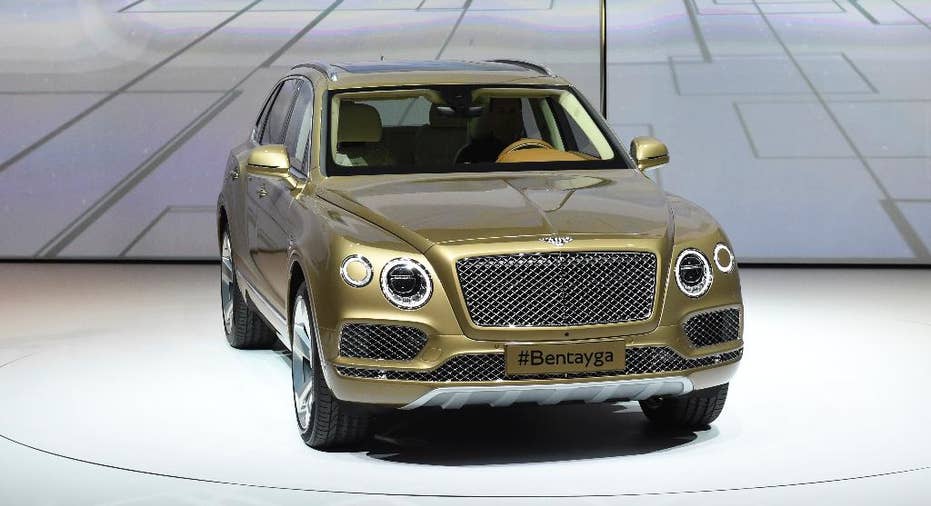 Does anyone really need a sport-utility vehicle so fast it can hit speeds close to those seen in Formula One races? Luxury automaker Bentley is betting that some well-heeled customers will feel that they do.
Its new Bentayga SUV that is on display at the Frankfurt International Motor Show has a top speed of 301 kph (187 mph), not too far behind the 200-mph plus speeds that race cars reach. It accelerates to 100 kph (62 mph) in 4.1 seconds — speed and power more like a sports car than an off-road vehicle.
Starting at 175,200 euros in Europe and $221,600 in the United States, the Bentayga exemplifies the trend for makers of high-priced vehicles to get into the SUV segment — even if their reputation might be for another kind of car. That could be high-priced passenger rides in Bentley's case, or sports cars, such as with Jaguar, which is showing off its first SUV at the Frankfurt show.
Analysts say luxury carmakers are stretching their brand image to offer more types of vehicle and expand sales in the premium segment. That's where profit margins are highest, while mass market carmakers often struggle to break even.
Mercedes-Benz, already in in the SUV game, is offering the GLC, a redone version of its GLK mid-size SUV. Maserati, a brand that like Jaguar is best known for its sports cars, is expected to unveil its new Levante SUV in the coming months. Tesla's high-performance SUV-like crossover, the Model X, will start reaching customers Sept. 29. It won't be on display in Frankfurt; Tesla doesn't bring production models to auto shows before they go on sale.
In a sense, all the above manufacturers are following the example of pioneer Porsche, which introduced the Cayenne SUV in 2002 when it otherwise made only sports cars. It now makes more SUVs than any other kind of vehicle. Porsche is now part of Volkswagen, like Bentley.
The new SUVs show "how elastic some of these ultra-premium brands are becoming in terms of what their vehicles mean to consumers," said analyst Tim Urquhart at IHS Automotive. He said performance SUVs are a new breed of car: "You can have a car that is a big chunky car with notional off road ability — although none of these cars obviously ever goes off road — but which also has huge performance levels as well. "
Thanks to modern chassis construction and electronically controlled suspensions and stability, "you can make them handle pretty well, almost like a sports car. Then you have everything: you have the road presence and driver height, and you also have the handling performance" of a sports car, Urquhart said.
SUVs have seen sales grow across all price ranges, and that's expected to continue. IHS Automotive estimates that sales will increase to 27 percent of the market in Europe, from 20 percent in 2014.
The Bentayga remains a Bentley, with luxurious features such as a choice of 15 different leather colors for the interiors. Its variable air suspension includes a switch in the trunk area that can lower the car's rear end and ease the butler's work in loading the vehicle. One option is a built-in hamper with fine china and crystal glasses for casual off-road lunch stops. While the car may be a beauty, its engine is a beast. The massive 12-cylinder, 6.0 liter power plant develops 608 horsepower.
Jaguar's F-PACE borrows elements from the company's F-Type sports car in a bid to combine higher driver seating with a livelier, sports-car like driving experience. Top speed is more modest than the Bentayga, at 250 kph (155 mph). The all-wheel drive vehicle can adapt automatically to different road surfaces to avoid losing traction, for instance setting an aggressive throttle to plow through deep snow and a slower one for ice. It is available with partly automated parking assist that measures the space and steers in, so the driver only has to work the accelerator and the brakes.
It's priced starting at $40,990 for the base level diesel, $42,390 for a 340-horsepower gasoline engine and $56,700 for a 380-horsepower gas engine, with option packages coming on top of that.