Spectra Energy's Earnings Remain Steady While It Awaits Completion of Its Major Projects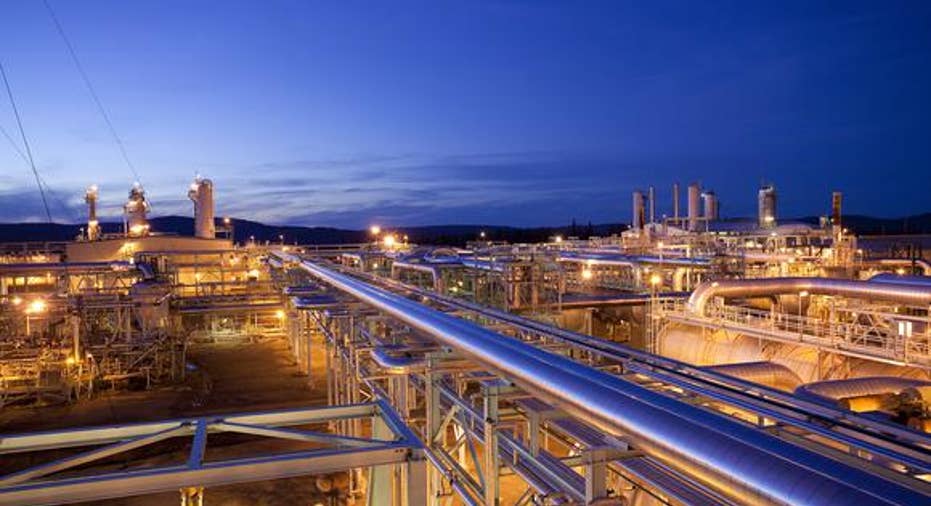 Image source: Spectra Energy via Flickr.
The theme of 2016 for investors in Spectra Energy will be patience. After completing more than $10 billion in projects over the past five years, there's going to be a noticeable lull in growth this year as many of its new construction isn't slated to come online until late this year. That may make investors nervous about the company's distribution in the coming quarters, but thankfully, its solid earnings in the first quarter should put some of those concerns at ease.
Let's take a quick look at how Spectra did this past quarter and what investors should be looking for in 2016 from the company.
Spectra Energy's results: The raw numbers
| | | | |
| --- | --- | --- | --- |
| Results (in millions, except per share data) | Q1 2016 | Q4 2015 | Q1 2015 |
| Revenue | $1,384 | $1,316 | $1,623 |
| EBITDA | $750 | $153 | $776 |
| Earnings per share | $0.35 | ($0.39) | $0.35 |
| Distributable cash flow | $523 | $194 | $578 |
| Coverage ratio | 1.8x | 0.7x | 2.3x |
Data source: Spectra Energy earnings release.
There are a couple of things that really pop out in these results. The largest is stark difference between this quarter and the prior quarter. There are a few things at work, here. Last quarter, the company took sizable goodwill impairments and other writedowns on its equity investment in DCP Midstream Partners . Also, as part of that DCP Midstream writedown, Spectra Energy transferred ownership of theSand Hills and Southern Hills NGL pipelines from Spectra Energy Partners to DCP Midstream Partners. This is part of the reason Spectra's EBITDA and distributable cash flow were lower than the same quarter last year. Here's a breakdown of the company's EBITDA by business segment.
Sources: Spectra Energyearningsrelease, author's chart.
Like last quarter, Spectra's Gas Distribution and Western Canada Transmission & Processing segments were affected by currency headwinds between the U.S. and Canadian dollars. The company also noted that overall gas demand for these segments was slightly weaker because of the milder winter in their serviced regions.
It should also be noted that the company's coverage ratio for this quarter was exceptionally high for the quarter. Spectra Energy's cash flow can be a little lumpy from quarter to quarter because of natural gas demand in the winter months. Spectra Energy expects its distribution coverage ratio will end the year around 1.2 times.
What happened with Spectra Energy this past quarter?
The company raised $383 million from its "At the Market" equity issuance program, a program where the company issues small lots of shares over time rather than a large, single-issue release like the ones to which we are normally accustomed.
Through negotiations with its lenders, Spectra Energy and all of its corporate subsidiaries increased the upper limit of its credit lines to $4.4 billion. At the end of the quarter, the entire enterprise had more than $2.6 billion in available liquidity.
No new major projects came online this quarter. The company expects to complete about $2 billion worth of projects, but most of them are not expected to come online until the fourth quarter.
Image source: Spectra Energy investor presentation.
What management had to sayThe big theme for pipeline companies over the past several months has been access to capital. As investors' appetite for new equity in pipelines and master limited partnerships has waned in recent months, the big concern is whether companies such as Spectra can find the capital they need to execute on their respective growth strategies. This is especially pertinent to Spectra since it has a plan to bring a whopping $20 billion in new projects online by the end of the decade. So, in Spectra's press release, CEO Greg Ebel pointed out that the company has adequate access to capital to get its projects off the ground:
Looking forwardSpectra's results are a little lumpy from quarter to quarter, and with all of the company's growth in 2016 back-loaded into the fourth quarter, chances are, some metrics such as distribution coverage ratio will slip as the tear progresses. Don't look too much into this since it should be expected. The things investors should watch for in the coming quarters, though, is the company's ability to raise capital at attractive rates. Spectra still has a ways to go on its massive growth plan, and the only way for that to generate returns for investors is if the company can get access to cheap capital in the coming years.
The article Spectra Energy's Earnings Remain Steady While It Awaits Completion of Its Major Projects originally appeared on Fool.com.
Tyler Crowe has no position in any stocks mentioned.You can follow him at Fool.comor on Twitter@TylerCroweFool.The Motley Fool owns shares of and recommends Spectra Energy. The Motley Fool recommends DCP Midstream Partners. Try any of our Foolish newsletter services free for 30 days. We Fools may not all hold the same opinions, but we all believe that considering a diverse range of insights makes us better investors. The Motley Fool has a disclosure policy.
Copyright 1995 - 2016 The Motley Fool, LLC. All rights reserved. The Motley Fool has a disclosure policy.