Spectacles Are Totally Not Worth It for Snap, Inc.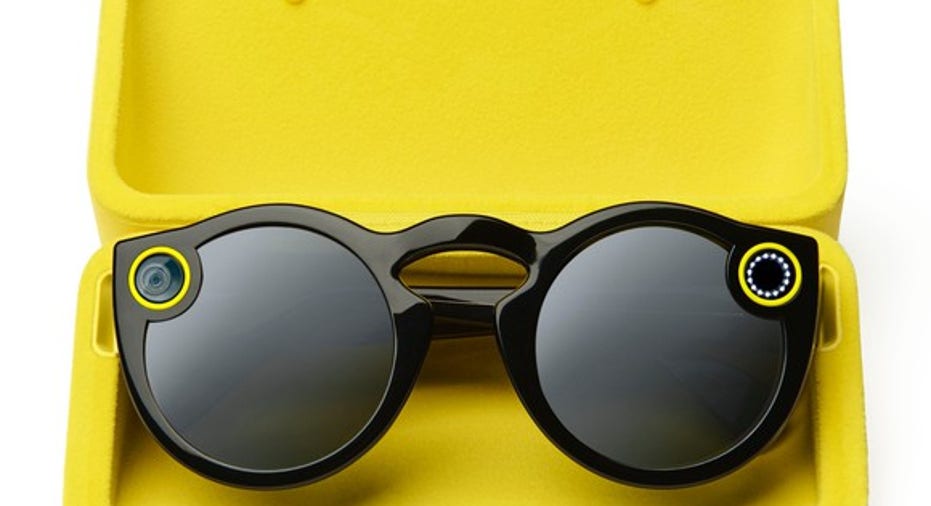 Snap's (NYSE: SNAP) Spectacles are really just a novelty product. That fact is abundantly clear in the wake of the Snapchat operator's first public earnings release.
Snap successfully pulled off a viral marketing campaign late last year when it launched Spectacles, which were only available in limited quantities and exclusively sold through a network of bright yellow vending machines. Perhaps more importantly, Spectacles also played a crucial role in why Snap has chosen to rebrand itself as a "camera company," since it was its first actual hardware camera product. At least so far, it hasn't been worth it.
Image source: Snap.
Spectacles lose money
Snap said that Spectacles revenue in the first quarter totaled approximately $8 million, which represented about 5% of total revenue. It's common knowledge in the world of consumer electronics that making compelling products that sustain demand is difficult, and margins are often slim. Snap also finally disclosed a breakdown of cost of revenue.
| Non-GAAP Cost of Revenue | Q1 2017 |
| --- | --- |
| Hosting costs | $99 million |
| Revenue sharing costs | $23 million |
| Other | $20 million |
| Total | $142 million |
Data source: Snap.
Let's be clear: that "other" category pertains predominantly to Spectacles. This is how Snap characterized cost of revenue in its prospectus:
If that $20 million is tied directly to Spectacles, which appears to be the case based on the prospectus language, that means that Snap generated a negative gross profit of roughly $12 million from Spectacles.
Spectacles engagement is literally a rounding error
On the earnings call, CEO Evan Spiegel also noted that "over 5 million Snaps" had been created via Spectacles to date. At the same time, the company said that it saw over 3 billion Snaps created on a daily basis during the first quarter. If you do the basic math, that means that Snapchat had roughly 270 billion Snaps created on its platform throughout the first quarter.
So 5 million Snaps would represent 0.002% of all Snaps during the quarter. But Spectacles launched in November, and Spiegel's metric included all Snaps created via Spectacles to date, so Spectacles contributed to even less than 0.002% of Snaps created during the first quarter.
Not worth it
This should all underscore how absurd it is that Snap considers itself a "camera company," which suggests that it intends to keep innovating on camera hardware. The vast majority -- over 99.998% -- of content comes from smartphone cameras, a feature that smartphone makers invest very heavily in as a competitive factor. There's no way that Snap will ever make a better camera than what's already in an iPhone, as Apple has over 800 engineers exclusively working on the camera. That's almost half the size of Snap's entire headcount at the end of 2016.
Snap is selling a product that it loses money on which also fails to improve engagement in any meaningful way, all while entering a space where it cannot compete. Not worth it.
10 stocks we like better than Snap Inc.When investing geniuses David and Tom Gardner have a stock tip, it can pay to listen. After all, the newsletter they have run for over a decade, Motley Fool Stock Advisor, has tripled the market.*
David and Tom just revealed what they believe are the 10 best stocks for investors to buy right now... and Snap Inc. wasn't one of them! That's right -- they think these 10 stocks are even better buys.
Click here to learn about these picks!
*Stock Advisor returns as of May 1, 2017
Evan Niu, CFA owns shares of AAPL. Evan Niu, CFA has the following options: long January 2019 $20 puts on Snap Inc. The Motley Fool owns shares of and recommends AAPL. The Motley Fool has a disclosure policy.