Spain, Materials Stocks Keep Pressure on Markets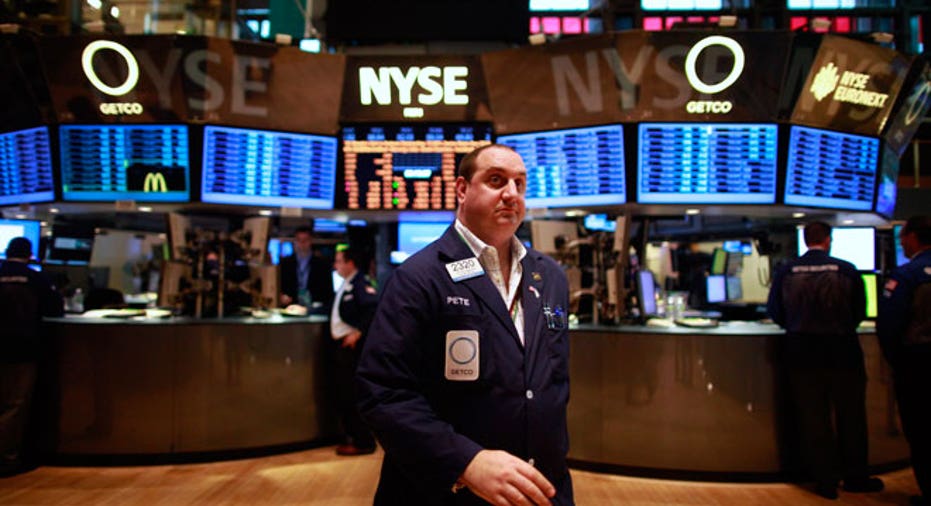 FOX Business: The Power to Prosper
U.S. stocks were stuck in the red Tuesday afternoon, dragged down by concerns about Spain's sovereign debt situation and weakness in the basic materials sector.
Today's Markets
As of 2:22 p.m. ET, the Dow Jones Industrial Average fell 60.28 points, or 0.45%, to 13456.13, the S&P 500 slid 2.47 points, or 0.17%, to 1442.05 and the Nasdaq Composite slipped 4.04 points, or 0.13%, to 3109.49. The FOX 50 declined 3.66 points, or 0.34%, to 1088.14.
The back-and-forth action marks the second consecutive day where the markets opened positively before succumbing to some selling pressure. On Monday a 150-point leap on the Dow was halved and the Nasdaq Composite ended in the red amid another decline for Apple (NASDAQ:AAPL).
"I think this is a continuation of a selloff coming from yesterday," said Jonathan Corpina, senior managing partner at Meridian Equity Partners. Investors' "risk parameters are a lot shorter than they were just two weeks ago," he said.
Wall Street hit session lows after Spanish Prime Minister Mariano Rajoy said in a press conference that a bailout request is not imminent. The comments came a day after Reuters report Spain is ready to apply for a rescue but is facing resistance from Germany.
The latest developments, coupled with declines in European markets, weighed on market sentiment as traders remain jittery about the never-ending sovereign debt crisis still gripping the eurozone. The Euro Stoxx 50 gave up early gains to close down 0.21%, although Spain's IBEX jumped just over 1%.
Basic materials stocks felt the heaviest selling on Wall Street, sinking almost 1% as fertilizer company Mosaic (NYSE:MOS) disclosed weaker-than-expected top and bottom line results. The earnings miss seemed to weigh on the likes of Potash (NYSE:POT) and DuPont (NYSE:DD).
U.S. stocks began to head south after General Motors (NYSE:GM) and Ford (NYSE:F) said their September sales barely budged from a year ago.
Ford's shares dropped 2% after posting a 0.1% decline in new-vehicle sales for September, missing calls from Edmunds for a 0.7% rise. GM said its U.S. sales increased 1.5% in September from the year before, compared with estimates for a 1.9% jump.
Chrysler's September sales jumped 12% year-over-year, besting forecasts from analysts for an 8% increase.
On the other hand, big banks like Citigroup (NYSE:C) and Morgan Stanley (NYSE:MS) ticked higher as Credit Suisse (NYSE:CS) upgraded the U.S. banking sector to "overweight" from "benchmark."
Market participants are also looking ahead to the start to earnings season next week with results from aluminum maker Alcoa (NYSE:AA).
After earnings per share barely grew at all in the second quarter, S&P Capital IQ is calling for a 1.8% year-over-year decline in third-quarter operating earnings for S&P 500 companies. Five sectors are seen suffering a decrease in earnings, led by materials and energy.
In the commodities complex, crude oil dipped 3 cents a barrel, or 0.03%, to $92.45. Gold slid $5.90 a troy ounce, or 0.33%, to $1,777.40.
Corporate Movers
MetroPCS (NYSE:PCS) shot up 20% to 13-month highs as Deutsche Telekom's said it is in talks to combine the wireless provider with its own T-Mobile USA. The news also boosted Leap Wireless (NASDAQ:LEAP) by 10% and weighed on Sprint (NYSE:S).
J.P. Morgan Chase (NYSE:JPM) was hit with a civil fraud lawsuit by New York's Attorney General tied to mortgage-backed securities sold by Bear Stearns leading up to the financial crisis. The suit alleges Bear, which was acquired by J.P. Morgan in 2008, failed to ensure the quality of loans at the heart of these complex securities.
Express (NASDAQ:EXPR) plunged 21% after slashing its third-quarter earnings targets well below Wall Street's already-lowered hopes due to an "abrupt change in traffic" last month. The apparel retailer now sees EPS of 16 cents to 20 cents, compared with estimates of 29 cents.
Mosaic (NYSE:MOS) disclosed a steeper-than-expected 18% slide in fiscal first-quarter earnings. Due to slumping phosphate sales, revenue shrank by 19% to $2.51 billion, trailing the Street's view of $2.68 billion.
Global Markets
The Euro Stoxx 50 slipped 0.21% to 2493.59, London's FTSE 100 fell 0.19% to 5809.45 and the German DAX lost 0.28% to 7305.86.
In Asia, Japan's Nikkei 225 slipped 0.12% to 8786.05.