SpaceX Goes Head to Head With Boeing and Lockheed -- and Crushes the Competition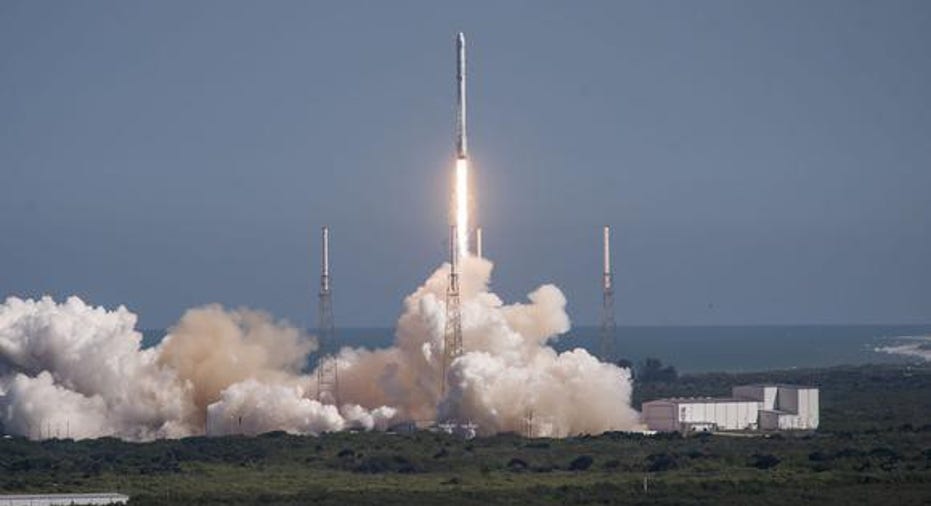 Six months ago, David met Goliath. Six months later, Goliath is getting carried away on his shield.
This contest began last August, with tiny SpaceX going up against United Launch Alliance (ULA), the giant space venture jointly operated by Boeing (NYSE: BA) and Lockheed Martin (NYSE: LMT), in a critical contest to see who would launch the U.S. Air Force's next "GPS III" satellite.
The U.S. Air Force loves SpaceX's Falcon 9 rocket -- and at these prices, rightly so. Image source: SpaceX.
A bit of history
Historically, ULA had provided monopoly service to the U.S. Air Force on its large satellite launches. But the Air Force had recently certifiedSpaceX to bid on its contracts -- and compete with ULA. SpaceX parlayed that certification into one GPS III contract win in May 2016, when a legislative snafu in Congress temporarily deprived ULA of access to the engines it needed to launch its rockets, handing the contract to SpaceX by default. But freshly restocked with new engines from Russia, ULA had no intention of allowing SpaceX to beat it in a real contest on a second GPS III contract.
Both companies submitted their best bids to the Air Force -- and as we learned this week, SpaceX won.
The news broke with a whisper on Tuesday, when buried in the Pentagon's daily digest of contract awards came a statement that SpaceX had been awarded the Air Force's second contract "to deliver a GPS III satellite to its intended orbit." The Air Force referred to Boeing and Lockheed's bid only obliquely, noting that "two offers [were] received" for the work, but that SpaceX's bid had won.
How SpaceX won
How did SpaceX win the contract? As with the first GPS award last summer, price appears to have been dispositive. As you may recall, in the May 2016 award, the Air Force had expected to pay about $140 million for the first GPS III launch, and was surprised when SpaceX offered to put its satellite in orbit for "40% less" (or $82.7 million).
This time around, SpaceX bid a bit higher -- $96.5 million. In so doing, SpaceX built an extra $14 million or so worth of profit on its bid. But it appears there was still no contest between the two bids.
After all, by its own admission, the best price ULA can offer for a low-end Atlas V mission is about $200 million -- $164 million for the launch, plus a portionof its standard $1 billion-a-year retainer fee prorated and attributed to the mission. Even after its latest markup, though, SpaceX beat that price by half.
What it means for investors
This means that -- in theory, at least -- SpaceX still has room to grow its profit margin by more than 100% before running into any real competition from Boeing and Lockheed. (Or more realistically, SpaceX could jack its rates up another 45%, and both beat ULA's price and also satisfy the Air Force's hoped-for price of under $140 million.) SpaceX could even earn more profit if it succeeds in cutting its costs by successfully reusing its first recovered rocket later this month -- proving the feasibility of such reused rocket launches.
What's more, this situation could continue for at least a couple more years. According to ULA, its new, cheaper Vulcan launch vehicle -- designed to replace the Atlas V -- will not reach "initial launch capability" until sometime in 2019. And even then, ULA is only targeting a best price of $100 million per satellite launched. (Factor in a pro rata portion of ULA's $1 billion retainer fee, and the price would probably be even higher.)
Ballpark ULA's combined cost at $135 million, and that price might finally be cheap enough to satisfy the Air Force. But it still won't be cheap enough to beat SpaceX's prices.
Seems to me that Boeing and Lockheed Martin have their work cut out for them. Unless they're willing to operate ULA at a loss, they simply cannot compete with SpaceX on cost, for government launch missions, over the next two years -- and their profits will suffer for it.
10 stocks we like better than BoeingWhen investing geniuses David and Tom Gardner have a stock tip, it can pay to listen. After all, the newsletter they have run for over a decade, Motley Fool Stock Advisor, has tripled the market.*
David and Tom just revealed what they believe are the 10 best stocks for investors to buy right now... and Boeing wasn't one of them! That's right -- they think these 10 stocks are even better buys.
Click here to learn about these picks!
*Stock Advisor returns as of February 6, 2017
Rich Smith has no position in any stocks mentioned. The Motley Fool has no position in any of the stocks mentioned. The Motley Fool has a disclosure policy.