SpaceX and the U.S. Air Force, Together at Last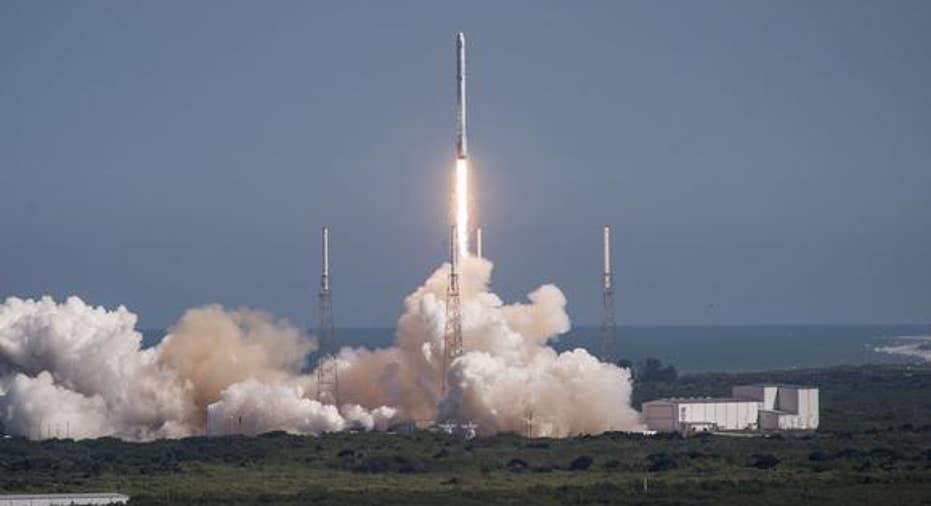 NASA loves SpaceX's Falcon 9 rocket. In 2018, the U.S. Air Force will take it for a spin. Image source: SpaceX.
2015 was a great year for SpaceX. 2016 is looking like it will be even better.
Long an exciting story stock, SpaceX broke into the big time as a business last year when first NASA, and then the U.S. Air Force, "certified" the company to begin competing against incumbent providers Boeing and Lockheed Martin on lucrative large satellite launch contracts.
SpaceX wasted no time taking advantage of the opportunity, placing a bid last summer on the Air Force's upcoming launch of a GPS III satellite into orbit. It then received a bit of manna from heaven when, for a few crucial months, Congress effectively prevented Boeing and Lockheed Martin from bidding on GPS III through their United Launch Alliance joint venture (due to a dearth of Russian rocket engines to power ULA's Atlas launch vehicles).
That ban has since been lifted, and ULA is now able to compete for USAF launches again -- but the damage was done. With no ULA to oppose it, SpaceX easily won the GPS III contract. And last week, the U.S. Air Force told us just how easy a win it was.
The contest that was no contest at allThe Pentagon's daily rundown of contracts awarded on Wednesday, April 27, told the tale. In a $82.7 million award, the U.S. Air Force hired SpaceX "to deliver the GPS III satellite to its intended orbit."
The contract, which covers everything from launch vehicle production to mission integration to launch operations to actual launch, wasn't just cheaper than the $200 million or so that ULA had been charging for similar launches in the past. According to the Air Force, SpaceX's offered price was "40% less," according to the Wall Street Journal, than the Air Force had expected to pay. What's more, while ULA did not bid on GPS III, someone else apparently did. (USAF did not identify the other bidder, however.)
What it means to investorsWho could that other mystery bidder have been? Only the Air Force knows -- and they're not telling.Whoever it was that bid against SpaceX, clearly, they got stomped last week. Where things get really interesting, though, is when the next GPS contract goes up for bid (a total of 32 are planned).
Here are two potential scenarios to ponder: According to one former ULA executive, the best price that Boeing and Lockheed's joint venture can offer the Air Force at present is $200 million. Now, someone apparently told the Air Force that by opening up the contracts to bidding, they could attract an offer of $140 million or thereabouts, cutting 30% off of ULA's list price. But then SpaceX stepped up and beat even that target price by 40%.
To me, that means that whoever bids on the next GPS III launch contract is going to have to dig very deep indeed to come up with a number that will beat SpaceX's price.
But here's the other scenario: SpaceX has never launched an Air Force satellite before. This will be its maiden launch as a "certified" USAF provider. So what happens if -- heaven forfend -- SpaceX's rocket explodes? (It's happened before.) At that point, the Air Force will have a very difficult decision to make:
To date, United Launch Alliance has sent up 106 rockets in a row, without suffering a single mishap. Over in Europe, Arianespace has launched 71 successful missions in a row. So, faced with the choice between a cut-rate but riskier option from SpaceX, or a reliable but pricey bid from someone else, would the Air Force give SpaceX a second chance on the next upcoming GPS III launch?
Or not?
As we count down the months, weeks, days, hours, and minutes before that first SpaceX GPS III launch in 2018, it can't hurt to plan ahead -- and start thinking about what might happen if things go wrong.
In 2015, something went wrong on a SpaceX NASA mission. (Fortunately, no one was aboard.) IMAGE SOURCE:NASA.
The article SpaceX and the U.S. Air Force, Together at Last originally appeared on Fool.com.
Rich Smithdoes not own shares of, nor is he short, any company named above. You can find him onMotley Fool CAPS, publicly pontificating under the handleTMFDitty, where he's currently ranked No. 294 out of more than 75,000 rated members. Follow him on Facebook for the latest in defense news.The Motley Fool has no position in any of the stocks mentioned. Try any of our Foolish newsletter services free for 30 days. We Fools may not all hold the same opinions, but we all believe that considering a diverse range of insights makes us better investors. The Motley Fool has a disclosure policy.
Copyright 1995 - 2016 The Motley Fool, LLC. All rights reserved. The Motley Fool has a disclosure policy.