S&P Crawls Higher, Narrowly Extending Winning Streak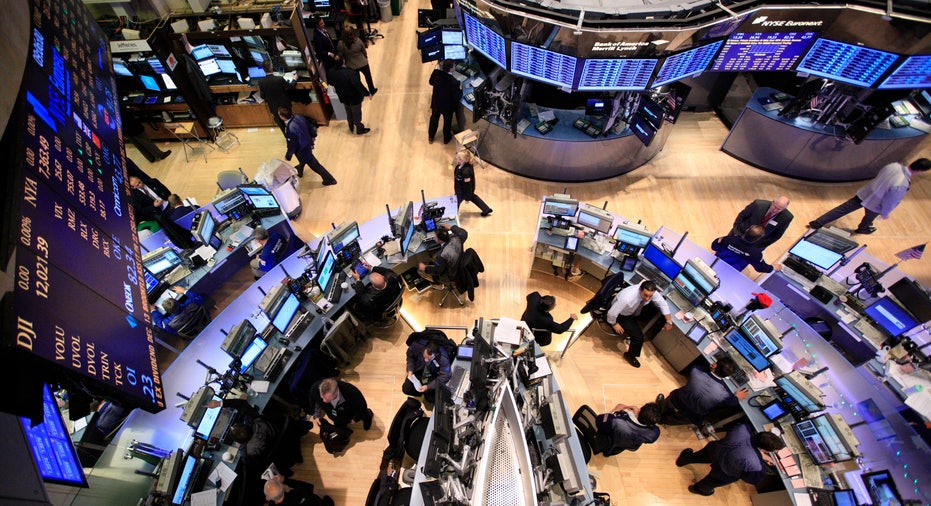 FOX Business: The Power to Prosper
The S&P 500 inched up on Wednesday, extending its winning streak to four days, as traders parsed through a dab of corporate and economic news.
Today's Markets
The Dow Jones Industrial Average rose 7 points, or 0.05%, to 13176, the S&P 500 edged up 0.87 point, or 0.06%, to 1402 and the Nadsaq Composite slipped 4.6 points, or 0.15%, to 3011.
The broad S&P 500 closed above the closely watched 1400 mark for the first time since May 2 on Tuesday, and is now up 1.7% for the month and 11.5% for the year. Posturing from world central banks that more stimulus measures may be on the horizon has helped keep the bullish sentiment going strong.
In corporate news, McDonald's (NYSE:MCD) revealed global same-store sales that were unchanged in July, worse than expectations of a 2.3% increase.
Macy's (NYSE:MCD) revealed second-quarter earnings of 67 cents a share on sales of $6.12 billion, beating estimates of 64 cents a share on $6.1 billion. The big retailer also lifted its full-year EPS guidance to a range of $3.30 to $3.35 from $3.25 to $3.30.
Hewlett-Packard (NYSE:HPQ) bumped up its adjusted third-quarter profit forecast to $1 a share. The blue-chip technology company had previously projected earnings of between 94 cents and 97 cents.
Starbucks (NASDAQ:SBUX) revealed plans to make a $25 million investment in mobile payment processor Square. The coffee chain will roll the service out in 7,000 of its stores.
The Bank of England weighed in on the day with its quarterly inflation report. Charts within the report showed Britain's central bank now expects the U.K. economy to shift back into an expansion of 1% on an annualized basis by the end of this year. Growth is expected to come in at roughly 2% by the end of next year, down from 2.5% in an earlier estimate.
Meanwhile, the BoE said inflation is expected to stay below its target through its forecast period that reaches into 2015. The central bank already has interest rates set at 0.5%, and has a roughly $585 billion quantitative easing program. However, BoE Governor Mervyn King suggested the bank is likely to hold off on lowering rates any further as it may actually do more harm than good for Britain's economy.
Also on the European front, Fitch affirmed Germany's top-notch 'AAA' credit rating and said its outlook is stable.
Elsewhere, oil futures got a lift on data from the Energy Department showed stocks of crude oil fell more than seven times more than expected last week. The benchmark contract traded in New York gained 34 cents, or 0.36%, to $94.01 a barrel. Wholesale New York harbor gasoline rose 0.44% to $3.01 a gallon.
In metals, gold gained $3.50, or 0.2%, to $1,616 a troy ounce.
Foreign Markets
The Euro Stoxx 50 fell 0.33% to 2432, the English FTSE 100 rose 0.08% to 5846 and the German DAX slipped 0.03% to 6966.
In Asia, the Japanese Nikkei 225 jumped 0.88% to 8889 and the Chinese Hang Seng edged lower by 0.04% to 20189.