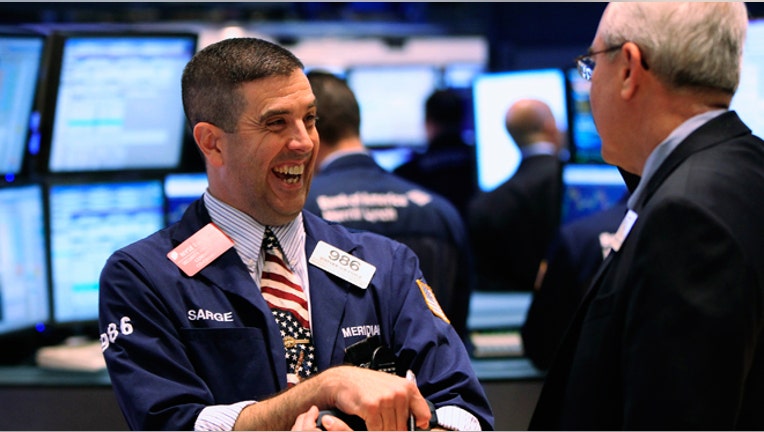 FOX Business: Capitalism Lives Here
The S&P 500 tacked on nearly 3% this week as global central banks reaffirmed their commitment to continue stimulating the economy through aggressive monetary policy.
Today's Markets
The Dow Jones Industrial Average climbed 3.4 points, or 0.02%, to 15464, the S&P 500 gained 5.2 points, or 0.31%, to 1680 and the Nasdaq Composite jumped 21.8 points, or 0.61%, to 3600.
For the week, the Dow jumped 2.2%, the S&P 500 gained 3% and the Nasdaq rallied 3.5%.
The Dow and broader S&P 500 rallied to record closing highs on Thursday and then again on Friday after Federal Reserve Chairman Ben Bernanke reaffirmed his commitment to keeping the central bank's accommodative monetary policy alive for the "foreseeable future."
J.P. Morgan Chase (NYSE:JPM), the biggest U.S. bank by assets, kicked off earnings season for financial companies by revealing profits and revenues topping analyst expectations. Fellow banking giant Wells Fargo (NYSE:WFC) also posted better-than-expected results. Shares of both companies climbed on the results.
However, United Parcel Service (NYSE:UPS) cuts its full-year outlook Friday, sending shares of the package delivery company skidding more than 4%.
Earnings season ramps up next week with a slew of big-name companies across just about every sector posting earnings.
On the economic front, the Labor Department reported producer prices rose 0.8% in June from May, compared to Wall Street's expectations they would rise 0.5%. It was the biggest gain since September. Excluding food and energy components, prices were up 0.2%, also higher than expectations of a gain of 0.1%.Wall Street has been paying especially close attention to inflation data since the Federal Reserve has a dual mandate to keep unemployment and inflation in check. However, some analysts are beginning to worry about excessively low inflation.
Very low inflation "will allow the Fed to be more patient than the market assumes in beginning the rate hike process even in the face of significant labor market improvements," economists at Deutsche Bank wrote in a note to clients on Friday.
A gauge of consumer sentiment from Reuters and the University of Michigan fell to 83.9 in early July from 84.1 in June, missing estimates that it would rise to 85.
Elsewhere, gold prices snapped a four-day winning streak. The precious metal dipped $2.30, or 0.18%, to $1,278 a troy ounce. U.S. crude oil prices climbed $1.04, or 0.99%, to $105.95 a barrel. Wholesale New York Harbor gasoline jumped 3.2% to $3.118 a gallon.
Foreign Markets
The Euro Stoxx 50 rose 0.43% to 2693, the English FTSE 100 gained 0.36% to 6567 and the German DAX climbed 0.9% to 8232.
In Asia, the Japanese Nikkei 225 edged up 0.23% to 14506 and the Chinese Hang Seng dropped 0.75% to 21277.