S&P 500 Posts Best February in 14 Years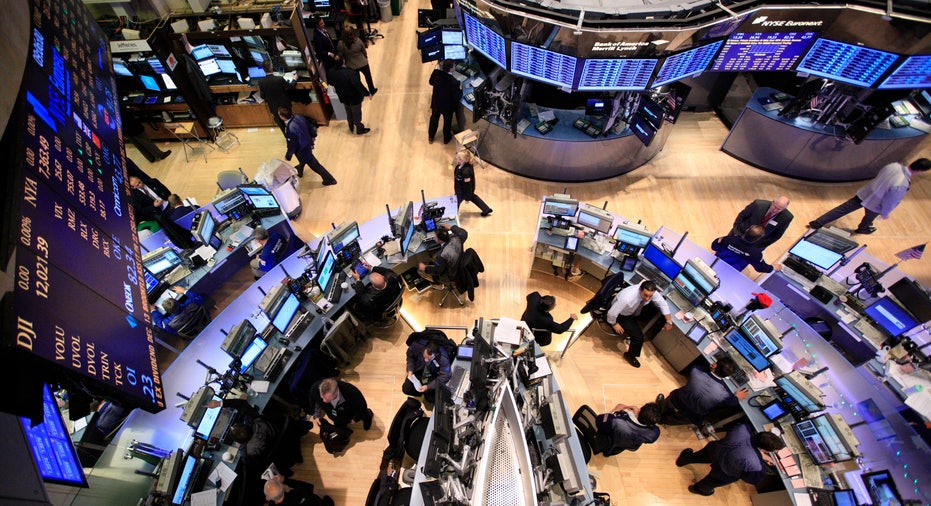 FOX Business: The Power to Prosper
The S&P 500 posted its best February performance since 1998, the third-straight month of gains for the broad-market index.
Today's Markets
The Dow Jones Industrial Average fell 53.1 points, or 0.41%, to 12952, the S&P 500 dipped 6.5 points, or 0.47%, to 1366 and the Nasdaq Composite lost 20 points, or 0.67%, to 2967.
For the month, the Dow jumped 2.5%, the S&P 500 rallied 4.1% and the Nasdaq surged 5.4%.The markets have been on a tear this year; indeed, the Dow is less than 9% off of its record close struck in October 2007. The Nasdaq, meanwhile, on Wednesday crossed the 3000 mark for the first time since December 2000, having its best February since that year. The technology-heavy index is still far from hitting the record high of 5049 it notched in March of that year.
Out of the Dow components, Bank of America (NYSE:BAC) performed the best by far, soaring 11.8%. Other big blue-chip winners for the month include Walt Disney (NYSE:DIS), Microsoft (NASDAQ:MSFT), Procter & Gamble (NYSE:PG) and Home Depot (NYSE:HD). On the other end of the spectrum, Hewlett-Packard (NYSE:HPQ) skidded 9.5%, while Wal-Mart (NYSE:WMT) lost 3.7%.
On the day, gold futures tumbled $77.10, or 4.3%, to $1,711 a troy ounce, while silver plunged some 6.9%. The precious metals came under pressure from a higher dollar, which recently gained 0.5% against a basket of six world currencies, and a sliding euro. Industrial metals fared a little better, but still had a rough session, with Copper dipping 1.1%.
As a result, shares of many materials companies sold off. Freeport-McMoran Copper and Gold (NYSE:FCX), the mining giant, fell 2.4%. Energy firms like Halliburton (NYSE:HAL), Schlumberger (NYSE:SLB) and ExxonMobil (NYSE:XOM) all took sizeable losses as well.
Oil prices, which have been a major focus in recent weeks, took a sudden downturn but managed to stage a recovery on Wednesday. Crude had its best month since October of last year, powering higher by $8.59, or 8.7%, to $107.07 a barrel.
New York Harbor RBOB gasoline had a strong month too -- jumping 5.4% to $3.042 a gallon. At the retail level, a gallon of regular costs $3.73 on average nationwide, up from $3.43 last month and $3.38 last year, according to the AAA Fuel Gauge Report.
GDP Report Tops Estimates 
The Commerce Department's second reading of fourth-quarter gross domestic product showed the economy expanded at a 3% annual rate, the quickest pace since the second quarter of 2010. The pace was quicker than an initial reading and economists' estimates of 2.8%.
Business activity in the Chicago region picked up steam in February, according to the Chicago Business Barometer. The gauge came in at 64 for the month, up from 60.2 in January and better than the 61.5 Wall Street anticipated. The more closely-followed national report from the Institute for Supply Management is on tap for Thursday.
Federal Reserve Chairman Ben Bernanke told Congress on Wednesday that the "recovery of the U.S. economy continues, but the pace of expansion has been uneven and modest by historical standards." The central bank chief also stressed that the jobs market is still "far from normal" and that the economy needs to accelerate before it will begin to dramatically improve.
Bernanke, however, failed to point to any further stimulus measures to boost the economy, which analysts said contributed to the weak performance on the day.
The ECB on Wednesday said it provided 800 lenders with some $713 billion in three-year loans and a bargain interest rate of 1%. The offering eclipsed its first such loan package in which it  offered roughly $658 billion in December, and market expectations of $673 billion.
The central bank has hoped that lenders will take the low-interest loans and lend them out to businesses and consumers across Europe, boosting the continent's flagging economy. Also, the ECB expects banks to use some of the money to invest in higher yielding sovereign debt, pushing prices of those bonds up and yields down in a bid to ease countries' borrowing costs.
The last round has generally been seen as a key to helping stave off a credit crunch in Europe that appeared to be developing last year. The yields on Italian and Spanish debt that were under intense upward pressure have been easing since then.
Corporate News
Costco Wholesale (NASDAQ:COST) revealed a solid fiscal-second quarter profit that came in three cents ahead of analysts' expectations on a per-share basis.
Staples (NYSE:SPLS), the largest U.S. office supply chain, posted fourth-quarter results that beat Wall Street's expectations on the top and bottom lines.
Dow Winners and Losers for February