Southwest reports lower 2Q profit, weak revenue outlook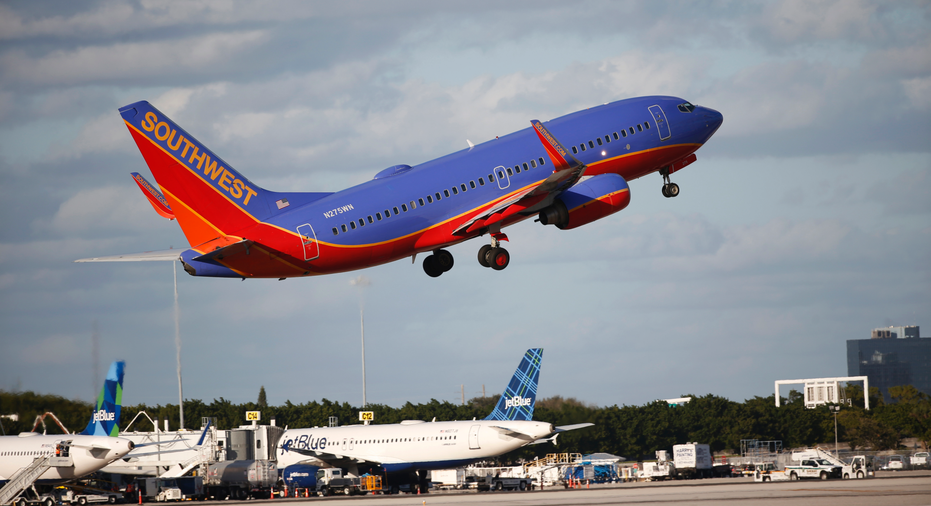 Shares of Southwest Airlines fell 5 percent Thursday after the company offered a weak forecast for a key revenue figure in the third quarter.
Southwest gave more evidence that the effort by U.S. airlines to push average fares higher may be faltering. Bolstered by high profits, the airlines could soon be adding seats faster than demand is growing, leading to more price-slashing.
That is good news for travelers. But it is troubling for airline shareholders, who are worried that revenue could fall while fuel and labor costs are rising.
Southwest said so-called unit revenue, the amount it gets for every seat flown one mile, was 1.5 percent higher in the second quarter than a year earlier. Southwest said the figure would have been higher but for glitches in a new reservation system that made it harder to resell canceled seats.
The average one-way fare ticked up more than $2 to $153.95.
For the current, July-through-September quarter — including much of the busy summer-travel season — Southwest expects the per-mile revenue figure to rise just 1 percent.
Analysts had been more bullish about the third quarter. J.P. Morgan's Jamie Baker called the Southwest forecast uninspiring and a sign that expectations for third-quarter profit might need to be reduced.
Meanwhile, CEO Gary Kelly declared that he thinks Southwest should fly to Hawaii — something its customers have long clamored for — although he said no decision had been made.
"My belief is that when we do — it's not 'if' we're going to go, it's 'when' we go," Kelly said on a call with analysts and reporters. "We think it is an important strategic offering that Southwest needs to make."
Kelly acknowledged that Southwest would face "operational challenges" — it has never flown such long flights over water. Kelly said the company would have to evaluate whether those flights would differ from the airline's standard service, which doesn't include meals, seat assignments or seats with extra legroom.
Dallas-based Southwest, the nation's fourth-biggest airline, reported second-quarter profit of $746 million, down 9 percent from a year earlier.
Adjusted profit was $1.24 per share, beating the forecast of $1.20 per share from analysts surveyed by Zacks Investment Research.
Revenue rose 7 percent to $5.74 billion.
Costs, however, rose faster than revenue. They were led by a 14 percent increase in labor — unions have demanded better pay while the airlines are profitable — and 10 percent for fuel.
Southwest shares fell $2.95 to close at $56.57. It was the second-steepest drop for the shares in the past 12 months.
___
David Koenig can be reached at http://twitter.com/airlinewriter