Southwest Airlines Cuts Its Guidance -- and Drags Down Rivals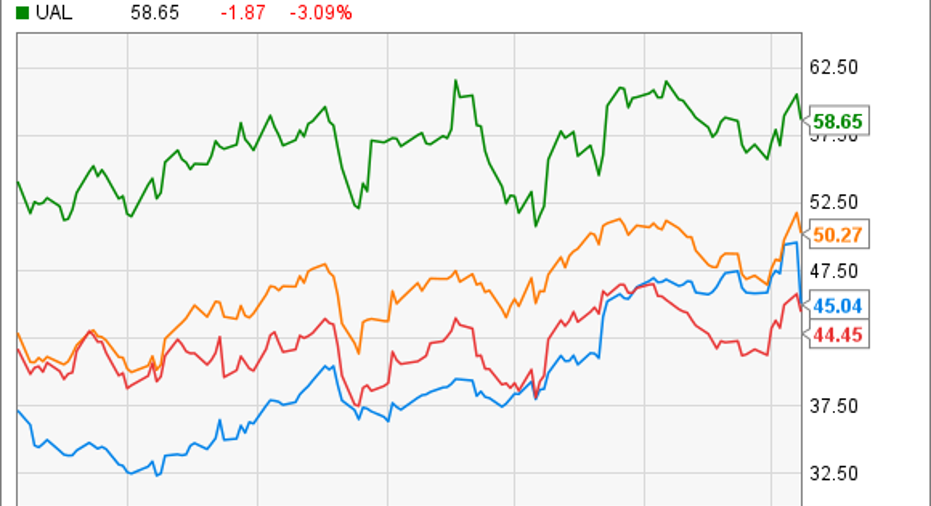 Shares of Southwest Airlines have been on fire in the second half of 2015, rising from a 52-week low of $31.36 on July 1 to a peak of $51.34 on Monday. The party came to an end on Tuesday, though. Southwest stock slumped 9% -- pulling down shares of American Airlines , Delta Air Lines , and United Continental , too.
Major airline stock performance, data by YCharts.
The primary catalyst behind Southwest's 9% drop on Tuesday was a disappointing update to its Q4 unit revenue guidance. With the stock having dramatically outperformed peers since July, a relatively minor setback had a disproportionate impact on the share price.
The unit revenue forecast comes downAmerican Airlines, Delta Air Lines, and United Continental have all suffered from declining unit revenue throughout 2015. During Q2, Southwest was also in that club. However, in Q3, Southwest's unit revenue declined just 0.4%, buoyed by a lucrative new credit card agreement.
In conjunction with its Q3 earnings release in October, Southwest Airlines projected that its unit revenue would increase about 1% year over year in Q4. The company reaffirmed that guidance in early November.
Southwest Airlines had to cut its Q4 unit revenue guidance.
However, Southwest had to revise that guidance downward when it released its November traffic report this week. It now expects unit revenue to decline 0%-1% this quarter. The carrier continues to have more seats filled than ever, so the shortfall seems to be from pricing pressure, particularly on off-peak days.
An isolated issueThe unfavorable trend change that Southwest seems to have experienced in the past month isn't an industrywide issue. In fact, Delta Air Lines recently raised its Q4 unit revenue guidance. It now expects a 2.5% decline, compared to its original projection of a 2.5%-4.5% decline.
Meanwhile, the unit revenue outlook appears to be stable at American Airlines and United Continental. On Wednesday morning, American reaffirmed its forecast that passenger unit revenue would decline 5%-7% this quarter. United didn't update its unit revenue guidance this month, but it probably would have told investors when it published its monthly traffic report on Tuesday if it was in danger of falling short.
Other airlines haven't noticed a change in the fare environment.
Thus, Southwest's guidance cut isn't a sign of broader trouble for the airline industry. Either it had a company-specific demand issue or its original guidance was simply too aggressive.
What it means for the airlinesIn any case, a 0%-1% unit revenue decline at Southwest is nothing to worry about. That's still likely to be the best unit revenue performance of any major airline this quarter. Furthermore, with oil prices continuing to slump, it's enough to drive significant margin expansion.
That said, Southwest Airlines stock has been trading for a premium within the airline industry. The company's market cap is higher than those of American Airlines and United Continental, both of which are twice its size. Investors demand superior performance from premium-valued companies, so it's not surprising that they dumped the stock after Southwest cut its guidance.
Southwest also faces several other challenges in the coming years. Labor tensions are growing at the discount carrier, and it will eventually need to hand out big raises -- and big ratification bonuses, too -- to settle these grievances. Meanwhile, its aggressive hedging policy means it will continue to suffer significant hedging losses for the next few years.
Shares of Delta, American, and United all look more attractive right now. They are all (still) significantly cheaper than Southwest Airlines stock and they all have little or no hedging exposure beyond 2015, putting them in a position to profit from the ongoing oil price slump.
The article Southwest Airlines Cuts Its Guidance -- and Drags Down Rivals originally appeared on Fool.com.
Adam Levine-Weinberg owns shares of United Continental Holdings, and is long January 2017 $40 calls on Delta Air Lines, and long January 2017 $30 calls on American Airlines Group. The Motley Fool is long January 2017 $35 calls on American Airlines Group. Try any of our Foolish newsletter services free for 30 days. We Fools may not all hold the same opinions, but we all believe that considering a diverse range of insights makes us better investors. The Motley Fool has a disclosure policy.
Copyright 1995 - 2015 The Motley Fool, LLC. All rights reserved. The Motley Fool has a disclosure policy.