Southwest Airlines Co. Is Poised for Strong Free Cash Flow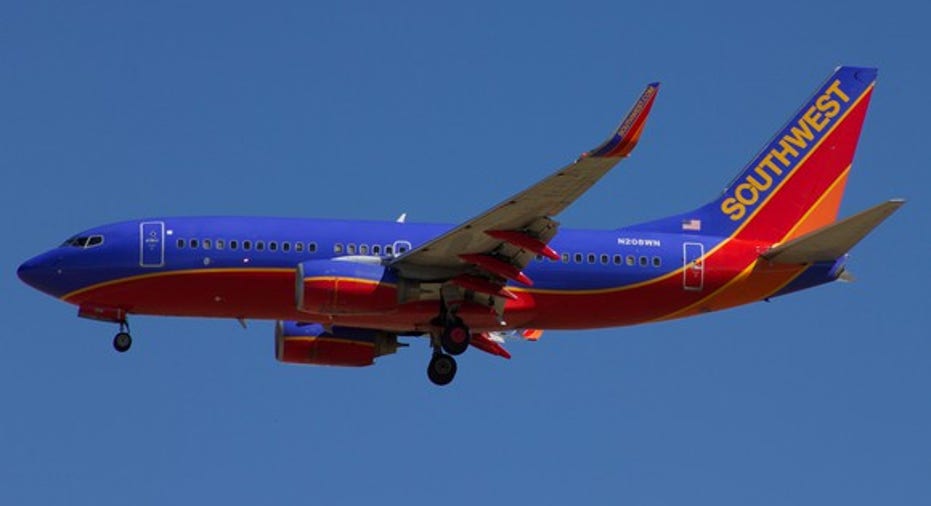 In the past two years, Southwest Airlines has set itself apart from other airlines through its consistently solid unit revenue performance and stellar profitability.
During 2015, Southwest's adjusted profit reached a record $2.4 billion, or $3.52 per share. Meanwhile, its operating margin (excluding special items) surged to 20.1%. The company is on track to produce even higher earnings and margins in 2016.
Southwest Airlines will post another record profit in 2016. Image source: The Motley Fool.
However, from an investing perspective, one of Southwest Airlines' most important qualities is its significant potential for free cash flow growth. Indeed, Southwest is likely to more than double its free cash flow over the next several years.
Positioned for earnings growth
Earnings growth is obviously a key driver of free cash flow growth. Despite its already-stellar profitability, Southwest Airlines has better earnings growth prospects than many of its airline industry peers.
First, Southwest Airlines sells virtually all of its tickets in the U.S. That means it will continue to benefit from the strong domestic travel market and doesn't have to worry about the impact of exchange rate fluctuations on international operations.
Second, Southwest has been incurring significant fuel hedging losses lately. For the full year in 2016, the company expects to pay $1.95 to $2.00 per gallon for jet fuel. That's significantly above the market price. These hedging losses will decline significantly after 2016.
As a result, if oil prices rise to around $60 per barrel in the next year or two, Southwest's average fuel price wouldn't change much from what it expects to pay in 2016. Meanwhile, its fleet renewal efforts will continue to improve fuel efficiency. By contrast, most other airlines would end up paying more for fuel (relative to 2016) if oil prices rise to $60 per barrel.
Third, Southwest Airlines is in the midst of replacing its decades-old domestic reservation system with a new state-of-the-art system with enhanced capabilities. Southwest expects the new system to boost annual operating income by at least $500 million by 2020.
Fourth, Southwest Airlines still has plenty of growth opportunities ahead. CEO Gary Kelly has said in the past that Southwest could expand its fleet from 704 planes at the end of 2015 to 1,000 airplanes in the long run. Key opportunities include expansion in the Caribbean, Latin America, Canada, Alaska, and Hawaii as well as growth in its core market of the continental U.S.
Capex will peak in 2017
While net income is an important driver of free cash flow, capital investments also play a critical role. For a company that is investing heavily to grow or to replace aging equipment, free cash flow can lag earnings by a wide margin.
Indeed, this has been the case for Southwest Airlines recently. While the company's adjusted net profit surged to $2.4 billion last year, its free cash flow was just half that amount, at $1.2 billion.
Southwest Airlines spent $2 billion on capex last year. It expects to spend a similar amount this year, before capex peaks at $2.2 billion in 2017. Southwest has been buying a lot of aircraft to support growth and to replace its oldest planes. Non-aircraft capex has also been higher than normal due to key facilities and IT investments, highlighted by the new reservation system.
However, Southwest expects to finish the IT system investment by 2017. Aircraft spending will drop off significantly after 2017 as well. In fact, Southwest Airlines recently announced that it has deferred 67 aircraft deliveries from the 2019-2022 period to 2023 and thereafter. This will save it $1.9 billion through 2022.
The net result is that capex is likely to fall by a third over the next two or three years, boosting Southwest's free cash flow.
Capital returns will soar
Between its continued earnings growth and the expected drop-off in capex after 2017, Southwest Airlines should be able to at least double its 2015 free cash flow by 2018, with further growth beyond that.
Southwest already has a very strong balance sheet, with the highest credit ratings in the airline industry. As a result, it has the ability to return all of this free cash flow to investors through dividends and share buybacks. Indeed, it has already returned $1.3 billion to shareholders this year.
Southwest should be able to increase its dividend and share buybacks even further beginning in 2018, as its operating cash flow continues to rise and capital spending starts to moderate. With shares currently trading for less than 9 times forward earnings, Southwest Airlines stock is looking more attractive than ever for long-term investors.
The article Southwest Airlines Co. Is Poised for Strong Free Cash Flow originally appeared on Fool.com.
Adam Levine-Weinberg has no position in any stocks mentioned. The Motley Fool has no position in any of the stocks mentioned. Try any of our Foolish newsletter services free for 30 days. We Fools may not all hold the same opinions, but we all believe that considering a diverse range of insights makes us better investors. The Motley Fool has a disclosure policy.
Copyright 1995 - 2016 The Motley Fool, LLC. All rights reserved. The Motley Fool has a disclosure policy.