Sotheby's sells pink, blue diamond earrings for about $51M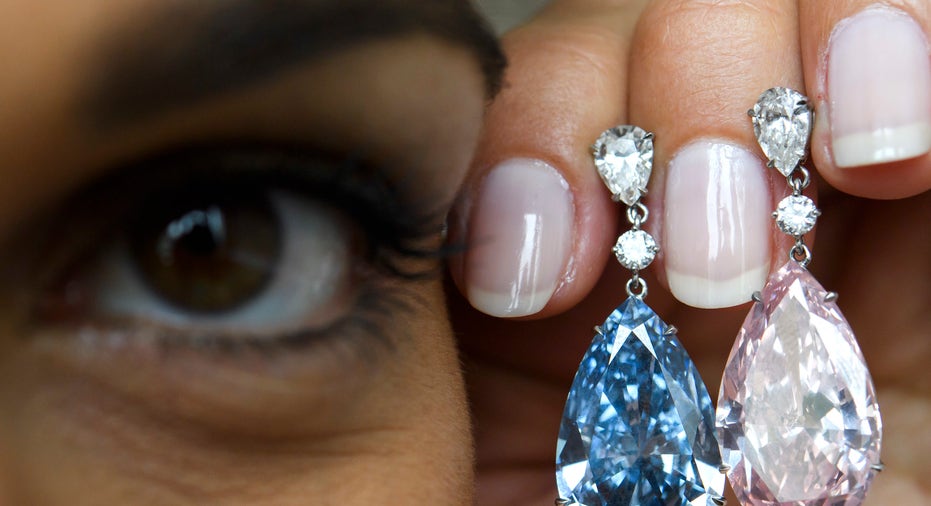 Sotheby's sold a pair of pear-shaped diamond earrings at a hammer price of about $51 million Tuesday, though the 14.54-carat flawless Fancy Vivid Blue diamond that was the auction's highlight fell short of the expected range.
Sold as separate lots, the "Apollo Blue" and "Artemis Pink" diamonds together cracked the low end of the expected range of $50 million to $70 million, but were a record for earrings sold at auction, Sotheby's said.
The earrings were the standout offerings at a Geneva auction of nearly 400 pieces of jewelry that reaped more than $150 million altogether.
At the hammer price, excluding fees, the Apollo Blue — the largest internally flawless Fancy Vivid Blue ever sold at auction — went for 37 million Swiss francs ($37.5 million), Sotheby's said. The total cost was $42.1 million, including the "buyer's premium."
Auctioneer David Bennett, chairman of Sotheby's international jewelry division, called that a "very healthy price."
The matching, 16-carat pink diamond went for a hammer price of about $13.5 million. Overall, the pair went for a total, including fees, of more than $57 million.
Bennett declined to identify the buyer who snapped up both lots, but the auction house did say the buyer was renaming the gems as "The Memory of Autumn Leaves" for the blue diamond earring and "The Dream of Autumn Leaves" for its pink sister.