Sonus and Palo Alto Networks Team Up For Mobile Security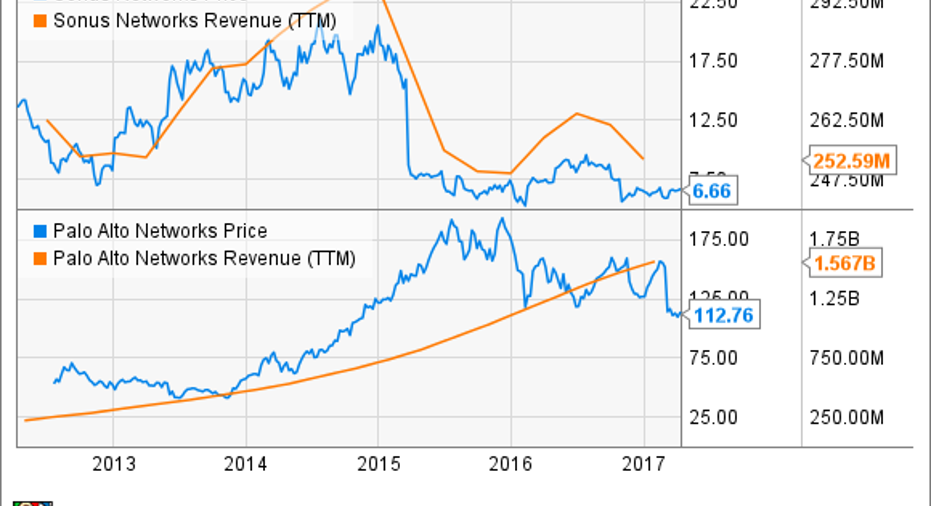 Historically, Sonus Networks(NASDAQ: SONS)has been focused on providing and securing voice and video communications over the internet with its session border controller (SBC) hardware. But recently, the companyhas been bolstering its position as a mobile communications service provider.
The lines between the internet and mobile networks have been blurring, opening up new doors to business for Sonus to explore.
The Sonus SBC7000 session border controller. The company is transitioning to a more virtual business model focused on mobile. Image source: Sonus.
The need to keep things secure
The telecom industryhas been talking a lot about the next-gen 5G network and how it will support the "Internet of Things," the movement to add internet connections to devices ranging from cars to consumer electronics to medical equipment. A limited and trialrollout of 5G is expected later in 2017.
While that is garnering a lot of attention, the not-so-old 4G network is still being fully deployed by mobile network providers. The big difference from previous iterations telecom technology is that voice calls are treated like data packets as they are sent across the network. The way 4G operates is a lot like how the internet works.
That also opens up some new security risks for consumers and mobile services. As phone calls and messaging services move away from traditional networks, those calls could increasingly come under attack from bad guys on the internet.
Mobile providers are still making that switch over to 4G, and that is where Sonus' new services come in.
Enlisting the help of some muscle
Voice calls on 4G have been dubbed VoLTE. A similar service, VoWiFi, sends voice data packets via a hotspot connection. Sonus offers both as a virtual service to mobile providers as they do away with old legacy networks, streamlining operations and saving cost as they no longer need to operate multiple signals simultaneously.
Image source: Sonus.
Securing those new networks for consumer use is just as important as developing the network itself, though. Thus, Sonus went about developing a new security architecture for its virtual VoLTE and VoWiFi services to sweeten the pitch to potential mobile customers. The company tapped Palo Alto Networks (NYSE: PANW) for that help.
The security architecture was built to give mobile operators the ability to "see" what is going on in their networks and take action to weed out malware. That is important, not just for smartphone users, but also for IoT as well. Connection-enabled devices are not waiting for 5G to launch, and as they roll out, 4G networks are often getting tapped to bring the equipment online.
Sonus hopes that its upgraded security will help it grow into the telecom industry, not just as a VoLTE service provider, but as a secure choice for all types of data monitoring on mobile networks.
Will security equal growth?
Palo Alto Networks's security platform was specifically designed with the new digital age in mind. Services are specifically geared to securing cloud-based and mobile information, a move that has helped the company see explosive growth over the last few years. Sonus is behind the curve, but is slowly making the same move after years of relying on hardware-based sales.
Data by YCharts.
The company is betting that its new service aimed at the mobile telecom industry will help it capture growth, but management sees results being choppy at best in the year ahead. Revenue is expected to be up low single digits at best. However, some positive surprises could be in store. CEO Raymond Dolan had this to say:
It looks like Sonus is moving its business in the right direction as it focuses on 4G and data transmission across mobile networks. It could take some time for results to pan out, though. At this stage, there are enough question marks surrounding sales growthto keep me from making a purchase just yet, but Sonus definitely has my attention.
10 stocks we like better than Sonus NetworksWhen investing geniuses David and Tom Gardner have a stock tip, it can pay to listen. After all, the newsletter they have run for over a decade, Motley Fool Stock Advisor, has tripled the market.*
David and Tom just revealed what they believe are the 10 best stocks for investors to buy right now... and Sonus Networks wasn't one of them! That's right -- they think these 10 stocks are even better buys.
Click here to learn about these picks!
*Stock Advisor returns as of April 3, 2017
Nicholas Rossolillo has no position in any stocks mentioned. The Motley Fool recommends Palo Alto Networks. The Motley Fool has a disclosure policy.