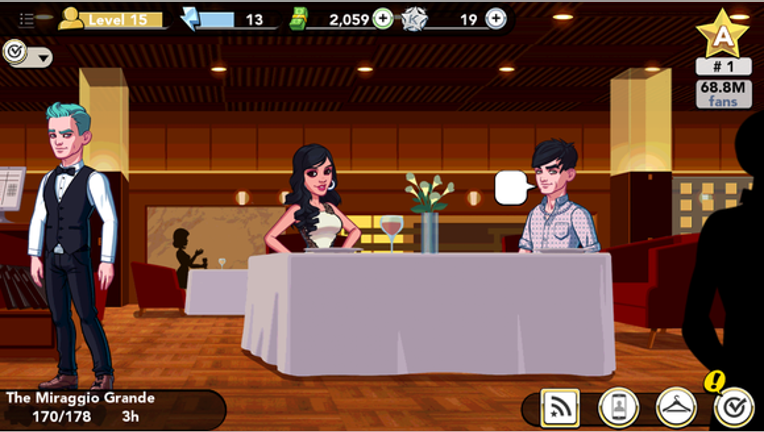 Image source: Glu Mobile.
Nick Earl has been CEO atGlu Mobile(NASDAQ: GLUU)for just a few days, but he's already putting his money where his corner office mouth is. Earl purchased 100,000 shares of Glu Mobile stock on Thursday at an average price of $2.09, a move that more than doubles his stake in the publisher of gaming apps.
The purchase comes a week after he stepped up as Glu Mobile's new CEO, taking the reins from Chairman and CEONiccolo de Masi, who will now focus on sizing up potential acquisitions and nurturing celebrity relationships as executive chairman. Earl was the mobile app developer's global studios president before the promotion.
Earl is going to earn his fair share of stock just by being at the helm. Glu Mobile expanded the number of shares it can allocate to its stock options incentive plan just last week. However, it's still encouraging to see a CEO willing to put his own money at risk by investing in his place of employment.
Sniffing Glu
Glu Mobile has been cranking out games in itsTap Sports,Cooking Dash, andDeer Hunterfranchisesfor years, but the title that really put it on the map was 2014'sKim Kardashian: Hollywood. The celebrity simulator raced up the app download charts that summer, and Glu Mobile's stock followed suit. The game's success helped Glu Mobile strike deals with other young starlets. If you were a popular young female musical artist or reality show star with a sizable social media following -- or Gordon Ramsay -- Glu Mobile was probably looking to cut a deal with you. Katy Perry, Nicki Minaj, and even some members of Kardashian's family inked deals to see if Glu Mobile could catch lightning in a bottle again.
Things haven't gone according to plan. It's still putting out popular games, but its business and its stock are going the wrong way. Gross bookings declined 20% in its latest quarter, and the stock hit a new five-year low earlier this month.
Glu Mobile has turned to acquisitions. It paid $45.5 million for Crowdstar, a leader in the fashion games niche. Crowdstar's Covet: Fashion has been downloaded more than 30 million times,and earlier this month it released Design Home, a game that gives Covet: Fashion's dress-up engine an interior design tweak.
The Crowdstar acquisition fits perfectly with its celebrity-studded games, but judging by the market's price action, it seems as if Mr. Market doesn't feel that way. Analysts includingBenchmark have been recently lowering their stock price targets on Glu Mobile. The shares are speculative -- that's always been the case -- but with the new CEO buying in, it's easier to warm up to its chances of succeeding.
10 stocks we like better than Glu Mobile When investing geniuses David and Tom Gardner have a stock tip, it can pay to listen. After all, the newsletter they have run for over a decade, Motley Fool Stock Advisor, has tripled the market.*
David and Tom just revealed what they believe are the ten best stocks for investors to buy right now... and Glu Mobile wasn't one of them! That's right -- they think these 10 stocks are even better buys.
Click here to learn about these picks!
*Stock Advisor returns as of November 7, 2016
Rick Munarriz has no position in any stocks mentioned. The Motley Fool has no position in any of the stocks mentioned. Try any of our Foolish newsletter services free for 30 days. We Fools may not all hold the same opinions, but we all believe that considering a diverse range of insights makes us better investors. The Motley Fool has a disclosure policy.