Some Investors are Taking a Break From Gold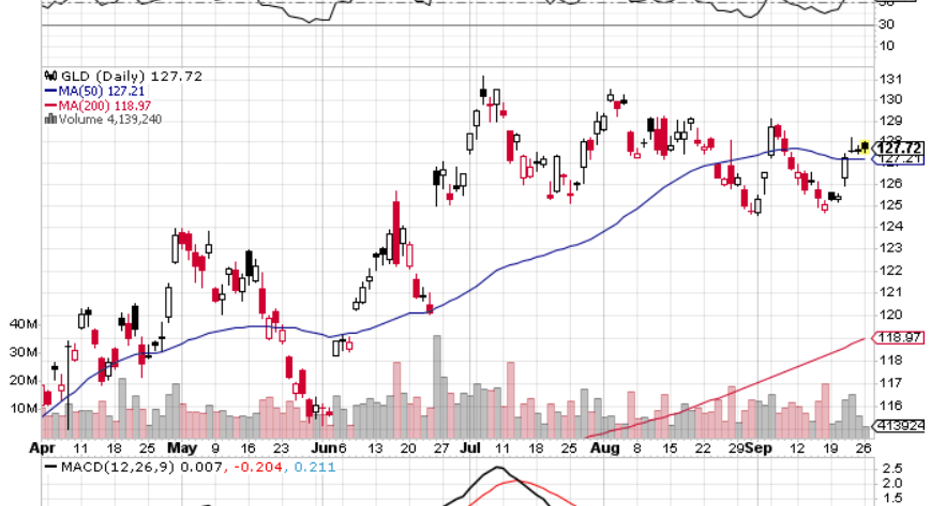 For a significant portion of this year, the SPDR Gold Shares (NYSEArca: GLD), iShares Gold Trust (NYSEArca: IAU) and ETFS Physical Swiss Gold Shares (NYSEArca: SGOL) and other gold-related exchange traded products have been stout peformers.
Buying of gold by hedge funds and other professional investors along with increased purchasing of gold ETFs has been one of the reasons why the yellow metal is one of this year's best-performing asset classes. However, recent data suggest some buyers are taking a break from bullion.
Related: Demand Supports Gold ETFs
Global central banks, some of which are seen as key supporters of gold's upside, remain buyers of the yellow metal. Actually, central banks have been diligently buying gold since the global financial crisis in 2008.
ETF flows into gold have expanded at their fastest pace since 2009. Physically backed gold ETF holdings are still one-third below the December 2012 peak, which suggest that prices can hold at about $1,200 per ounce.
"Gold touched a two-year high in July around $1,380 an ounce and year to date the metal is up 26% or close to $280 an ounce, one of its best annual performances since 1980. But there are signs that buying fatigue has set in for both hedge funds active on the derivatives market and institutional and retail buyers of physically-backed gold exchange traded funds," reports Frik Els for Mining.com.
Gold has enjoyed greater demand in a low interest-rate environment as the hard asset becomes more attractive to investors compared to yield-bearing assets. However, traders lose interest in gold when rates rise since the bullion does not produce a yield.
SEE MORE: 31 Gold ETFs Investors Should Size Up
Investment in gold jumped to 448 metric tons in the second quarter, or more than double the figure of the same period year-over-year, largely due to a year-over-year increase in ETF investment to 236.8 metric tons, compared to a 23 metric ton outflow the year prior.
"Hedge funds dramatically raised bearish bets on gold during the final months of 2015 pushing the overall market into a net short position – bets that gold could be bought back at a lower price in the future – for the first time since at least 2006, when government first started to collect the data," according to Mining.com.
For more information on the Gold ETFs, visit our Gold category.
SPDR Gold Shares
Tom Lydon's clients own shares of GLD.
The opinions and forecasts expressed herein are solely those of Tom Lydon, and may not actually come to pass. Information on this site should not be used or construed as an offer to sell, a solicitation of an offer to buy, or a recommendation for any product.
This article was provided by our partners at ETFTrends.