Solutions to homelessness come with their own challenges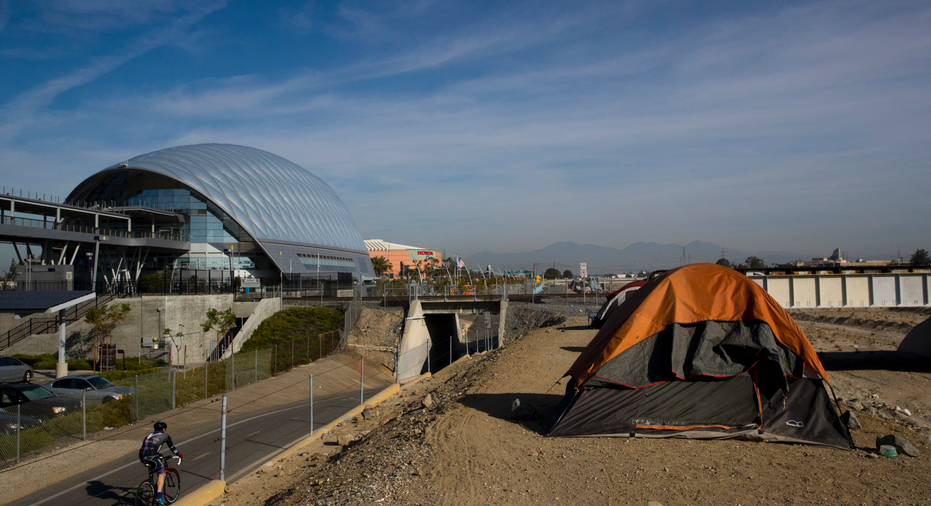 Many experts say homelessness is not an intractable problem.
A national focus on housing veterans and people who have long been homeless has made a difference, for example. But methods to end it or significantly reduce the problem come with financial and political hurdles. A look at some of the key strategies and their challenges:
___
FEDERALLY FUNDED SUBSIDIZED HOUSING
A shortage of housing that's affordable to very low-income people, especially in high-rent areas, is a key reason for homelessness. Providing more affordable housing can sometimes prevent it.
"We don't need a multi-billion dollar homeless system," said Paul Boden, a longtime advocate for the homeless who runs the San Francisco-based Western Regional Advocacy Project. "We need to reinvigorate our housing systems."
But nationally, that's not the way things are headed.
For the last 40 years, there's been slow growth in the number of units in publicly subsidized housing, and President Donald Trump's budget proposal calls for reducing vouchers.
An analysis by the liberal-leaning Center on Budget and Policy Priorities found that 235,000 fewer families could have access to subsidized housing under his plan. The cuts would not be as deep under budget plans being considered in Congress.
The study's author, Douglas Rice, believes that perhaps 5 to 10 percent of families that lose vouchers would become homeless.
___
LOCALLY SUBSIDIZED AFFORDABLE HOUSING
Building more low-cost housing is at the center of efforts to stem homelessness in Los Angeles and other West Coast cities.
Since last year, voters in Los Angeles and Los Angeles County have approved bond issues totaling about $4.7 billion over 10 years to build more affordable housing, using tax increases to pay for the bonds. Voters in the counties that include Oakland and San Jose have approved similar measures.
Joe Colletti, CEO of the Hub for Urban Initiatives, which provides planning and other services in several California communities, said the approach is the right one. But it will take years to build homes.
He said voters might be disappointed when they still see people living on the streets in a decade: While adding 10,000 units of housing in Los Angeles can prevent homelessness for many, he said, it won't get everyone who is now homeless off the streets.
___
ENFORCING LAWS
In many places, officials have added laws to combat panhandling, camping in public places and stepped up enforcement of those and other policies to keep homeless people away.
In August, Sacramento County officials approved spending $5 million to increase enforcement of an anti-camping law along the American River, which is lined with encampments.
That's discouraging for Bob Erlenbusch, executive director of the Sacramento Regional Coalition to End Homelessness. He says there aren't enough efforts to house the growing numbers of homeless people.
Some advocates compare stepped-up law enforcement to "whack-a-mole." People might be pushed out of one area. But if they don't have another place to go, they'll pop up elsewhere.
___
ADDING SHELTERS
More than a decade ago, the federal strategy shifted from shelters and transitional housing toward providing permanent homes for people experiencing homelessness.
The rules and conditions make shelters unappealing for many people: Many have rules banning drugs and pets, and some would-be clients consider them unsafe or uncomfortable.
There tend to be more of them in places with more severe winters. And in New York City, Massachusetts and Washington, D.C. — all places with high per-capita homeless rates — there are policies requiring shelters be available to many people experiencing homelessness.
The cost can be high. By early this year, New York City was housing nearly 8,000 people nightly in hotels and the cost was more than $500,000 per day.
Joe Finn, president of the Massachusetts Housing and Shelter Alliance, says there's a problem in addition to cost with the right-to-shelter policies. In his state, he said, shelters have become the answer to non-homelessness issues. For instance, he said, they're being used for people finishing drug treatment programs.
"If you have this right to shelter, that reinforces ... that the services can be best obtained by becoming homeless," he said.
___
ADDING SHORT-TERM EMERGENCY HOUSING
Lawmakers in California passed legislation last year to allow San Jose, the city at the heart of Silicon Valley, to try a new form of temporary housing for homeless people: Clusters of "tiny houses" with locking doors.
The idea was to put groups of about 25 of them in each of the city's 10 council districts. "There is massive backlash. People are very, very afraid," said Jennifer Loving, CEO of Destination: Home, the organization that coordinates anti-homelessness efforts in San Jose and Santa Clara County. "They think the problem of homelessness is going to be stuck in their neighborhood."
The city originally identified 99 possible city-owned sites. After complaints from one neighborhood of million-dollar homes about a spot near a park, officials changed the criteria for where the shelters could go. Only four city-owned properties were on the new list.
___
MOVING TO PERMANENT HOMES
For decades, many homeless people were brought into permanent housing in steps. The idea was that they needed to deal first with mental health issues or addiction before they would be ready for permanent housing. In the meantime, they lived in transitional housing — essentially long-term shelters.
In 1992, Sam Tsemberis founded Pathways to Housing in New York City to try the opposite approach: Quickly providing permanent housing for chronically homeless people — those who are on the streets repeatedly or for long stretches — while providing counseling, job training and other services.
Studies around the country have shown that the method is cost-effective compared with the previous model, at least when it applies to chronically homeless people who often have stints in hospitals and jails at taxpayer expense.
Over the last two decades, the Housing First idea has become federal policy, often using Medicaid to pay for the services.
Not everyone sees it as a panacea, though. Permanent housing is expensive, and shifting money to it from shelters means fewer people get help.
"Things are getting worse and it's an absolute epidemic, despite what government officials are reporting as a success," said the Rev. Andy Bales, who runs the Union Rescue Mission, a century-old organization based on Los Angeles' Skid Row.
___
Follow AP's complete coverage of the West Coast homeless crisis here: https://apnews.com/tag/HomelessCrisis