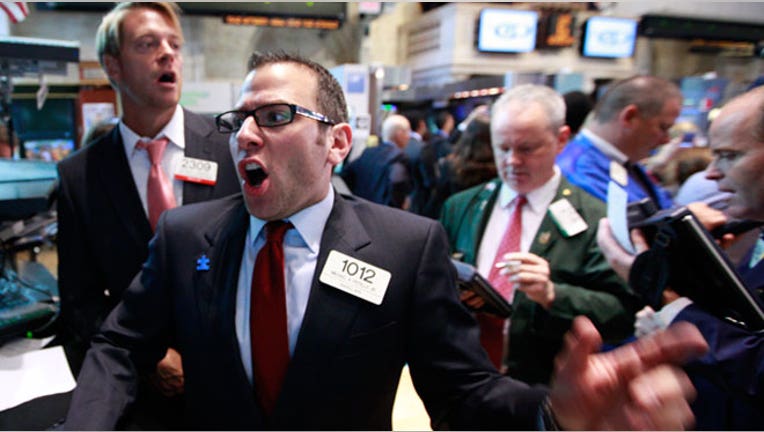 FOX Business: Capitalism Lives Here
U.S. equity markets rallied nearly 200 points higher Friday, reversing five days of losses as traders bought stocks of all stripes following a strong November jobs report.
In a strategic shift, investors were cheered by positive economic data rather than nervous that the good news might prompt the beginning of the end of easy money stimulus programs.
Today's Markets
At the close, the Dow Jones Industrial Average was up 198.69 points, or 1.26%, to 16020.20, the S&P 500 advanced 20.06 points, or 1.12%, to 1805.09, and the Nasdaq Composite rose 29.36 points, or 0.73%, to 4062.52.
The Dow and S&P 500 fell for the past five sessions -- the longest losing streak since late September. The losses have been driven by a string of solid economic data that have ignited concerns that the Federal Reserve could begin paring back its massive bond-purchasing program sooner than expected.
However, the important jobs report actually sent traders rushing back into equities.
The American economy added 203,000 jobs in November, higher than the 180,000 Wall Street anticipated. The unemployment rate fell 0.3 percentage point to 7%, the lowest level since November 2008, while economists expected the rate to fall less to 7.2%. The labor force participation rate, which gauges the proportion of the population employed or seeking employment, rose to 63% from 62.8% in October.
"This week's data ... add to the sense that the Fed will be itching to pull the trigger to take the first shot at killing off its huge $85 [billion]  per month asset purchase programme at its December meeting, at least to fire a warning shot that the time has come to start slowly bringing about some normalization of policy," Chris Williamson, chief economist at UK-based Markit wrote in an email. "However, the most likely outcome still looks like a deferment of any decisions until the new year."
Goldman Sachs' economics team agreed, writing to clients that "we do not think the report was strong enough to prompt the Fed to taper asset purchases in December, although a move at the upcoming meeting remains a possibility."
Perhaps in a sign of Wall Street's sense of calm, traders bid-up 10-Year U.S. Treasury bonds on Friday. The yield recently fell from 2.881% to 2.876%.
Adding to the upbeat sentiment was a considerably better-than-expected report on consumer sentiment. A reading from Thomson Reuters and the University of Michigan came in at 82.5 in December from 75.1 in November, handily beating Wall Street's estimate of a reading of 76. December's reading was the highest since July.
"It's now clear in this confidence figure how much of an impact the goings on in DC had and luckily consumers have shrugged that off, as they should," Peter Boockvar, chief market strategist at The Lindsey Group, wrote in an email.
"With also help from an improving labor market and lower gasoline prices we hope that confidence continues to improve in months to come but as seen with holiday retail sales so far, consumers still seem to be keeping spending close to the vest."
Both of these economic reports come as retailers like Wal-Mart (NYSE:WMT) and Gap (NYSE:GPS) deal with what is expected to be a tough holiday shopping season.
Elsewhere, in commodities, U.S. crude oil futures rose 27 cents to close at $97.65 a barrel. Wholesale New York Harbor gasoline climbed 0.64% to $2.73 a gallon. Gold fell $3.90, or 0.32%, to $1,228 a troy ounce.