Solazyme, Now TerraVia, Continues Transition to Food-Ingredients Manufacturer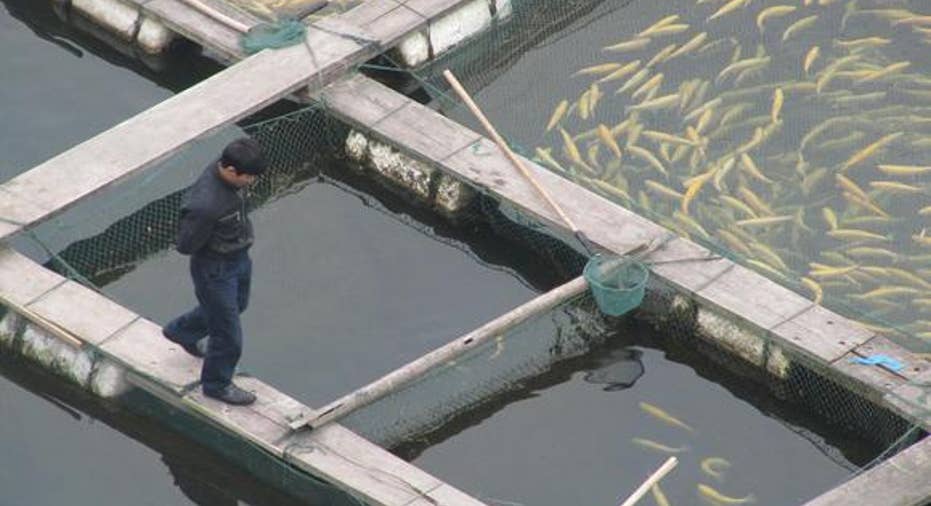 Aquaculture is the target of Solazyme's newest product. Image source: IvanWalsh/Flickr.
Last year, Solazyme was focused on selling everything from cosmetics to drilling lubricants, food ingredients to specialty fuels. After a combination of manufacturing delays, market development snafus, and tanking commodity prices, the company decided it was time to narrow its focus to its most promising opportunity: food ingredients.
Today, Solazyme -- which will soon change its name to TerraVia -- is in the midst of that transition with the full support of its joint venture partner, Bunge . While it's been only eight weeks since management announced strategic shake-ups, there were several important updates for investors in the recently announced first-quarter earnings.
By the numbersYou can check the press release for the full financial results, but here are several highlighted metrics:
Data source: Solazyme press release.
As this is a developmental company, investors shouldn't expect much in terms of profitability, but management did say that production volumes should finally ramp up exiting 2016. If that occurs, it could set the stage for healthy revenue growth in 2017 and provide more clarity on the timeline for reaching profitable operations.
Solazyme was silent about its leading product portfolio, the cosmetic brand Algenist, which generated 70% of total product revenue in 2015. Management has noted that it will be looking to divest or strategically partner its former industrial products, so it may also be looking to sell Algenist to bolster its balance sheet.
Expanding business opportunitiesSolazyme also announced the launch of a new product line called AlgaPrime DHA, which will be sold primarily to aquaculture markets initially, with the ink already dried on a sales agreement to a leading global supplier. DHA is a long-chain omega3 compound commonly used in aquaculture, animal feed, and human nutrition applications. However, most of the world's DHA is currently sourced from catching and processing wild fish. Natural limitations and environmental concerns have motivated scientists to look for more efficient ways to manufacture DHA -- and industrial biotechnology is among the leading candidates. Much like using algae to make tailored oils traditionally sourced from agricultural crops, using algae to make DHA offers yield, purity, and (one day) cost advantages over traditional sources.
What's interesting here is that Solazyme and Bunge have come out of nowhere to beat several other engineered biology companies working on cultured DHA products ("cultured" ingredients are those manufactured via fermentation). That includes a prominent partnership between J. Craig Venter's Synthetic Genomics and former Solazyme manufacturing mentor Archer Daniels Midland, which is also using microalgae strains. Acknowledging that level of competition, it makes perfect sense why Solazyme and Bunge went into stealth mode to develop, scale, and launch cultured DHA. While I wouldn't sleep on the competition, which has access to large-scale manufacturing infrastructure and a global distribution network, there have been zero updates in nearly two years, so it may be time to wonder if Solazyme has a wide open pathway to commercialization. Competition or not, DHA represents a large ($3 billion annually) and growing opportunity for high value production of cultured products.
Bye-bye, Solazyme (in name and ticker only)One short note for investors: Solazyme will officially change its name and ticker this month. The company will soon officially be called TerraVia and the ticker will change from "SZYM" to "TVIA." The stock will continue to trade on the Nasdaq. This won't have any affect on your holdings, but it may take some getting used to when searching using the ticker or looking at your watchlist and portfolio.
What does it mean for investors?There's still a long way to go for Solazyme, especially when one considers the financial hurdles that need to be overcome as markets are grown and production expands. However, shifting the focus to food ingredients and other high-value specialty ingredients bodes well for the long-term viability of the overall business. It may be painful to continue hearing this, but more patience is required.
The article Solazyme, Now TerraVia, Continues Transition to Food-Ingredients Manufacturer originally appeared on Fool.com.
Maxx Chatsko has no position in any stocks mentioned. Follow him on Twitter to keep up with developments in the engineered biology field.The Motley Fool owns shares of and recommends Solazyme. Try any of our Foolish newsletter services free for 30 days. We Fools may not all hold the same opinions, but we all believe that considering a diverse range of insights makes us better investors. The Motley Fool has a disclosure policy.
Copyright 1995 - 2016 The Motley Fool, LLC. All rights reserved. The Motley Fool has a disclosure policy.