Solar Power Players and Utilities Join Forces in New York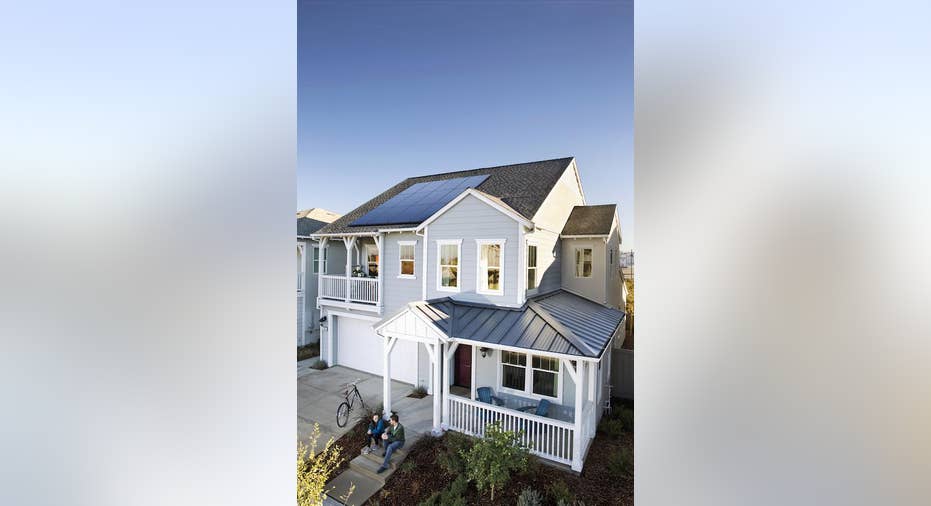 Image source: SunPower.
The hard truth about rooftop solar energy is that it doesn't make financial sense without the support of electric utilities. Even if your panels generate 100% of the net energy you use every day, you still need a local utility to supply your electricity at night and to pay a fair rate for the surplus energy they generate during the day. (Of course, you could generate and consume all of your electricity on site, if you install a big enough battery system. But according to Greentech Media, at todays prices, youre looking at a cost of about $0.39 to $0.58 per kWh for stored energy from a Powerwall -- which is 2.4 to 3.5 times what New York residential customers now pay for electricity.)
So, even though companies like SolarCity , SunPower , and SunEdison have had a great deal of success selling rooftop solar power systems to homeowners and businesses, they really need positive relationships with utilities of they want to provide economical returns and energy to building owners 24/7. And, as we saw in Nevada, when relationships with those utilities sour, it can shut their business down in a heartbeat.
From the utilities' side, they can see that homeowners and businesses find the idea of owning solar energy production attractive. The growth of rooftop solar is a wave they can't stop from coming. And in states where regulators are supportive of solar energy, they have a direct financial incentive to find a way to make it work. That's just what's happening in New York.
Image source: SunPower.
A step in the right direction Late on Tuesday, SolarCity, SunPower, and SunEdison joined forces with six utilities, including Consolidated Edison and National Grid , to form a Solar Progress Partnership. The partnership has made a proposal to the New York State Public Service Commission about how to compensate owners of solar energy systems in a fair manner for everyone. The hope is that the commission will follow the partnership's recommendation when it sets new rate structures for the state.
In the past, solar companies havepushed for net metering, which essentially credits solar power generators for the electric they put onto the grid at the same retail rate they pay to buy it. Instead, this partnership is proposing a structure that provides economical compensation for homeowners and businesses sending electricity to the grid while addressing the cost-sharing issues that have come with higher solar adoption rates. These costs are things like the cost of maintaining the grid, or and the added expense of having electrical generation capacity available when the sun goes down -- items that solar customers wouldn't be shouldering any of the burden for with net metering.
It's a compromise for both sides to be sure, but it also creates a potential for a more predictable business. Solar companies would know the rules of the game, allowing them to price systems and reduce the risk of net metering changes in the future (which is what happened in Nevada). They would also be getting greater certainty about interconnection with the grid for solar projects. Many states have gone through boom and bust cycles as net metering rules have changed, so a predictable sales environment would be a positive.
For utilities, outlining a fair structure for solar customers will reduce the risk of cost shifting to non-solar customers. And having a positive relationship with the industry could allow them paths to get into the solar business. Con Edison recently signed a deal with SunPower to collaborate on selling solar power systems to homeowners. Another option would be community solar farms, which allow customers to buy energy from a larger solar installation rather than installing panels on their roofs.
Are solar and utilities making up? While this is a step in the right direction for utilities in New York and solar companies, don't think that it's the start of a trend likely to spread to every state in the country. State regulators often set the tone for discussions between the solar industry and utilities, and in the case of New York, both sides knew rule changes were coming. It was in their best interests to have get seats at the table and propose solutions that worked for everyone.
With that said, this partnership is definitely a positive for solar companies today. If its recommendations are adopted, solar installers would know the rules of the game long-term and be able to develop sales strategies and partnerships that meet their business needs. And the value of some certainty in one of the country's largest potential solar markets is something that investors shouldn't ignore.
The article Solar Power Players and Utilities Join Forces in New York originally appeared on Fool.com.
Travis Hoium owns shares of SunPower. The Motley Fool owns shares of and recommends SolarCity. The Motley Fool recommends National Grid. Try any of our Foolish newsletter services free for 30 days. We Fools may not all hold the same opinions, but we all believe that considering a diverse range of insights makes us better investors. The Motley Fool has a disclosure policy.
Copyright 1995 - 2016 The Motley Fool, LLC. All rights reserved. The Motley Fool has a disclosure policy.