Sohu.com Inc. Earnings: We're Going the Wrong Way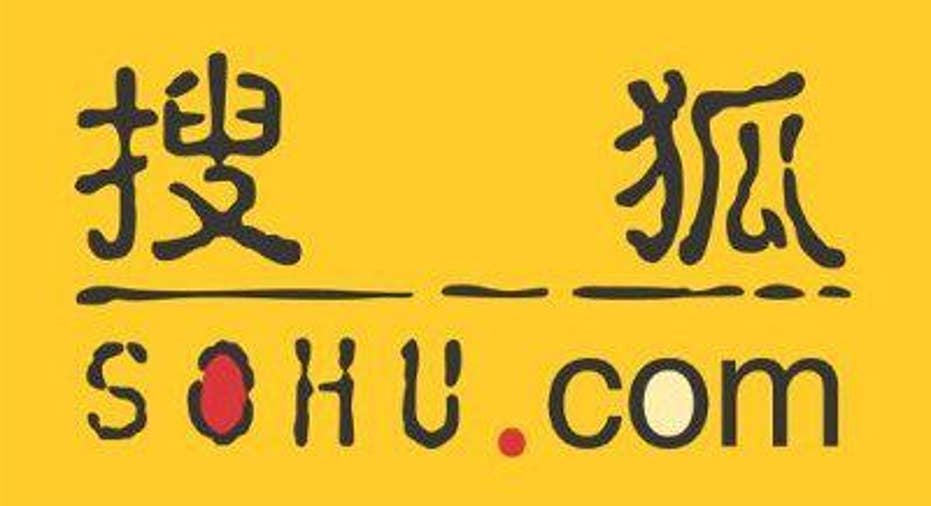 Image source: Sohu.com.
Sohu.com kicked off the new trading week by posting another quarter of declining revenue, held back by continuing weakness in its video portal and its online gaming business. One of China's original dot-com darlings, Sohu.com clocked in with revenue of $408 million, its weakest top-line showing since the second quarter of 2014.
The 10% year-over-year drop in revenue is the result of decelerating growth for its Sogou search engine and a flat showing for its original portal's brand advertising segment, more than offset by Sohu Video and spinoff Changyou.com losing market share and relevance in their seemingly hot niches.
Changyou continues to be the biggest drag on Sohu's financials, even though it has been seven years since the once red-hot Internet gaming business was spun off. Sohu has reported a loss in each of the past three years, but only once was it profitless before factoring in Changyou's deficit.
Sohu's online gaming revenue plummeted 45% to $103 million. Some of this can be explained by the sale late last year of its 7Road Web game business, but we also continue to see the popularity of its older online martial arts games, TLBB and TLBB 3D, fading. Sohu hasn't been able to translate the success of its TLBB PC game into mobile, the gaming platform of choice these days. If it wasn't for the sharp decline in Changyou's performance, Sohu's overall revenue would've clocked in higher.
Sohu's portal business is also weighing on results. Brand advertising revenue declined 6% year-over-year to $126 million. A 16% year-over-year slide in revenue for its video portal dragged down the segment, but back that out and revenue growth still would've been flat.
Then we get to Sogou, which for the last few quarters has been the real reason to get excited about Sohu. China's third-most-popular search engine saw its search and search-related revenue climb 27% to $147 million. This is the second quarter in a row that Sogou has been the leading revenue source for Sohu, and momentum suggests that this won't change anytime soon.
Working our way down to the bottom line, we see an adjusted loss of $0.56 a share. Red ink is never a pleasant discovery, but this isn't really a surprise anymore. Sohu has reported a loss in eight of the past nine quarters.
Declining overall revenue and mounting losses aren't what investors like to see in Chinese Internet growth stocks, but the results were actually in line with Sohu's earlier forecast. Its guidance following its fourth-quarter results was calling for $390 million to $420 million in revenue. It landed just above the midpoint of that range.
Searching for catalystsWall Street has grown frustrated with Sohu, as evidenced by the fact that its stock has shed more than half of its value since peaking five years ago. JP Morgan downgraded Sohuin late February, following Sohu's last quarterly report, lowering its price target from $75 to $50. At the time, the bank's analyst said she was concerned that there was a lack of fundamental catalysts to drive the shares higher, other than the possibility of a management-led buyout.
The JP Morgan analyst's concerns about the company regarded decelerating growth at Sogou; the continuing dip at Changyou in light of the aging of its most popular franchise; and its conservative video content strategy drying up the potential for growth in brand ads. All of those issues seem to be playing out, but this doesn't mean that investors need to follow suit.
Given that the thriving Sogou is now Sohu's largest business, it's worth noting that the market has historically given search companies loftier market premiums than Internet portal operators. We've also seen China's biggest search engine recently make a move that could result in it divesting itself of its money-losing video business -- and earning itself a tidy windfall in the process. That path is a feasible option for Sohu. We also noe that Sohu's balance sheet is brimming with $1.44 billion in cash, giving it plenty of time to get things right.
Sohu's guidance is for the current quarter's revenue to come in between $420 million to $450 million. That would be its third quarter in a row of year-over-year declines, but at least it represents sharp sequential improvement. Sohu has a long way to go if it's to get back to where it was five years ago, but it has the luxury of time, and at least one potent catalyst in search that could allow that to happen.
The article Sohu.com Inc. Earnings: We're Going the Wrong Way originally appeared on Fool.com.
Rick Munarriz has no position in any stocks mentioned. The Motley Fool recommends Sohu.com. Try any of our Foolish newsletter services free for 30 days. We Fools may not all hold the same opinions, but we all believe that considering a diverse range of insights makes us better investors. The Motley Fool has a disclosure policy.
Copyright 1995 - 2016 The Motley Fool, LLC. All rights reserved. The Motley Fool has a disclosure policy.