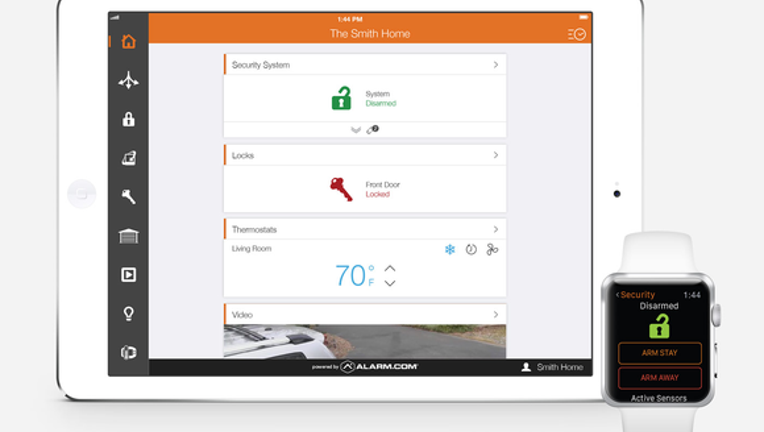 Image source: Alarm.com.
Cloud-based connected-home platform provider Alarm.com (NASDAQ: ALRM) reported its third-quarter results after the market closed on Nov. 14. Revenue grew by more than 25% compared with the third quarter of 2015, driven by both software and hardware sales. Higher operating costs hurt GAAP profitability, but adjusted earnings grew faster than revenue. Here's what investors need to know about Alarm.com's third-quarter results.
Alarm.com results: The raw numbers
YOY = year over year. Data source: Alarm.com Q3 earnings report.
What happened with Alarm.com this quarter?
Alarm.com reported strong revenue growth, while higher costs knocked down GAAP profits.
Software-as-a-service and license revenue was $44.6 million, up 23.4% year over year.
Hardware and other revenue was $23.2 million, up 30.1% year over year.
Adjusted EBITDA increased by 20.6% year over year to $11.7 million.
GAAP operating expenses rose 28.1% year over year, a bit faster than revenue, which contributed to a 26.6% decline in operating profit.
Alarm.com named Steve Valenzuela as its chief financial officer, effective Nov. 15.
Total cash and cash equivalents grew to $135.1 million, up from $128.4 million at the end of 2015.
Cash flow from operations through the first nine months of 2016 was $8.8 million, down from $21.2 million during the prior-year period.
Alarm.com provided a limited amount of guidance for the fourth quarter, and it raised its outlook for the full year.
Fourth-quarter SaaS and license revenue is expected to be in the range of $45.8 million to $46.1 million.
Full-year SaaS and license revenue is expected to be in the range of $172.5 million to $172.8 million, with total revenue between $254.0 million and $256.3 million.
Full-year adjusted EBITDA is expected to be between $45.3 million and $45.8 million.
Full-year non-GAAP net income is expected to be in the range of $28.0 million to $28.5 million, or $0.58 to $0.59 per share.
What management had to say
Alarm.com President and CEO Steve Trundle summed up the quarter:
The company's earnings press release also highlighted the success of its platform during Hurricane Matthew:
Looking forward
Alarm.com's strategy of partnering with over 6,000 service providers has caused its software to be widely used, with 2.6 million subscribers. The market for monitored home security systems in the U.S. is nearly 10 times as big as the company's current subscriber base, according to the company, leaving plenty of room for growth going forward.
With SaaS and license revenue renewal rates consistently topping 90%, Alarm.com is building a business defined by predictable revenue. The third quarter featured strong revenue growth and growing profits, adjusted for costs related to acquisitions and litigation. The company is expecting more of the same in the fourth quarter.
Forget the 2016 Election: 10 stocks we like better than Alarm.com Holdings Donald Trump was just elected president, and volatility is up. But here's why you should ignore the election:
Investing geniuses Tom and David Gardner have spent a long time beating the market no matter who's in the White House. In fact, the newsletter they have run for over a decade, Motley Fool Stock Advisor, has tripled the market.*
David and Tom just revealed what they believe are the ten best stocks for investors to buy right now... and Alarm.com Holdings wasn't one of them! That's right -- they think these 10 stocks are even better buys.
Click here to learn about these picks!
*Stock Advisor returns as of November 7, 2016
Timothy Green has no position in any stocks mentioned. The Motley Fool recommends Alarm.com Holdings. Try any of our Foolish newsletter services free for 30 days. We Fools may not all hold the same opinions, but we all believe that considering a diverse range of insights makes us better investors. The Motley Fool has a disclosure policy.