SodaStream Stock Has a Lot to Prove on Wednesday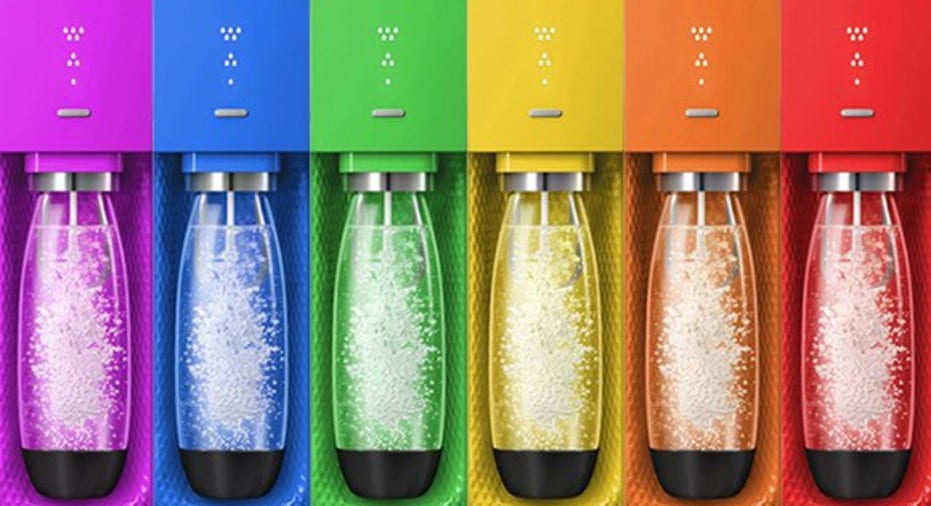 One of last year's biggest surprises is gearing up for its first major test of 2017. Shares ofSodaStream (NASDAQ: SODA)soared 142% last year, and the company behind the carbonated beverage maker is reporting fresh financial results on Wednesday morning.
Analysts are holding out for modest growth on both ends of the income statement in this week's fourth-quarter report. They see a profit of $0.30 a share, just ahead of the $0.24 a share it posted a year earlier. Wall Street pros are also forecasting $124.75 million in revenue, an increase of 10.5% since the prior year's holiday quarter.
SodaStream's results will be a far cry from the $168.1 million it rang up when sales peaked during the 2013 holiday quarter. SodaStream is no longer the trendy company it was a couple of years ago, cashing in as making flavored soft drinks at home were all the rage. SodaStream has repositioned its namesake product as a maker of sparkling water, a platform that's gaining worldwide appeal. The rebirth of SodaStream is an impressive site, and Wednesday's report should be the fourth consecutive quarter of double-digit percentage growth.
Image source: SodaStream.
Turning something flat into something fizzy
Shares of SodaStream are already building on last year's pop. The stock is up 16% so far in 2017, suggesting that expectations are high leading into this week's fresh report.
History has been on the side of the bulls lately. Net income of $0.30 a share as analysts are expecting may seem conservative. SodaStream has trounced through expectations with ease over the past year.
Data source: Yahoo! Finance.
SodaStream has beaten profit targets by at least 41% in each of the past four quarters, a trend that suggests earnings would clock in at $0.42 a share or higher unless Wall Street's finally catching on to the reborn SodaStream's story.
The stock has overcome the faddish ways of its original product positioning. It has bounced back after buyout speculation came and went in its prime. SodaStream is a more stable company, armed with 10 million active users worldwide. Its largest market remains Europe.
We should get an update on Wednesday of how SodaStream is faring with new products and initiatives, including new beverage makers and Fizz Concierge, its consumer-direct model to replenish carbonators by mail.
Investors that took a chance when it seemed as if SodaStream would be quietly fading away. The stock has now skyrocketed 182% since the start of last year. Wednesday morning's report better be worth it, since the stock has come a long way to get to where it is today.
10 stocks we like better than SodaStreamWhen investing geniuses David and Tom Gardner have a stock tip, it can pay to listen. After all, the newsletter they have run for over a decade, Motley Fool Stock Advisor, has tripled the market.*
David and Tom just revealed what they believe are the 10 best stocks for investors to buy right now... and SodaStream wasn't one of them! That's right -- they think these 10 stocks are even better buys.
Click here to learn about these picks!
*Stock Advisor returns as of February 6, 2017
Rick Munarriz has no position in any stocks mentioned. The Motley Fool owns shares of SodaStream. The Motley Fool has a disclosure policy.