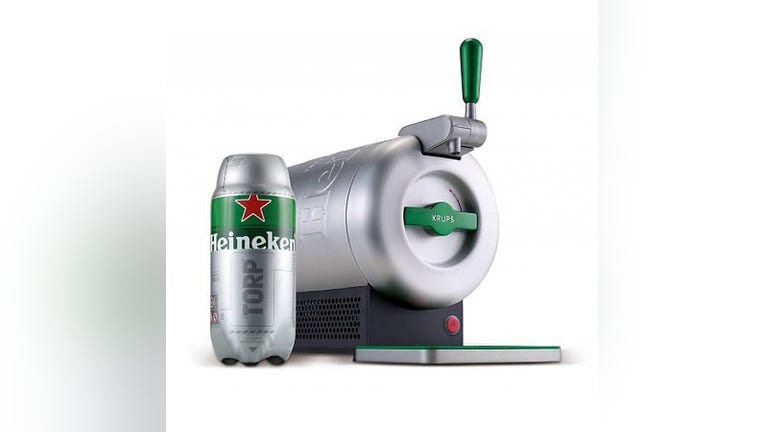 Sodastream International hopes you'll try its Beer Bar, an at-home beer-making appliance, but it seems doubtful there's much of a market for instant beer made from concentrate and sparkling water. Image source: Sodastream International
Sodastream International , is this really a way to make good beer? Although the market seemingly loved the recent announcement that the producer of home soda machines would be introducing an at-home beer-making system -- investors sent its stock up a heady 6% on the news -- I'm skeptical this will be a success.
After struggling due to declining rates of soda consumption and its rocky attempt to redefine itself as a sparkling water company, Sodastream finally recorded sales last quarter that were stronger than anticipated. It now hopes that tapping into the home craft brew market by introducing the Beer Bar will build on that momentum. This latest offering addsto Sodastream's portfolio of adult beverage makers, joining the Sodastream Mix, which carbonates cocktails.
Its first do-it-yourself brew is a light beer called Blondie that has 4.5% alcohol by volume -- a one liter bottle of the mix yields approximately three liters of beer.
Crafting new growth
Home brewing is certainly popular. It helped to spawn the craft beer market, which has given birth to an army of small U.S. breweries. Indeed,there are more in existence now than at any time in history, according to the Brewers Association, the trade group representing the industry. Craft beer now accounts for over 12% of all beer produced in the U.S., and production rose 13% year-over-year in 2015 to 24 million barrels.
Regardless, I don't think leading craft brewer Boston Beer , nor megabrewers like Anheuser-Busch InBev , have much to worry about when it comes to the Beer Bar.
Initially, the Beer Bar will only be available in select European markets, notably Germany (undoubtedly to gain some street cred) and Switzerland, which has the highest concentration of breweries per capita in the world. Other markets are said to be coming later this year and in early 2017.Yet even if it comes to the U.S., major brewers can simply shrug, even though, like Boston Beer, they're losing market share.
Saturated with suds
The maker of Samuel Adams lager -- and arguably, the face of the craft beer industry -- has reported declining sales of its flagship brand as other craft options continue to proliferate. Anheuser-Busch has been muscling into the market as well, buying up nearly a dozen small breweries to spark some growth in its own lackluster sales.
Yet a country like Germany, for example, that takes its beer seriously -- witness its centuries-old Reinheitsgebot purity rules -- hardly seems like an ideal market to generate sales for an "instant beer" made from concentrate. And more broadly, although there are kits that significantly narrow the fermentation time of homebrews down to a matter of days instead of months (Whirlpoolis crowdfunding an at-home appliance to make beer in seven days), they've failed to make much of an impact on the market.
Heineken offers a DIY draught machine for the home, but it comes with real, already brewed beer in a "torp", or torpedo, not something you mix up on your own in seconds. Image source: Heineken
Even Heineken, which introduced an at-home draught machine called The Sub several years ago, gave consumers "torps" filled with real beer to insert into the appliance, not aconcentrate to be mixed with carbonated water.
Strange brew
One problem I see is how Sodastream is marketing this beer. The company says it's tapping into the home craft beer market, but there's a big difference between people who want a quick glass of soda, which really is little more than concentrated syrup mixed with carbonated water,and those interested in crafting a quality beer. The latter groupis much more concerned about the ingredients and the process that go into creating a unique taste profile. I'm worried not many home craft brewers will be interested in breaking those long-held traditions.
Of course, not everyone is a beer snob, which is why Anheuser-Busch is still able to sell hundreds of millions of barrels of mass brewed beer every year. And if Sodastream can enable its users to fill a glass with "home-brewed" beer in just seconds rather than having to wait months for traditional brews, the Beer Bar could find a receptive niche of customers.
It would certainly be cost effective. The Blondie concentrate sells at just under three euros per bottle, according to Sodastream's German website,or about $3.34 at current exchange rates. That comes out to approximately $0.03 per ounce. That's still a bargain compared to the low-cost mass brews in your grocery aisle, even if you need to buy one of their machines to get started (the Beer Bar appears to work with existing Sodastream appliances).
Ultimately, the key to the Beer Bar's success will be the taste.If the beer fails to meet flavor expectations, it pretty much won't matter how much it costs. Sodastream seems to have been successful on that front with its cocktail machine as thecarbonation reportedly improves the flavor of the alcoholbut whether that can be replicated with beer remains to be seen.
Although my initial reaction is to cringe at the thought of making beer in seconds from concentrate, there could very well be a market for it. Still, I'd wait for the reviews to pour in before jumping into the stock. Beer drinkers can be quite loyal to their favorite brews, and home brewers can be persnickety about the process. The market seems to think Sodastream International is just getting the party started with the Beer Bar, but I'd be a little more circumspect to avoid waking up with a hangover.
The article Sodastream International Ltd Taps Into Craft Beer Market, but Will It Fall Flat? originally appeared on Fool.com.
Rich Duprey has no position in any stocks mentioned. The Motley Fool owns shares of and recommends Boston Beer. The Motley Fool owns shares of SodaStream. The Motley Fool recommends Anheuser-Busch InBev NV. Try any of our Foolish newsletter services free for 30 days. We Fools may not all hold the same opinions, but we all believe that considering a diverse range of insights makes us better investors. The Motley Fool has a disclosure policy.
Copyright 1995 - 2016 The Motley Fool, LLC. All rights reserved. The Motley Fool has a disclosure policy.