So Is Boyd Gaming Corp. Doing a REIT or What?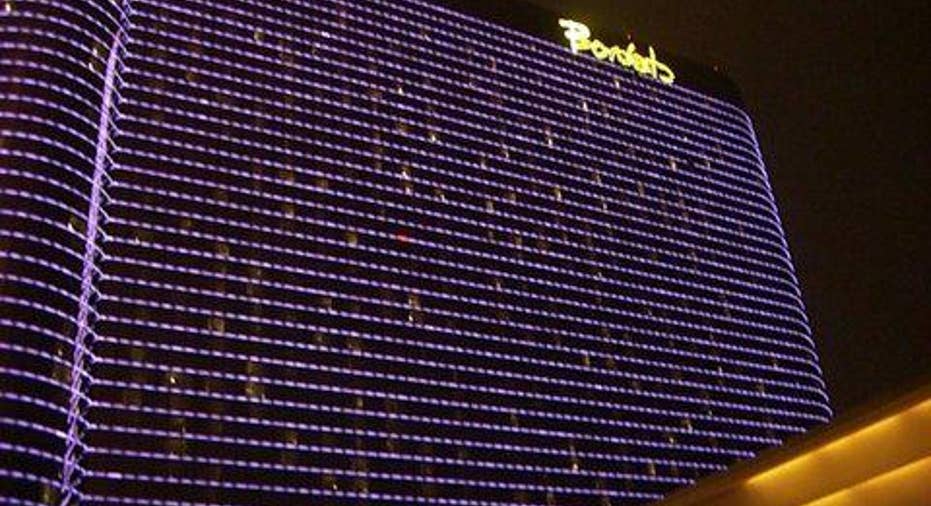 An activist investor thinks it's time for Boyd Gaming to put its real estate like The Orleans Hotel & Casino (pictured) into a publicly traded real estate investment trust. Image source: Michael Goebel.
Some people think it's time for Boyd Gaming to fish or cut bait. The casino operator has been under pressure for about a year from hedge fund Land and Buildings to convert its various properties into a real estate investment trust, but after reiterating earlier this year that it had taken the suggestion under advisement, it's gone silent.
After reporting first-quarter earnings in April that didn't address the issue at all, the hedge fund's CEO, Jonathan Litt, publicly issued a call to the casino operator, saying it was time to act, noting that with the company's fundamentals in such good shape, "we believe the time is right for a Boyd REIT."
It was, of course, Litt and his Land and Buildings hedge fund that got MGM Resorts International to finally "optimize" its corporate structure by splitting off its real estate into the MGM Growth Properties REIT, which just went public on April 19, raising $1 billion after selling $50 million shares at $21 a piece.
And it was Penn National Gaming that got the ball rolling in the casino industry several years ago when it split off 21 of its 29 casinos and racetracks into Gaming & Leisure Properties , which then leased the properties back to Penn. More recently, Pinnacle Entertainment just completed the sale of 14 of its 15 casinos to Gaming & Leisure for the purpose of leasing them back, a deal that will make it the third-largest publicly traded triple-net REIT and the first such REIT focused on gaming. A triple-net lease is a lease agreement whereby the tenants, in this case the actual casino operators, agree to pay all real estate taxes, building insurance, and maintenance on the properties.
Boyd Gaming owns half of The Borgata in Atlantic City, which is its largest property, with more casino floor space and more hotel rooms than any of its other properties. Image source: MoToMo.
Although Boyd Gaming's$552 million revenue haul in the first quarter was essentially flat from the year-ago period, it missed analyst expectations of $563 million. Profits, however, were much stronger than Wall Street forecast, beating the consensus view of $0.25 per share by coming in at $0.30 a share.
While Boyd's first-quarter results were somewhat mixed, perhaps explaining why shares were trading a little sideways in the days after the announcement, it means the value proposition Litt and Land and Buildings outlined remains intact.
In his statement last week, Litt said that looking at MGM's IPO and factoring valuations consistent with what Penn has enjoyed, there's still 60% upside to be realized if Boyd pursues the REIT option. It may have ignored the issue on its earnings call, but some analysts think its actions in recent days suggests it may just be ready to pull the pin on the strategy.
Twice in the days leading up to the earnings report, the casino operator announced it had bought another smaller gaming house in the Las Vegas market. It purchased the assets of Aliante Casino Hotel and Spa for $380 million then it spent $230 million for the Cannery Casino Hotel in North Las Vegas and the Eastside Cannery Casino & Hotel. That suggests to some Boyd Gaming is bulking up its assets, a move that would make a potential REIT's operations larger and more viable.
Converting land-heavy businesses into real estate investment trusts is a popular strategy among activist investors who in recent months have called on businesses as diverse as Macy's and McDonald's to spin off their assets. Congress, though, has moved to strip the tax benefits from these transactions, and while it hasn't become law yet, it does show the direction policy may take. We may end up seeing more deals like the one worked out between Pinnacle and Gaming & Leisure, where the properties are sold to an existing REIT and then leased back.
The benefit of REITs, of course, is two-fold: They produce steady, predictable revenue streams from the lease payments and are required by law to pay out at least 90% of their profits to shareholders as dividends, more often than not sporting high yields. The dividend of Gaming & Leisure Properties, for example, currently yields 6.83%.
Boyd Gaming might not be saying much, but its recent acquisitions may mean it's following Teddy Roosevelt's motto of talk softly and carry a big stick. The deals may suggest it's about to hit the REIT market hard.
The article So Is Boyd Gaming Corp. Doing a REIT or What? originally appeared on Fool.com.
Rich Duprey has no position in any stocks mentioned. The Motley Fool has no position in any of the stocks mentioned. Try any of our Foolish newsletter services free for 30 days. We Fools may not all hold the same opinions, but we all believe that considering a diverse range of insights makes us better investors. The Motley Fool has a disclosure policy.
Copyright 1995 - 2016 The Motley Fool, LLC. All rights reserved. The Motley Fool has a disclosure policy.