Snap's shares pare losses in brisk trading as lockup ends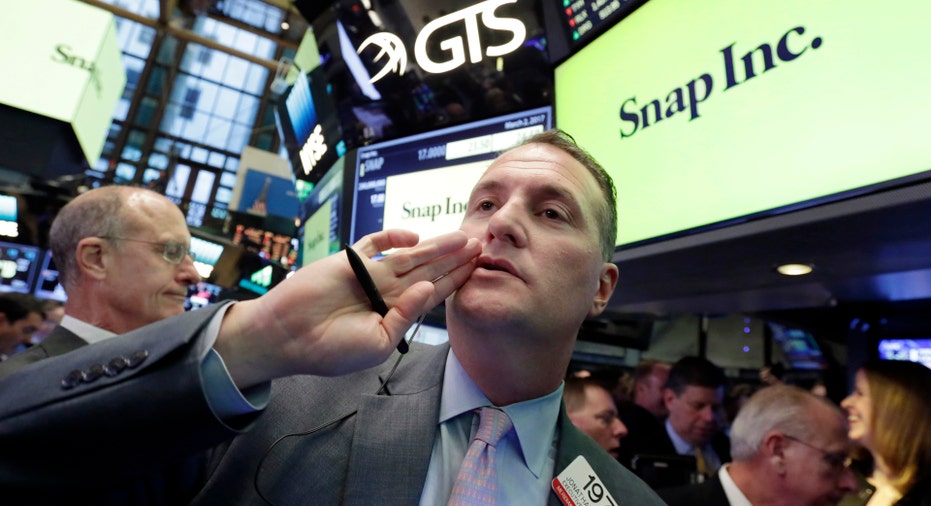 Shares of Snap Inc, owner of the Snapchat messaging app, clawed back much of its earlier losses in volatile trading on Monday, after dropping to a new low as the expiration of a share lockup allowed early investors to sell.
The stock was last down 0.1 percent at $13.79 after falling as much as 5.1 percent and hitting a low of $13.10, putting it well below its early March initial public offering price of $17.
Trading volume was 1.5 times the company's 10-day moving average with more than 26 million shares having changed hands just two hours into the regular trading session.
Starting on Monday and extending into August, early investors, employees and other insiders can sell shares for the first time since its $3.4 billion IPO, the third-largest for a U.S. technology company.
Shares turned positive briefly and the high for the day was $13.84, a few cents higher than Friday's close. It had fallen 53 percent below its March 3 intraday peak as investors bid it lower amid concerns over its growth prospects.
"Apparently enough sell-off has taken place in the last couple of months. Some on the retail side must be viewing this as a opportunity to get in at a low price," said Morningstar analyst Ali Mogharabi.
"Some of the early investors ... may have some patience to wait and see if this company becomes profitable and see if they can reaccelerate growth on the user side" said the analyst who rates the stock neutral and sees $16 per share as a fair valuation.
Snap could also be seeing some short covering, according to Mogharabi. Almost 6 percent of its shares were sold short as of July 14 according to the latest Reuters data.
Many investors likely positioned themselves early ahead of the expiration, according to Drexel Hamilton analyst Brian White, who recommends that investors buy the stock has a 12-month price target of $30 for the stock.
"If you can look out one year, this is a great buying opportunity at this level. The company is a big disrupter and an enormous mobile advertising platform," said
As of Monday, investors including Lightspeed Venture Partners will be able to sell up to 400 million shares, with employees owning another 782 million allowed to start selling on Aug. 14, four days after Snap reports results, JPMorgan analyst Doug Anmuth said in a recent note.
Share prices can move dramatically when lockups expire. For example, Twitter Inc shares fell 18 percent on the day of a key lockup expiry in May 2014, and in November 2012, Facebook Inc jumped 13 percent on its lockup expiry.
Snap did not immediately respond to a request for comment.
(By Sinead Carew; Additional reporting by Megan Davies and Lance Tupper; Editing by Bernadette Baum)