Snapchat IPO: Wall Street Cashes In, Average Investors Left Out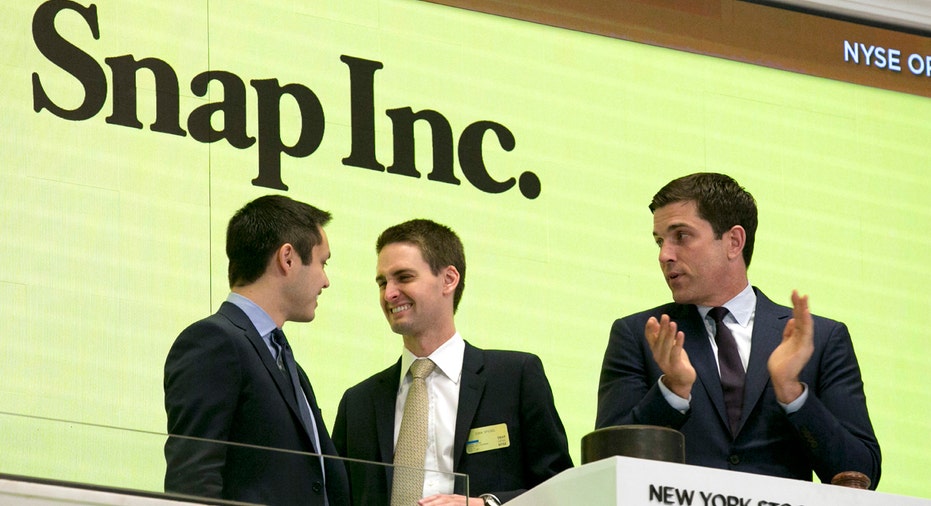 Wall Street is buzzing about Snapchat's (NYSE:SNAP) wildly successful trading debut, which bested Facebook's (NASDAQ:FB), Alibaba's (NYSE:BABA) and Google's (NASDAQ:GOOGL). At the outset of trading Thursday, the stock jumped more than 40 percent to $24 a share, no thanks to Main Street investors who were largely left out of the action.
Snapchat surged 44 percent Thursday, closing at $24.48, which valued the social media company's market cap around $28.3 billion, according to The Wall Street Journal.
Snap was priced at $17 per share late Wednesday night, above expectations of $14-$16 a share, but few mom and pop investors had a chance to buy the hot tech stock at that price.
"Reports indicated that a very large portion of the Snap IPO shares were allocated to institutional investors, both mutual funds and hedge funds," Jay Ritter, professor of finance at the University of Florida, told FOX Business. "Furthermore, 14 million shares were sold to 'friends and family' with the company, rather than the underwriters deciding who would be allowed to buy these shares."
Ritter said a smaller percentage of Snapchat shares (less than 10%) were allocated to individuals not affiliated with the company when compared with Facebook (25%), and the average IPO (15%-20%).
The Securities and Exchange Commission declined FOX Business' request for comment.
A recent outpouring of IPO action is attributable to the market's record breaking tear since the election, which has provided favorable conditions for companies to go public. Since November 8, the Dow Jones Industrial Average has gained about 2700 points, thanks to the president's economic agenda which includes plans to slash taxes and regulations. The Dow jumped 1000 points from 20K to reach 21K at a record speed not seen since 1999.
In an interview Thursday, New York Stock Exchange president Tom Farley told FOX Business that this rally has increased the number IPOs on his exchange in the first quarter dramatically when compared with the same period last year.
"If you look at what we call the calendar, the number of IPOs that are planned over the next month or so – there's a lot. So it's really humming nicely now. We have the trifecta – high asset prices, low volatility, low and stable interest rates," Farley said during the interview on FOX Business' "After the Bell."
Snapchat was the New York Stock Exchange's twelfth IPO of the first quarter. Last year during the same period a grand total of zero companies went public on the exchange.
However, individual investors shouldn't get too excited about the surge of IPO activity. It's unlikely the average investor will be able to get in on any other high interest stocks coming to market at IPO price.
"It would be very unusual if individual investors revived more than a very modest allocation of shares in a 'hot' (or oversubscribed) IPO," John Coffee, head of Columbia Law School's Center for Corporate Governance, told FOX Business. "Generally, underwriters allocate the scarce shares in a hot IPO to the institutional customers who have generated the largest brokerage commissions with them over the recent past. This motivates institutions to allocate commissions to the underwriters who have hot IPOs coming to the market."
Even though the average investor missed out on Snapchat's IPO, some experts say it may be for the best. While Snap had maintained its gains as of mid-day Friday, many money managers are still wary of the social media stock after the great Twitter (NYSE:TWTR) flop of 2013.
"Monetization of their user base over 24-36 months will be a critical water mark," Chad Morganlander, portfolio manager at Washington Cross Advisors, told FOX Business. "From a business model perspective the market will be unforgiving to any company that is not able to monetize that tremendous user base, so only time will with Snapchat."