Snap, Inc.'s Evan Spiegel Just Got a Massive Bonus for Cashing Out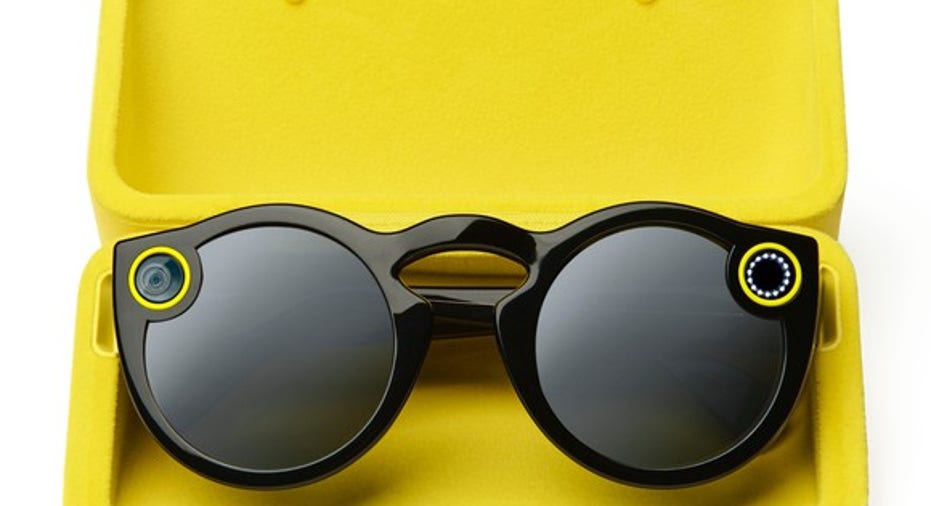 If it wasn't clear by now, I'm not a fan of Snap's (NYSE: SNAP) initial public offering (IPO). The offering was severely overhyped and a thinly veiled effort for insiders and early investors to cash out. Joshua Brown, better known as The Reformed Broker, makes a really compelling case (save for the use of Comic Sans to annotate the chart) that the company intentionally kept the IPO float artificially low -- only 200 million shares -- specifically in order to engineer an opening pop. Well done, underwriters. Well done.
Co-founder Evan Spiegel expectedly cashed out as part of the offering, selling 16 million shares at the $17 offer price for $272 million. Yet Snap just compensated Spiegel with a massive equity award for successfully taking the company public. In other words, Spiegel got paid to cash out.
Snap Spectacles. Image source: Snap.
There's more where that came from
In a fresh SEC filing, Snap disclosed a restricted stock unit award that was granted to Spiegel. This award was crafted a couple years back as part of his employment, and was amended in October. From the prospectus:
How many shares are we talking about? Spiegel just received an additional 37.4 million shares, which more than replenishes the 16 million shares thathe sold in the offering. At yesterday's closing price of $21.44, those shares are worth a little over $800 million. The shares fully vested yesterday, too, although delivery will occur over time. In other words, the Snap IPO was a massive payday for Spiegel in more ways than one.
It all adds up
An executive receiving an equity grant or bonus based on a successful IPO is not uncommon, so at face value, this is not a red flag. But when you factor in other questionable aspects about the offering, most notably the lack of voting rights for public investors buying Class A shares, you can't help but wonder if Snap is a) a company with long-term potentialand public investors now have an opportunity for a promising investing opportunity, or b) an overhyped startup looking to financially take advantage of said hype while public investors are doomed to suffer an underperforming investment.
Considering the fact that Snap couldn't even answer a basic question about where management sees the company in five years -- a perennial interview question that all job candidates are familiar with -- during the IPO roadshow, I'm going to go with b).
10 stocks we like better than Snap Inc.When investing geniuses David and Tom Gardner have a stock tip, it can pay to listen. After all, the newsletter they have run for over a decade, Motley Fool Stock Advisor, has tripled the market.*
David and Tom just revealed what they believe are the 10 best stocks for investors to buy right now... and Snap Inc. wasn't one of them! That's right -- they think these 10 stocks are even better buys.
Click here to learn about these picks!
*Stock Advisor returns as of February 6, 2017
Evan Niu, CFA has no position in any stocks mentioned. The Motley Fool has no position in any of the stocks mentioned. The Motley Fool has a disclosure policy.