Smooth Integration with Visa Europe Fuels Another Strong Quarter for Visa Inc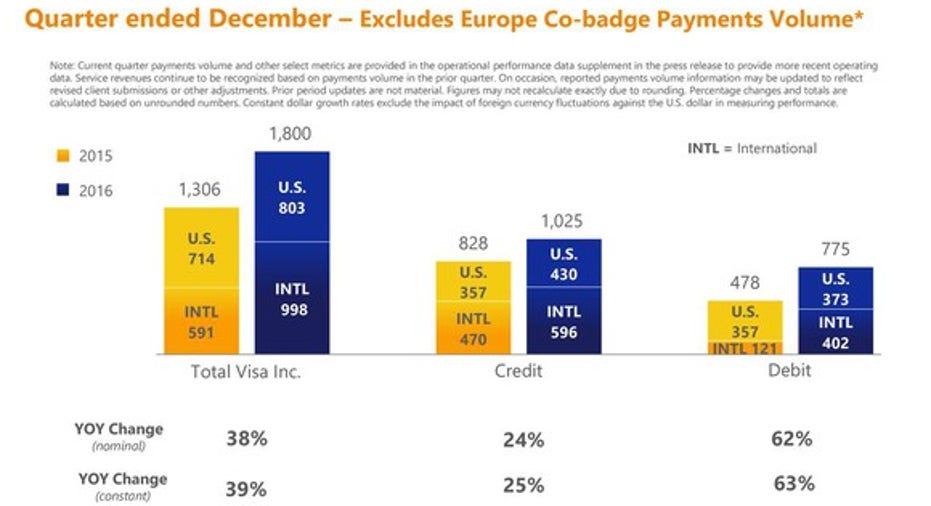 Visa Inc (NYSE: V) shareholders certainly had reason to cheer when the company reported its quarterly results. Net operating revenue was almost $4.5 billion, a 25% increase year over year. Adjusted net income and earnings per share both increased 23% year over year. Other company metrics also popped. Total payment volume increased to $1.8 trillion, a 39% increase.
Image source: Pixabay
If these numbers seem too good to be true for such a large and mature company, remember that Visa Europe is still being integrated into the company and caused the numbers to look more inflated than they otherwise would. However, once the Visa Europe numbers are adjusted for, the data still looked quite robust. For instance, total payments volume in the United States, a stat hardly affected by the integration, increased a healthy 12.5% to $803 billion. Transaction growth, once normalized for Visa Europe, grew a strong 13%.
Looking beyond the numbers, the most important event taking place within the company right now is its integration with Visa Europe. While the quarter contained plenty of good news and highlights for Visa shareholders, everything else pales in significance to this right now.
Keeping your eye on the ball
In the earnings press release, CEO Kelly said, "We remain focused on the integration ofEuropewhich is proceeding well." When glancing at the numbers and guidance Visa's management provides, the integration seems mostly on track. For the full fiscal year in 2017, the company is still guiding for 2-3% EPS accretion from Visa Europe as stronger business fundamentals offset greater currency headwinds.
Image source: Visa Inc 2017 Q1 Earnings Slide
Visa originally guided for total integration costs of $450-500 million over three years. When asked if that had changed, CFO Vasant Prabhu responded that the company only expected to spend $80 million this year toward integration costs but was not yet ready to adjust its three-year guidance.
A far more important question than the surface numbers or guidance is whether Visa can retain its many large card-issuing bank clients in Europe once the integration is complete. It is on this front that Kelly seemed to particularly shine in the conference call following the earnings release, easing any lingering concerns from investors.
Kelly began his prepared remarks by stating he had spent much of his first days on the job visiting over 50 clients, government officials in nine countries, and twelve of Visa's global offices. Throughout the conference call, Kelly kept coming back to how much he was dedicated to meeting with clients to ensure that Visa was fulfilling their needs and expectations.
This seemed especially true when it came to retaining Visa Europe's customers. Kelly stated:
Not missing a beat
In one of his last conference calls, former Visa CEO Charlie Scharf stated he was "extremely comfortable" with the European renewal activity Visa was seeing. In that same conference call, Scharf reviewed important multiyear deals Visa had recently signed with the likes of Barclays PLC, Lloyd's Banking Group PLC, and Royal Bank of Scotland Group PLC.The fact that Kelly seems to be following in Scharf's footsteps by highly prioritizing the retention of Visa Europe's large clients bodes very well for Visa's future.
Visa shareholders enjoyed an incredible run under former CEO Charlie Scharf. During Scharf's four year tenure the stock price appreciated about 115%. While one quarter does not a legacy make for new CEO Alfred Kelly, Jr., there was certainly a lot to like in Visa's first quarter results. While it is only natural to question whether Visa can continue excelling under Kelly's leadership, if the company's 2017 first quarter is any indication, the company is in good hands.
10 stocks we like better than Visa When investing geniuses David and Tom Gardner have a stock tip, it can pay to listen. After all, the newsletter they have run for over a decade, Motley Fool Stock Advisor, has tripled the market.*
David and Tom just revealed what they believe are the 10 best stocks for investors to buy right now... and Visa wasn't one of them! That's right -- they think these 10 stocks are even better buys.
Click here to learn about these picks!
*Stock Advisor returns as of January 4, 2017
Matthew Cochrane has no position in any stocks mentioned. The Motley Fool owns shares of and recommends Visa. The Motley Fool has a disclosure policy.