Smith & Wesson Stock History: A New Chapter Begins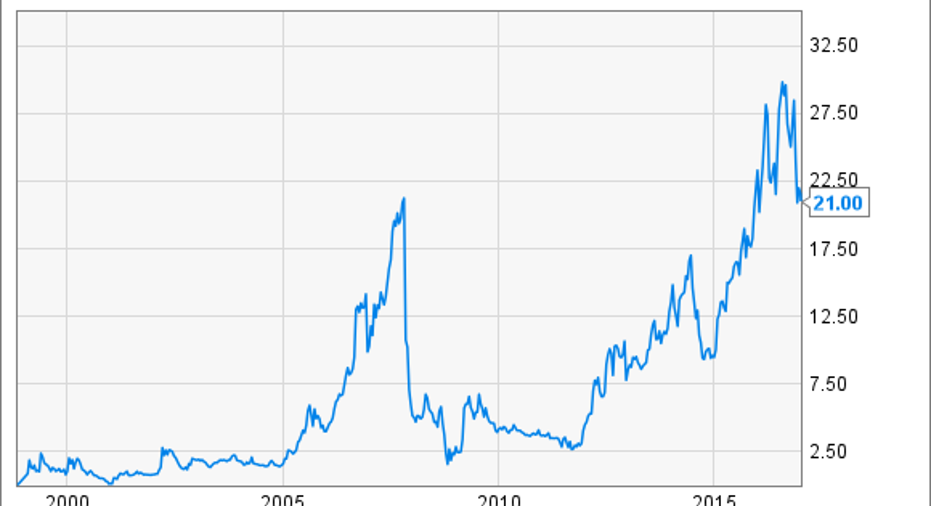 Throughout most of its history, the company formerly known as Smith & Wesson Holdings was best known for its guns. Yet despite its legacy as a gunmaker, Smith & Wesson worked hard to broaden its business to include products such as flashlights, knives, tools, and vault accessories. As a result, Smith & Wesson decided to change its name to American Outdoor Brands (NASDAQ: AOBC), also changing its ticker symbol and ushering in a new chapter for the company.
Let's look at Smith & Wesson's stock history and how the company will continue seeking growth under the American Outdoor Brands name.
Looking at Smith & Wesson's stock history
Smith & Wesson stock produced huge returns for early shareholders. Since early 2000, Smith & Wesson climbed at an average 19% annual rate. However, those gains didn't come in a straight line. Smith & Wesson almost went out of business in 2000, as customers reacted negatively to Smith & Wesson's efforts to spearhead gun safety innovations like locking devices and limitations on sales. A boycott from the National Rifle Association showed Smith & Wesson the error of its ways, as customers felt betrayed by the company's perceived failure to advocate for gun rights by caving into political and regulatory demands.
Since then, Smith & Wesson's stock has seen several spikes. The first came in the run-up to the 2008 presidential election, and the Democratic victory brought fears that increased gun regulation would prevent buyers from acquiring guns in the near future. In anticipation of such an adverse event, gun buyers stocked up early, and that led to huge sales for Smith & Wesson and its gunmaking peers.
Image source: Smith & Wesson.
However, that run-up for the stock proved short-lived. Major changes in gun regulation never came, and the sales glut led to lower demand in the following years. The stock slumped for several years following 2008, in part because of the recession and financial crisis that sapped consumer spending strength throughout the economy.
Smith & Wesson's latest boom
More recently, Smith & Wesson has tended to see its stock rise when major calamities involving guns occur. Tragedies like the Sandy Hook Elementary school shootings in 2012 raised the specter of gun control once again, and each time, gun enthusiasts responded with increases in sales. Then, over time, those sales would peter out, and the stock would give up some of its gains.
The latest move might be related to such factors. Many believed that the election of Hillary Clinton would have invited a new era of gun-control efforts. Once President-elect Donald Trump was elected, Smith & Wesson stock started moving lower despite a broad-based rally.
Why the future is brighter for American Outdoor Brands
Yet what has been lost among the looks at Smith & Wesson's stock is the fundamental shift that the company has tried to make. Rather than relying solely on guns, the company has sought to cater to hunters and hardcore outdoors enthusiasts more broadly. As CEO James Debney put it last November, "We have successfully grown from a single operating division to four operating divisions that serve a large addressable market and represent more than 18 respected consumer brands." The CEO believes that the new name "better reflects our family of brands, our broad range of product offerings, and our plan to continue building upon our portfolio of strong American brands." Shareholders agreed, approving the change.
The Smith & Wesson corporate name may be gone, but American Outdoor Brands investors will continue to rely on gun sales as a substantial component of its overall success. Shareholders can only hope that under the new moniker, they'll earn the same long-term returns that the stock did under the Smith & Wesson name.
10 stocks we like better than American Outdoor Brands Corporation When investing geniuses David and Tom Gardner have a stock tip, it can pay to listen. After all, the newsletter they have run for over a decade, Motley Fool Stock Advisor, has tripled the market.*
David and Tom just revealed what they believe are the 10 best stocks for investors to buy right now... and American Outdoor Brands Corporation wasn't one of them! That's right -- they think these 10 stocks are even better buys.
Click here to learn about these picks!
*Stock Advisor returns as of January 4, 2017
Dan Caplinger has no position in any stocks mentioned. The Motley Fool has no position in any of the stocks mentioned. The Motley Fool has a disclosure policy.