Smith & Wesson owner's CEO: 'We share the nation's grief'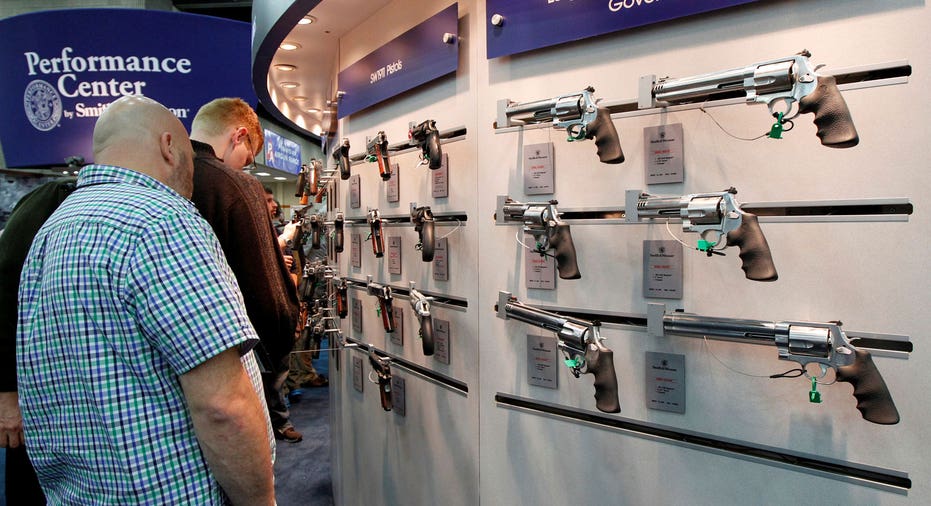 American Outdoor Brands CEO James Debney, whose company made the semi-automatic rifle used in the Florida shooting that left 17 people dead, said Thursday on a conference call with analysts that "we share the nation's grief."
The suspect in the massacre reportedly used a Smith & Wesson M&P15 semi-automatic rifle, an AR-15-style weapon. The shooting has prompted President Donald Trump and lawmakers to debate new gun-control measures.
"We share the nation's grief over this incomprehensible and senseless loss of life, and we share the desire to make our community safer," Debney said, adding that American Outdoor Brands will "continue to support the development of effective solutions that accomplish that objective, while protecting the rights of the law-abiding firearm owner."
Speaking about the company, Debney said on the call that while its new product pipeline is "robust," the current lower levels of consumer demand may continue for some time.
"Going forward, we will operate our business under the assumption that the next 12-18 months could deliver flattish revenues in firearms," Debney said.
The parent company of Smith & Wesson reported that net sales tumbled 33% to $157.4 million in its fiscal third quarter, missing Wall Street's estimate of $172.5 million. American Outdoor Brands subsequently cut its financial projections. Adjusted earnings, which exclude one-time items, are on pace to hit 31 cents to 33 cents for the full year, down from the previous forecast of 57 cents to 67 cents.
The company changed its name last year to American Outdoor Brands from Smith & Wesson to reflect a diversified focus.
Gun manufacturers like American Outdoor Brands and Sturm, Ruger & Co. have struggled with weak consumer demand since the election of Trump. Gun sales tend to climb under Democratic administrations, when buyers anticipate additional gun-control regulations. The industry reported strong sales in advance of the 2016 election. Since then, sales have cooled off, and shares of American Outdoor Brands and Ruger have dropped about 65% and 30%, respectively.
Shares of Springfield, Massachusetts-based American Outdoor Brands plunged another 11.4% to $8.34 in after-hours trading Thursday. The stock was down 26.7% year-to-date as of Thursday's close.
The company earned a third-quarter profit of $11.4 million, or 21 cents a share, compared with $32.5 million, or 57 cents a share, a year earlier. The results included a one-time boost of $9.4 million related to the federal tax overhaul. On an adjusted basis, earnings slipped to 9 cents a share, a penny better than analysts anticipated.
Dick's Sporting Goods announced on Wednesday that it will stop selling AR-15-style rifles and limit gun sales to customers over 21 years old. Walmart said it would raise the minimum age for all gun purchases to 21. The federal minimum age for rifles is 18.