Small businesses can expect policy changes under Trump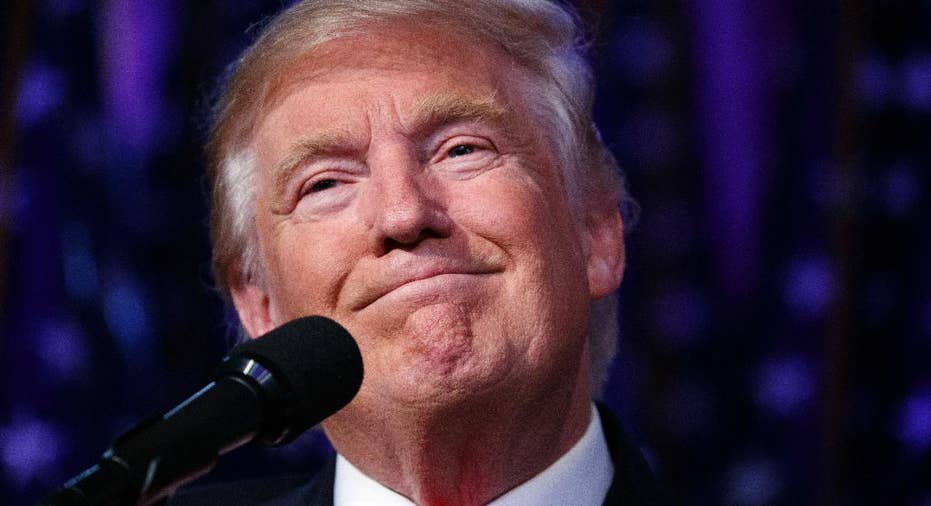 The election of Donald Trump as the next U.S. president has small business advocates expecting policy changes on issues like health care and the environment. But they're concerned about gridlock persisting even with a Republican president and Congress.
Advocacy groups expect Trump to start working toward at least modifying President Barack Obama's health care overhaul, and undoing environmental regulations. They're generally upbeat that bipartisan support for small business issues like access to federal contracts will continue. But some question how campaign rhetoric will translate into concrete steps.
"What we don't know is whether or not there is a sincere interest in supporting small and medium-size enterprises in this country — rebuilding Main Street, rebuilding manufacturing," says David Levine, CEO of the American Sustainable Business Council.
They're also wondering whether Senate Democrats will try to slow the GOP agenda.
"Since you need 60 votes to do anything of any consequence there, it's hard to see how it will happen," says Todd McCracken, CEO of the National Small Business Association, referring to how it takes that many votes to end Senate debate on legislation.
Here's what some groups expect on major topics:
HEALTH CARE
Trump has vowed to repeal the health care overhaul, something Republicans in Congress have failed to do so far. Whether Democrats in the Senate could block a repeal is unclear, as is what would replace it.
"We don't think (a repeal) would be realistic. Many small businesses have gotten coverage they wouldn't have gotten otherwise," says John Arensmeyer, CEO of Small Business Majority, which has supported the law.
McCracken believes changes to the health care law could be stymied if they're opposed by the health insurance industry, which has a powerful lobbying presence.
REGULATIONS
Trump has said he'll reverse some of Obama's executive orders, including one that eased deportation policies against minors who are in the U.S. illegally. He's also said he'd eliminate a rule that allows the Environmental Protection Agency to regulate bodies of water on private lands. And he has vowed to withdraw the United States from an international agreement on climate change.
Many small business groups have voiced concern about the effect that federal, state and local requirements have on their companies and profits.
TAXES
Trump has advocated lowering the income tax on all companies to 15 percent. Business groups want to see benefits as well for sole proprietors, partners and corporate shareholders whose business income is reported on their personal returns. They can be taxed at rates up to nearly 40 percent under current law. Corporate tax rates range from 15 percent to 35 percent.
The tax law can't be changed without Congress, which has had trouble agreeing on tax reform. But the National Federation of Independent Business believes that a Republican president and Congress will lower taxes for small companies.
"I am now feeling like a comprehensive tax reform is alive and well again," CEO Juanita Duggan says.
TRADE
Trump campaigned on renegotiating the North American Free Trade Agreement, which governs trade among the U.S., Canada and Mexico, and wants other trade deals modified. He also wants the U.S. to withdraw from the Trans-Pacific Partnership, which is awaiting approval from Congress. But he may face opposition from small business groups.
"NAFTA has been a plus for small business trade. Free trade accords reduce expenses and expand opportunities for small businesses," says Raymond Keating, chief economist with the Small Business & Entrepreneurship Council.
FEDERAL CONTRACTS
Legislation making it easier for small businesses to win federal contracts has won bipartisan support in Congress in recent years even as political infighting stalled other bills. Karen Kerrigan, president of the Small Business & Entrepreneurship Council, hopes Democrats and Republicans on small business committees in both houses will keep working together.
Trump hasn't talked about women business owners. Jane Campbell, president of Women Impacting Public Policy, says he may need to learn. While the law requires federal contracts to be awarded to disadvantaged business owners, there isn't a similar requirement for women-owned companies.
"We have to do some education," Campbell says.
MINIMUM WAGE
The approval of minimum wage increases in Arizona, Colorado, Maine and the state of Washington will likely add momentum to campaigns in other parts of the country, says Holly Sklar, director of the advocacy group Business For a Fair Minimum Wage.
"We expect to see more states through legislation and ballot campaigns to be moving forward in 2017," Sklar says.
Some small business groups say a higher minimum wage hurts small companies; others say it helps them compete and gives consumers more money to spend at small businesses.
Sklar believes Congress will be pressured to lift the federal minimum wage, which has been $7.25 since 2009. Even so, she doesn't expect it to reach some state levels of $15 by 2020.
_____
Follow Joyce Rosenberg at www.twitter.com/JoyceMRosenberg . Her work can be found here: http://bigstory.ap.org/content/joyce-m-rosenberg