Slump Persists: Greek Banking Jitters Scuttle Early Rally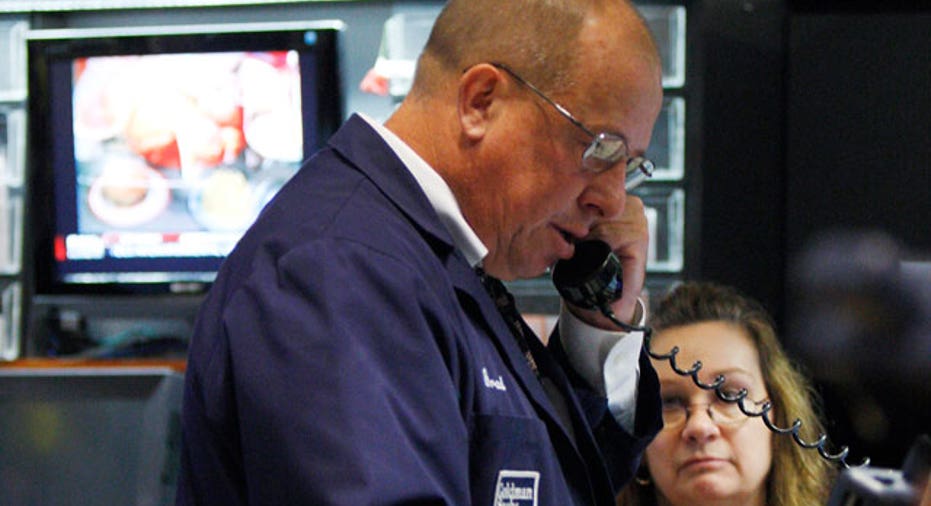 FOX Business: The Power to Prosper
Wall Street's May slump deepened on Wednesday as an early buying spree fueled by upbeat U.S. economic data was foiled by fears about the health of beaten-up Greek banks.
Today's Markets
The Dow Jones Industrial Average fell 33.45 points, or 0.26%, to 12598.55, the Standard & Poor's 500 declined 5.86 points, or 0.44%, to 1324.80 and the Nasdaq Composite slumped 19.72 points, or 0.68%, to 2874.04.
The latest jitters about debt-ridden Greece were generated by news that the European Central Bank has cut off traditional lending to Greek banks, which have seen an enormous outflow of deposits by scared residents in recent days.
"Everyone is always concerned about the banks because everything is so tied in now," said Joe Saluzzi, co-head of trading at Themis Trading. "People maybe thought they put this to bed a few months ago when it fact it popped right back up after the Greek elections."
Wednesday's Greek-fueled selloff left Wall Street in the red for the fourth day in a row and the Dow at its weakest level since late January. In fact, the blue chips suffered their 10th down day in the past 11 sessions, marking the highest number of losses in an 11-day period since October 2008. Of course, the losses during the recent slide pale in comparison to the ones seen during the financial crisis.
The markets began to head south late in the morning on headlines indicating the ECB, which can only lend to solvent counterparties, has stopped lending to Greek banks in its conventional operations. Reuters reported four Greek lenders are operating with negative equity capital. However, Greek lenders still have access to the Bank of Greece's more expensive Emergency Lending Assistance.
That development comes as fears about Greece exiting the eurozone have mounted due to failed efforts to form a last-ditch government. Officials said Greeks withdrew a staggering 700 million euros ($898 million) from local banks on Monday alone, raising the risk of a collapse of the banking system. That massive withdrawal figure is alarming, especially when compared with an average of 1 billion to 2 billion that had been taken out each month.
Earlier in the session worries about debt-ridden Greece bowing out of the eurozone seemed to ebb a bit as bond yields in Italy and Spain ticked lower after spiking earlier this week.
"Our base case remains that a watered-down way for Greece to stay in the eurozone is still preferable to a disorderly exit," currency analysts at Brown Brothers Harriman wrote in a note. "Any Greek exit is unlikely to provide closure to the crisis, with Spain, Italy, and Portugal likely to come under even greater pressure."
All of the Greece talk offset enthusiasm for a new report showing U.S. housing starts rose 2.6% in April to a 717,000-unit pace, besting forecasts for 685,000 units. The government also raised its March reading to a 699,000 unit pace.
The Commerce Department said permits to build new homes declined 7% in April to a 715,000-unit pace, missing estimates for 730,000. However, permits for March were revised up to a 769,000 unit-pace, marking the strongest level since September 2008.
Meanwhile, the Federal Reserve said factory production jumped 0.5% in April, the strongest increase in more than a year, while industrial output increased 1.1%.
"Fears of a more rapid rate of contraction" in the pace of the recovery "have abated somewhat," said Peter Kenny, managing director at Knight Capital Group. "We're not falling off a cliff anytime soon."
In the commodities complex, crude oil briefly turned positive after the government released weekly inventory data that showed U.S. oil use hit a five-month high. However, crude settled at $92.81 a barrel, down $1.17, or 1.24%. Gold slumped $20.50 a troy ounce, or 1.32%, to $1,536.60.
Meanwhile, Facebook continues to see strong demand for its massive initial public offering, which is expected to price on Thursday. A day after hiking the price range for the highly-anticipated IPO, the social network bumped up its size by about 25%, meaning it could raise as much as $16 billion.
Wall Street had little response to the latest minutes from the Fed, which revealed the central bank's policy arm believed the U.S. economy remains on track for "moderate" economic growth. However, the Fed sees the so-called fiscal cliff, which refers to looming spending cuts and the end of certain tax breaks, as a "sizable risk."
Corporate Movers
J.C. Penney (NYSE:JCP) tumbled nearly 20% a day after scrapping its dividend and revealing a 19% plunge in quarterly same-store sales. The department store operator's non-GAAP loss of 25 cents a share badly missed estimates for a loss of 10 cents.
Target (NYSE:TGT) beat the Street with a 1% rise in first-quarter profits and upgraded its full-year guidance.
Staples (NASDAQ:SPLS) posted an in-line 5.6% decline in first-quarter earnings, but the office-supply retailer's weaker-than-expected sales helped trigger a 6% selloff in its shares.
Global Markets
The U.K.'s FTSE 100 fell 0.60% to 5405.25, France's CAC 40 gained 0.31% to 3048.67 and Germany's DAX slid 0.26% to 6384.26.
In Asia, Japan's Nikkei 225 slumped 1.12% to 8801.17 and the Hong Kong Hang Seng plunged 3.19% to 19259.83.