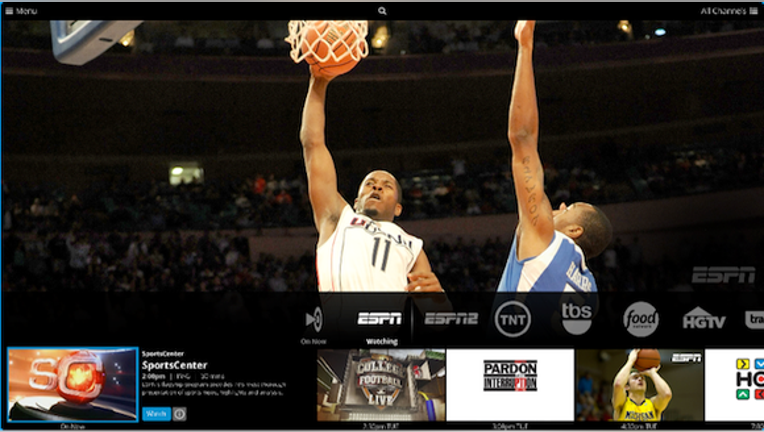 Source: Sling TV
Sling TV made its debut in January of last year, and it's quickly grown to 500,000 to 600,000 subscribers. The over-the-top streaming television service from DISH Network offers about two dozen channels for $20. DISH decided to lump its Sling TV customers in with its regular satellite TV subscribers despite the huge disparity in average billing per customer. Even so, DISH lost 81,000 net subscribers last year.
Without the Sling TV subscribers, that number would obviously look much worse. DISH's satellite business has run into a wall, as traditional cable companies such as Comcast take back share of the pay-TV market. Services such as Sling TV are eating away at the market for traditional TV service, such as DISH Network's satellite business.
The innovator's dilemmaIn a March interview, DISH CEO Charlie Ergen said there's "no question [Sling TV] will cannibalize our business." Originally, Ergen believed Sling would be incremental to DISH's existing business, but he quickly changed his tune. While it's unclear exactly where Sling TV subscribers are coming from, DISH Network would certainly be worse off without the service.
DISH has the first-mover advantage with Sling TV. It's the only nationwide live streaming TV service. Sony released a similar service shortly after Sling, but it contains a lot more channels, is priced similarly to traditional cable bundles, and is only offered in specific cities. Comcast started offering its own streaming package containing broadcast networks and HBO, but it's only available to Comcast Internet subscribers.
But DISH probably won't be the last company to provide a nationwide streaming service. Amazon.com is reportedly working on a skinny bundle of channels for a streaming service, and it already has deals in place to add premium network subscriptions to Amazon Prime's streaming service. Apple has also been interested in putting together a streaming service, but its efforts have reportedly hit a roadblock.
The thing about Sony, Amazon, and Apple is that none of them has an existing television business. The advent of Internet streaming reduces the cost of entry for competition in pay-TV. As such, it's important for traditional companies such as DISH Network and Comcast to launch pre-emptive strikes with services such as Sling TV and Stream.
The impact on businessDespite Sling TV's $20-per-month price point, DISH Network was able to increase its average revenue per subscriber in 2015. This, however, was more a function of a price increase and fewer promotions aimed at DISH's 13 million or so satellite subscribers than anything else. Weighed against the half-million Sling subscribers, the impact was minimal.
But as Sling TV grows and eats more into DISH's satellite business, investors will probably see a decline in average revenue per subscriber. Ergen believes some of the lower billing revenue will be offset by improved ad revenue, considering digital ads can be tailored to each individual viewer.
The real offsetting factor will come in operation expenses. Customer acquisition costs for Sling TV are significantly lower than for satellite. DISH doesn't need to send over a truck, install a satellite, and provide and set up set-top boxes for customers of Sling TV. It just offers a one-month free trial. DISH's subscriber acquisition cost per customer declined 15% last year. Its low cost of acquisition allows DISH to sell Sling for a competitive price.
On the other hand, scaling the service is a challenge. With live TV there's no room for buffering, and outages are less tolerated than video on demand. DISH faced challenges early on in March, as Sling TV customers tried to tune in to the NCAA Basketball Championship Tournament and were met with blank screens. Scaling to prevent such outages from recurring is a major expense.
Overall, replacing a $100-per-month customer with a $20-per-month customer isn't as terrible as it looks. It's certainly better than completely losing subscribers to competition, whether that's an old cable company or a new tech start-up.
The article Sling TV Is Cannibalizing DISH Network originally appeared on Fool.com.
Adam Levy owns shares of Amazon.com and Apple. The Motley Fool owns shares of and recommends Amazon.com and Apple. Try any of our Foolish newsletter services free for 30 days. We Fools may not all hold the same opinions, but we all believe that considering a diverse range of insights makes us better investors. The Motley Fool has a disclosure policy.
Copyright 1995 - 2016 The Motley Fool, LLC. All rights reserved. The Motley Fool has a disclosure policy.