Skype Buy Dials Up the Dow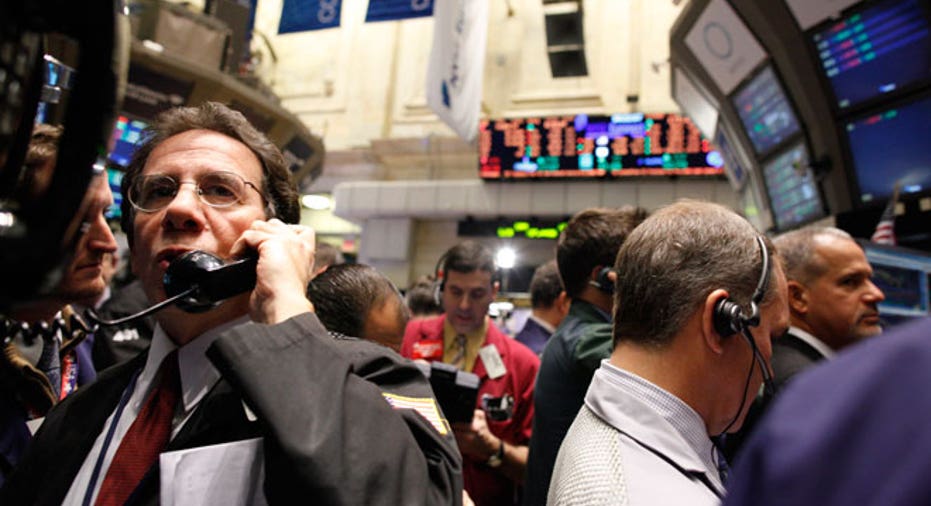 FOX Business: The Power to Prosper
The markets zoomed into the green for a third straight day after Microsoft's $8.5 billion Skype buy stoked traders' confidence.
Today's Markets
The Dow Jones Industrial Average was up 75.7 points, or 0.6%, to 12,760, the S&P 500 climbed 10.9 points, or 0.81%, to 1,357 and the Nasdaq Composite was higher by 28.6 points, or 1%, to 2,872. The FOX 50 was higher by 6.5 points to 950.
Microsoft's (NASDAQ:MSFT) acquisition of the Internet telephony company is the largest in the technology-behemoth's 36-year history.
The company plans on rolling Skype's communication technology into many of its pre-existing platforms, such as its gaming system Xbox and its Windows mobile phones, Microsoft said in a release. Skype was acquired by Ebay (NASDAQ:EBAY) in 2005 and then purchased by an investment group led by Silver Lake in 2009.
Microsoft has been making a major push into the Web market as its seen its foothold in many business areas eroded by competitors like Apple (NASDAQ:AAPL) and Google (NASDAQ:GOOG).
Also adding to optimism on the Street, General Motors unveiled a plan to invest $2 billion in 17 American factories that the company expects will create or preserve 4,000 jobs.
"We are doing this because we are confident about demand for our vehicles and the economy," GM Chairman and CEO Dan Akerson said in a release.
On the economic front, import prices jumped 2.2% in April, far higher than the 1.8% economists forecast.  The increase was led by a 7.2% increase in petroleum import prices and a 5% increase in the price of imported industrial supplies
Export prices were up 1.1%, a bigger gain than the 0.9% Wall Street expected.
Inflation has been a concern for many economists who worry highly-elevated energy prices will seep into the broader price level. The markets will get fresh data on pricing on the producer and consumer level at the end of the week.
The commodity markets have been particularly volatile in recent sessions.  Many commodities sold off last week and then regained considerable ground in trading on Monday.
Light, sweet crude settled higher by $1.33, or 1.3%, to $103.88 after jumping more than 5% in the prior session.  Wholesale RBOB gasoline was higher by 10 cents, or 3.1%, to $3.38 a gallon. Gasoline is a mere 5% off its record high of $3.57 struck in July 2008.
Gas prices on the consumer level have begun moderating somewhat, but remain close to the record high of $4.11 a gallon set in 2008.  A gallon of regular gas cost $3.95 on average nationwide, up from $3.76 last month and $2.81 last year.
Gold prices jumped $13.70, or 0.91%, to $1,517 a troy ounce.  Silver has been making a significant comeback since falling 27% last week.  The metal  gained $1.37, or 3.7%, to $38.48 a troy ounce after gaining 5% on Monday.
On the foreign exchange market, the euro gained 0.37% against the U.S. dollar and the greenback fell 0.15% against a basket of world currencies.
Traders have been keeping a close eye on Greece's debt crisis after Standard and Poor's slashed the country's debt deeper into junk status on Monday. Rumors also swirled Tuesday about potential talks to restructure the country's sovereign debt -- a move that analysts say would have significant international ramifications.
Corporate News
Google (NASDAQ:GOOG) unveiled its much-anticipated music locker service that enables users to store music on the cloud and access it wherever they are.
Nomura (NMR: 5.13, -0.03, -0.58%) started a "conviction buy list" that covers U.S. equities in a bid to bolster its research strength in U.S. markets.
Dean Foods (NYSE:DF) unveiled quarterly earnings of $25.3 million, or 14 cents a share, zooming past estimates of 6 cents.
Wendy's/Arby's (NYSE:WEN) cut its 2011 profit expectations due to rising commodities costs. The fast food chain also reported a first-quarter loss of $1.4 million from $3.5 million the prior year.
Google's (NASDAQ:GOOG) YouTube video streaming service added titles from studios such as Comcast's (NASDAQ:CMCDA) NBC Universal, Sony's (NYSE:SNE) Sony Pictures and Time Warner's (NYSE:TWX) Warner Brothers.
Foreign Markets
Global shares were largely in the green.
The English FTSE 100 jumped 1.3% to 6,019, the French CAC 40 climbed 1.3% to 4,053 and the German DAX soared 1.2% to 7,502.
In Asia, the Japanese Nikkei 225 edged higher by 0.25% to 9,819 and the Chinese Hang Seng gained 0.76% to 23,336.