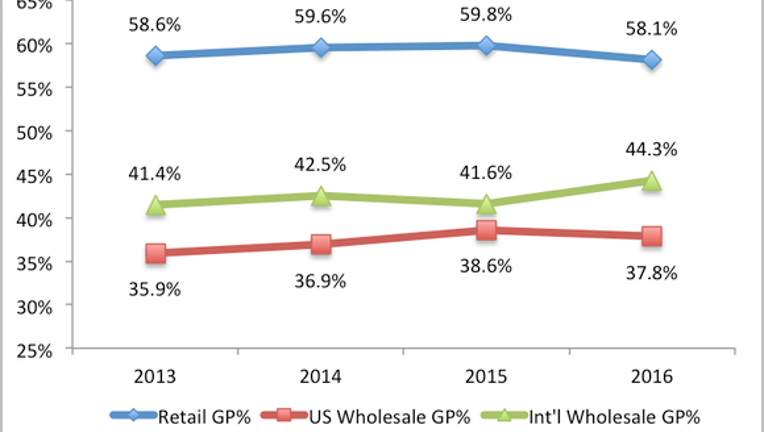 Skechers(NYSE: SKX)international growth was the highlight of the company's most recent earnings report, clocking in at 17.1% for the quarter and 27.1% for the full year. These significant growth numbers offset weakness in U.S. retail, and currency headwinds, to deliver a record revenue quarter and year for Skechers. A significant portion of international revenue growth was driven by Skechers joint venture partnerships.
What is a joint venture partnership?
Image Source: Skechers.com
What are the benefits to a joint venture partnership?
The key benefit of a joint venture partnership is for Skechers to open branded stores which accelerates growth in the region. Skechers waits to form a joint venture until it has had a proven track record of success in the country through its distribution model, and has confidence the joint venture can succeed.After a partner is chosen, a Skechers branded store is set up with corporate data connections so that the company can provide the full line of Skechers products -- instead of a limited selection as in the distributor model -- just like a Skechers company owned store.
Skechers has opened 167 international joint ventureconcept storeswhich increase brand awareness in the region. The remainder of joint venture stores are outlet stores that sell discontinued and excess merchandise, which limits the impact of excessive price cuts usually incurred when these products have to be sold to discount chains.
Another benefit for Skechers is that the gross profit is better than with a distributor, and the capital outlay is less than a company store -- a hybrid of the two models.
The gross profit is better because Skechers does not have to put up all of the capital or the infrastructure for the store, capital expenditures are up to 50% less for Skechers.So, the company benefits from having a branded store without incurring the overhead of running the stores on a day-to-day basis, including staffing and payroll.The resultinggross margins are less than a company owned retail store,but better than selling through distributors or wholesale partners. The chart below shows how international wholesale (which includes joint venture sales)gross margin percentages are consistently higher than the U.S. wholesale business.
Image source: Author's chart and calculations, data from Skechers earnings reports -- gross margin percent (GP%).
In the most recent earnings call, David Weinberg, SkechersChief Operating Officer and Chief Financial Officer, indicated that the joint venture partnerships would "allow us [Skechers] to better manage and grow our business and maximize the potential in each market."
Joint ventures are the engine for international growth
In the past four years, the number ofSkechers joint venture stores has almost tripled (see chart below), and this closely matches the growth in international wholesale revenue, from $478 million in 2012 to $1.39 billion in 2016.
Image source: Author's chart, data from Skechers earnings reports.
While the international wholesale segment revenue also includes sales from subsidiaries and distributors, the joint venture stores are the catalyst to provide a jolt of growth for the country, as the brand becomes more prominent with the opening of branded concept and outlet stores.
But wait, there's more!
Skechers continues to rely on the distributor model and has 1,229 distributor and licensee stores across the globe, led by 758 in Asia and 150 in Europe. These distributors represent more opportunity for Skechers to convert to the joint venture model. In the most recent earnings call, David Weinberg indicated Skechers would continue to "invest in our infrastructure and marketing to support the current and planned growth of our joint ventures and subsidiaries in regions that we believe represent meaningful growth opportunities."
Skechers didn't give any insight into where the next joint venture deals would be, but there's a world of opportunity out there for Skechers to capitalize on.
10 stocks we like better than SkechersWhen investing geniuses David and Tom Gardner have a stock tip, it can pay to listen. After all, the newsletter they have run for over a decade, Motley Fool Stock Advisor, has tripled the market.*
David and Tom just revealed what they believe are the 10 best stocks for investors to buy right now... and Skechers wasn't one of them! That's right -- they think these 10 stocks are even better buys.
Click here to learn about these picks!
*Stock Advisor returns as of February 6, 2017
Brian Withers has no position in any stocks mentioned. The Motley Fool owns shares of and recommends Skechers. The Motley Fool has a disclosure policy.