Skechers Earnings: 27 Is the Magic Number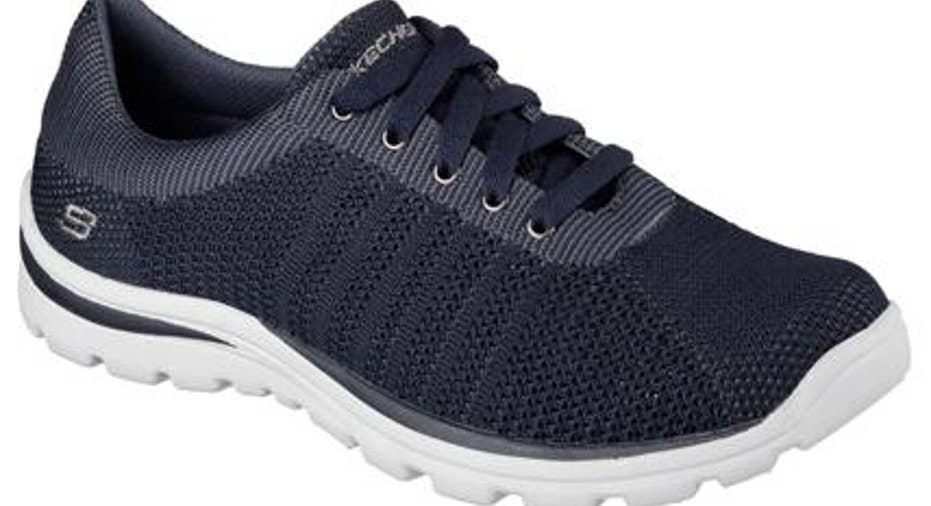 Image source: Skechers.
Skechers is starting to get predictable. For the third quarter in a row, it has posted year-over-year revenue growth of 27%. The country's second-largest footwear brand clocked in with $978.8 million in revenue, 27% ahead of the $768 million it scored a year earlier.
The first time that his happened -- six months ago -- the stock got clobbered, losing nearly a third of its value. However, with growth expectations now reset, it's not going to be scaring anyone away.
The report gets even more comforting as we work our way down the income statement. Gross and operating margins widened, and net earnings soared 74%, to $97.6 million, translating into $0.63 a share.
Skechers has been growing a lot faster outside of the U.S. than in its home market, and it hit a significant milestone during the quarter. Itsinternational business is now Skechers' largest segment.
This doesn't mean that growth overseas is masking problems closer to home. Its company-owned retail sales saw sales climb by 23%, fueled by a combination of expansion and a robust 9.8% spike in comparable-store sales. After opening 87 stores during the quarter, the store count stood at 1,397 as of the end of March.
There's also some welcome news in Skechers' domestic wholesale business. It rose 12% since the prior year. That may seem tame compared to the walking footwear giant's performance at its stores and in its international endeavors, but it's a welcome bit of accelerating growth. Domestic wholesale growth had been decelerating in each of the three previous quarters, falling to the single digits during the holiday quarter.
The performance on that front is encouraging, but Skechers does point out that there wasa "shift forward of some domestic and international orders into the first quarter due to the Easter timing." That means that some of what would have been the current-quarter orders got booked back in March, a move that may have inflated the period's performance at the expense of the current quarter's year-over-year growth.
We'll see how that plays out in three months, but the market seems to like the news. The stock was trading 7% higher in after-hours trading, just minutes after the report came out.
Skechers still has a long way to go to get back to where it was when it peaked last summer. The stock closed today 44% below that all-time high.
"If growth is decent after we adjust for fluctuations in effective tax rates and foreign currencies, the market reaction will likely be more in line with the way it was last time out -- where the stock actually inched slightly higher on mixed financials -- than the way things played out two quarters ago when management's cockiness was exposed," I wrote last week in anticipation of the news.
The numbers turned out to be better than mixed, and the after-hours gain is also doing more than merely inching higher.
The article Skechers Earnings: 27 Is the Magic Number originally appeared on Fool.com.
Rick Munarriz has no position in any stocks mentioned. The Motley Fool owns shares of and recommends Skechers. Try any of our Foolish newsletter services free for 30 days. We Fools may not all hold the same opinions, but we all believe that considering a diverse range of insights makes us better investors. The Motley Fool has a disclosure policy.
Copyright 1995 - 2016 The Motley Fool, LLC. All rights reserved. The Motley Fool has a disclosure policy.