SK Hynix Outs New Graphics Memory Likely Destined for NVIDIA Corp. Volta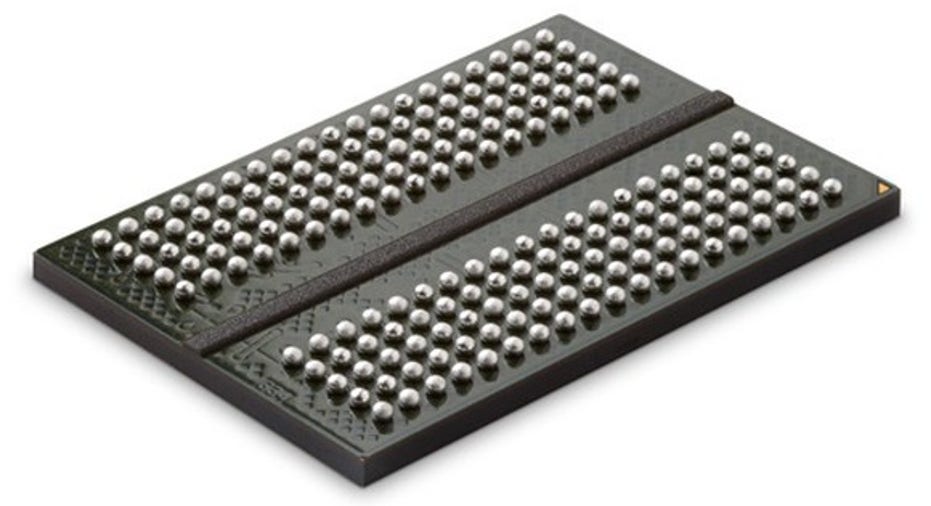 On April 23, memory maker SK Hynix announced what it claims is the "industry's fastest 8GB graphics DRAM." Hynix says this memory "operates with an I/O [input-output] data rate of 16Gbps [gigabits per second] per pin, which is the industry's fastest."
The current fastest graphics DRAM shipping is Micron's (NASDAQ: MU) GDDR5X memory that ships with NVIDIA's (NASDAQ: NVDA) Titan Xp graphics card, at 11.4Gbps per pin. Micron's website also lists GDDR5X memory that runs at 12Gbps per pin.
Image source: Micron.
SK Hynix says it "has been planning to mass-produce the product for a client to release high-end graphics card by early 2018 equipped with high-performance GDDR6 DRAMs."
Graphics card-focused website VideoCardz speculates that this memory is destined for an upcoming NVIDIA gaming-oriented graphics processor, and I agree wholeheartedly with that.
There are some notable implications here worth going over for SK Hynix, Micron, and NVIDIA that are worth exploring.
Implications for SK Hynix and Micron
Today, SK Hynix doesn't supply any memory into NVIDIA's high-end GeForce GTX 1080, 1080 Ti, or Titan Xp graphics cards because it doesn't build GDDR5X memory. Micron is currently the exclusive vendor of such memory.With the transition to GDDR6, though, SK Hynix should be in a good position to capture some share in the very top of NVIDIA's gaming graphics processor product stack.
A corollary to this situation is that Micron will likely go from having a monopoly position on the memory that NVIDIA uses for its highest-end products, to having to share shipments with SK Hynix. In addition, Samsung (NASDAQOTH: SSNLF)has indicated that it, too, will produce GDDR6 in 2018, potentially providing NVIDIA with a third source for high-performance graphics memory.
NVIDIA is likely to be planning a Titan Xp successor for early 2018
NVIDIA released a version of its fastest Pascal-architecture based graphics processor (GP102), known as the Titan X (Pascal) in late July 2016. The company followed this move up with a more price-friendly version of GP102, marketed as the GeForce GTX 1080 Ti, in March. The 1080 Ti was a hair faster than the original Titan X (Pascal).
Then, this month, NVIDIA released a refreshed Titan product known as the Titan Xp. This was a fully enabled version of GP102. Both the 2016 Titan and the 1080 Ti used partially disabled versions of the GP102 chip.
If we assume that the "high-end graphics card" that SK Hynix is referencing here is the Volta-architecture-based successor to GP102, presumably code-named GV102, then it stands to reason that NVIDIA is planning a successor to the Titan Xp, and possibly to the 1080 Ti, for launch in early 2018.
Furthermore, since NVIDIA typically doesn't kick off a new architectural generation with its largest and most powerful part, this announcement could be an indication that the rumoris true that NVIDIA is planning to unveil its first Volta-based gaming cards, perhaps based on the GV104 chip. in the third quarter of 2017.
Moreover, as I mentioned, NVIDIA is likely to go from relying exclusively on Micron for its high-end gaming graphics-card memory needs to having multiple sources. This ability to source from multiple vendors should give NVIDIA an edge in price negotiations, which should ultimately translate into better memory component costs than it would have otherwise dealt with in a sole-source scenario.
Lower component pricing could mean either better margin for NVIDIA or the ability to price its products a tad more aggressively while maintaining the same margin structure. Either way, multiple memory sources is a clear win for NVIDIA.
10 stocks we like better than NvidiaWhen investing geniuses David and Tom Gardner have a stock tip, it can pay to listen. After all, the newsletter they have run for over a decade, Motley Fool Stock Advisor, has tripled the market.*
David and Tom just revealed what they believe are the 10 best stocks for investors to buy right now... and Nvidia wasn't one of them! That's right -- they think these 10 stocks are even better buys.
Click here to learn about these picks!
*Stock Advisor returns as of April 3, 2017
Ashraf Eassa has no position in any stocks mentioned. The Motley Fool owns shares of and recommends Nvidia. The Motley Fool has a disclosure policy.