Sirius XM Still Has the Hots for Pandora -- at the Right Price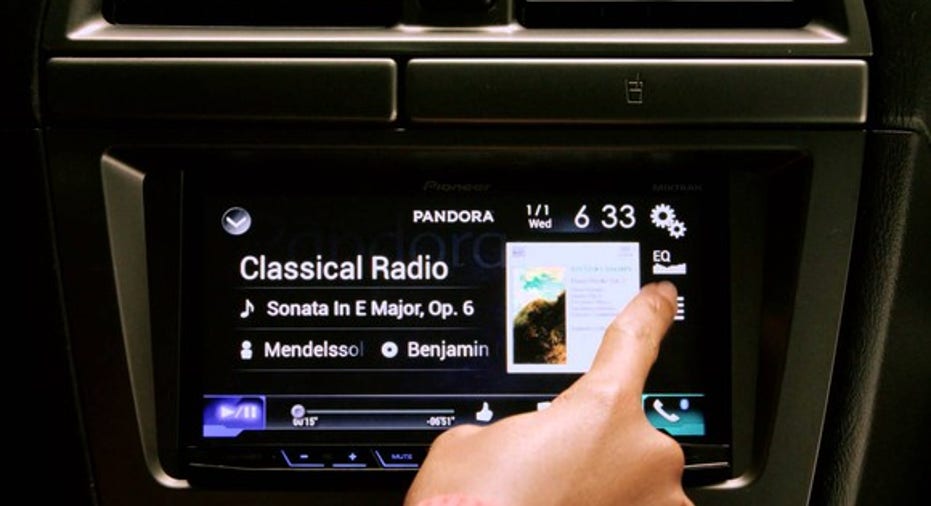 Image source: Pandora.
There's Ross and Rachel, Sam and Diane, and if the mixed signals ever align themselves,Sirius XM Radio (NASDAQ: SIRI)and Pandora (NYSE: P) as inevitable hook-ups. Shares of Sirius XM hit another 10-year high today after posting strong quarterly results. Pandora opened lower on Thursday but quickly moved into positive territory as buyout buzz began to percolate again.
Investors weren't necessarily surprised by Sirius XM's robust growth. The satellite radio provider had already pre-announced that it closed out 2016 with 31.3 million subscribers and that it would meet or exceed its earlier guidance for revenue, adjusted EBITDA, and free cash flow.
The real mystery in the subsequent conference call was if it had any color to offer on the incessant speculation that Sirius XM will acquire Pandora. Sirius XM didn't disappoint on that front.
Initial comments touching on Sirius XM's M&A activity seemed to dismiss a potential pairing. In his opening prepared remarks, CEO Jim Meyer conceded that Sirius XM is spending "considerable effort" evaluating strategic investments, but that considered purchases will need to be special.
"When we look elsewhere, we search out new opportunities in scalable, defensible areas adjacent to our own with good business models," Meyer said.
That's a comment that would seem to rule out Pandora. It's a scalable business, but it certainly doesn't seem defensible given Pandora's meandering subscriber growth in light of the competitive challenges posed by Spotify, Apple Music, and Prime Music.
However, later in the call, an analyst brought up Pandora specifically by name. The Wall Street pro was pointing out how there were two potentially conflicting comments on a deal last month. CFO David Frear initially said he doesn't see any buyout activity for Sirius XM on the horizon, but a New York Post story had Chairman Greg Maffei saying that Pandora would still be of interest at the right price.
Sometimes it's what isn't said that matters
"There's zero disagreement between Greg and myself on direction going forward on the asset you talked about," Meyer said in response to the analyst's question.
It's worth noting that no one from the Sirius XM camp mentioned Pandora by name during Thursday morning's call. It was only the analyst with the question. Pandora is apparently the equivalent of Lord Voldemort -- the Harry Potter villain who is so reviled that he's not mentioned by name -- or an ex that broke your heart.
The Wall Street Journalreported last summer that Maffei -- head of Sirius XM's majority stakeholder -- wastrying to buy Pandorafor $15 a share. Maffei and Sirius XM have never denied the claim. Pandora reportedly held out for a higher offer that never came.
Putting two and two together suggests that Sirius XM still wants Pandora, but only if it can scoop it up at $15 or less. It's a sticky situation, because whenever Pandora's stock takes a hit on its stagnating user growth, buyout speculation bids the stock back up.
It's clear by now that Sirius XM doesn't need Pandora. It's generating a ton of money as the only game in town when it comes to satellite radio. However, it's also clear that a Pandora buyout is still a real possibility the moment the streaming pioneer realizes things may not get better for the platform on its own. We'll wait. We'll keep seeing two companies negotiate in public. That's entertainment.
10 stocks we like better than Sirius XM Radio When investing geniuses David and Tom Gardner have a stock tip, it can pay to listen. After all, the newsletter they have run for over a decade, Motley Fool Stock Advisor, has tripled the market.*
David and Tom just revealed what they believe are the 10 best stocks for investors to buy right now...and Sirius XM Radio wasn't one of them! That's right -- they think these 10 stocks are even better buys.
Click here to learn about these picks!
*Stock Advisor returns as of January 4, 2017.
Rick Munarriz has no position in any stocks mentioned. The Motley Fool owns shares of and recommends Pandora Media. The Motley Fool has a disclosure policy.