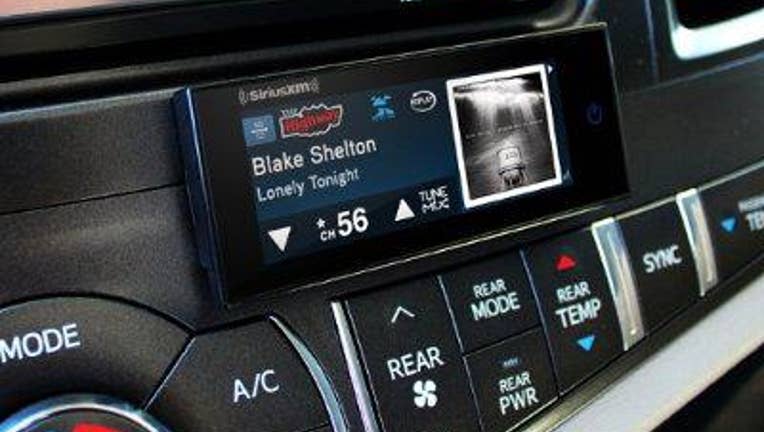 Image source: Sirius XM.
It's getting even easier to add satellite radio to your receiverless car.Sirius XM Radio introduced SiriusXM Commander Touch, the media giant's first aftermarket product to feature a touchscreen controller.
The controller is thin -- just a half-inch thick -- and mounts directly on a vehicle's dashboard. The tuner module can be tucked away behind the dash. There's no need to remove the vehicle's existing receiver. Drivers can access Commander Touch through either FM or auxiliary audio input buttons. They then use touch and swipe features on the mounted touchscreen to breeze through channels or take advantage of Sirius XM's growing number of features.
It's not as necessary as it would've been a decade ago. Most new cars now roll into showrooms with factory-installed Sirius or XM receivers. A whopping 75% of the cars sold these days come with satellite radio, a figure that has generally climbed over the years as automakers make the lucrative feature more widely available. That still leaves a quarter of the market, but one can probably assume that a good chunk of the 25% of new cars that don't come with a Sirius or XM option are probably value-priced vehicles where drivers are less likely to afford monthly premium radio subscriptions.
There's still the used-car market, but a growing percentage of those cars are now hitting the market with older factory-installed Sirius XM receivers. Sirius XM had 29 million subscribers as of the end of the third quarter, but there are 79 million cars out there with Sirius or XM receivers. Do the simple math and you see that 50 million cars have inactive receivers. Drivers of those cars don't need to buy aftermarket gear to join the growing subscriber base.
Ultimately, SiriusXM Commander Touch is incremental. It's another way for the legal satellite radio monopoly to gain subscribers. The new receiver will set buyers back $129.99, but the current promotion also includes three months of Sirius XM's priciest subscription plan at no additional cost.
New cars and factory-installed receivers will continue to be the top sources for subscriber growth at Sirius XM. That's not likely to change. However, every new subscriber is more valuable to the bottom line than the one that came before given Sirius XM's model that is high in fixed overhead and low in variable costs. If the slick simplicity of Commander Touch gets a healthy number of drivers to finally give Sirius XM a shot, it can only be a winning move.
The article Sirius XM Gets Touchy originally appeared on Fool.com.
Rick Munarriz has no position in any stocks mentioned. The Motley Fool has no position in any of the stocks mentioned. Try any of our Foolish newsletter services free for 30 days. We Fools may not all hold the same opinions, but we all believe that considering a diverse range of insights makes us better investors. The Motley Fool has a disclosure policy.
Copyright 1995 - 2016 The Motley Fool, LLC. All rights reserved. The Motley Fool has a disclosure policy.