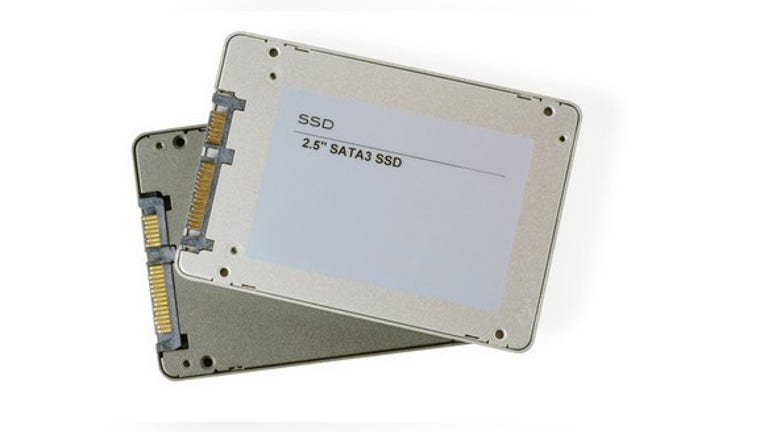 Shares of Silicon Motion Technology (NASDAQ: SIMO) recently dipped after the SSD controller and specialty RF IC maker's robust fourth quarter growth was overshadowed by soft guidance for the first quarter. The company's fourth quarter revenue rose47% annually to $144.2 million, beating estimates by $2.5 million. Earnings per ADS surged 73% to $0.95 per share, topping expectations by $0.06.
Image source: Getty Images.
But for the first quarter, Silicon Motion expects 7% to 14% annual sales growth, which missed the consensus estimate for 20% growth. CEO Wallace Kou attributes that slowdown to tightening supplies of NAND chips, which store data in the company's Shannon and Ferri SSDs. Kou noted that sales of its SSD controllers wouldn't be affected, but the company's broad 2017 sales forecast for flat to 10% growth indicates that its top line growth could be lumpy this year.
However, Silicon Motion's soft first quarter guidance is great news for Micron Technology (NASDAQ: MU), one of the largest NAND suppliers in the world. Let's take a look at why Silicon Motion's pain could generate big gains for Micron this year.
What does Micron Technology do?
Micron is the fourth largest maker ofNAND chips and the third largest maker of mobile DRAM chips in the world. Samsung (NASDAQOTH: SSNLF) is the top player in both markets. Up until last quarter, Micron's revenues had declined annually for six straight quarters, due to sluggish PC shipments, the commoditization of the smartphone market, and a global glut of NAND and DRAM chips driving down prices. That waning cyclical demand caused Micron stock to plummet from the mid-$30s in late 2014 to less than $10 last May.
But there are clear signs that supplies are tightening up and prices are rising. Last August, HP CEODion Weisler warned about shortages of memory chips across the industry. In December, Trendforce's DRAMeXchange noted that rising smartphone shipments, higher demand for SSDs, and the increase in the average memory density of eMMCs and eMCPs were all causing a global shortage of chips. The firmestimated that the NAND shortage would cause prices of SSDs and eMMCs to rise "by over 10%" sequentially in the first quarter of 2017 -- which is now reflected in Silicon Motion's first quarter guidance.
Investors are already bullish on Micron
Silicon Motion's weak guidance shouldn't have surprised investors who were watching the memory chip market. While the confirmation of tightening supplies is a positive development for Micron, investors are likely wondering if that optimism has already been baked in given the stock's 120% rally over the past 12 months.
Analysts currently expect Micron's revenue torise 42% this year, compared to a 23% decline last year. Its non-GAAP earnings are expected to soar from $0.06 last year to $2.42 on stronger sales and pricing power. Based on these estimates, Micron trades at just 9 times forward earnings.
But mind the headwinds...
However, there are also some major headwinds on the horizon. Samsung, Toshiba, and Western Digital's (NASDAQ: WDC) SanDisk could hurt Micron in the NAND market with their superior scale. Toshiba owns a NAND joint venture with WD, but it could soon sell its stake to WD to offset steep losses atits nuclear power division -- making WD a dangerous foe for Samsung and Micron. Samsung and SK Hynix could apply similar pressure on Micron in the mobile DRAM market. Lastly, Micron has warned that Chinese chipmakers could flood the market withcheap memory chips in the near future.
To widen its moat against these rivals, Micron has developed next-gen memory technologies like 3D NAND and 3DXpoint with its longtime partner Intel. It's also acquired smaller memory chipmakers like Inotera Memories to grow its market share.
The key takeaway
The memory chip market is a notoriously fickle and cyclical one, so investors shouldn't simply assume that tightening demand and rising prices will lift Micron stock to fresh highs. But if Micron can stay ahead of the tech curve and keep growing inorganically, I believe that its shares could keep rising this year.
10 stocks we like better than Micron Technology When investing geniuses David and Tom Gardner have a stock tip, it can pay to listen. After all, the newsletter they have run for over a decade, Motley Fool Stock Advisor, has tripled the market.*
David and Tom just revealed what they believe are the 10 best stocks for investors to buy right now... and Micron Technology wasn't one of them! That's right -- they think these 10 stocks are even better buys.
Click here to learn about these picks!
*Stock Advisor returns as of January 4, 2017
Leo Sun has no position in any stocks mentioned. The Motley Fool owns shares of Western Digital. The Motley Fool recommends Intel. The Motley Fool has a disclosure policy.